Dorothea M. Geary
Unfortunately not a Russel built boat, this tug is likely the first electrically welded steel boat "in the world". Here is more on the Dorothea M. Geary Restoration.

Captions read: "Dorthea Geary" first all welded Steel Vessel in the World built south lift Brdg, Ashtabula Harbor. An early picture of the DOROTHEA M. GEARY. The first all electric welded boat in the WORLD. Designed and built by Frank Geary at his GEARY BOILER WORKS, Ashtabula Harbor, Ohio, in 1915. Length - 36 ft.6in. Width - 10ft.6in. Depth 4.45 ft. Listed in Smithsonian Institution, Washington D.C. records in 1988. Gift from Dorothea M. Geary Stossel.
Extreme Makeover: Stork helps restore "world's first" electrically welded tugboat
source: http://www.storksmt.com/page.html?id=10370#Dorothea Thu, 30 Nov 2006.
"Free to a good home." The 90-year old, 40-foot tugboat was a study in rust when she was rescued by the Ashtabula Marine Museum from an uncertain fate. She'd been offered free to interested takers by a local boating enthusiast. But, instead of the scrapyard, transportation, construction, welding and welding supply companies, paint companies, and numerous interested individuals pitched in to move, settle, and restore The Dorothea M. Geary, believed by many to feature the first electrically welded hull.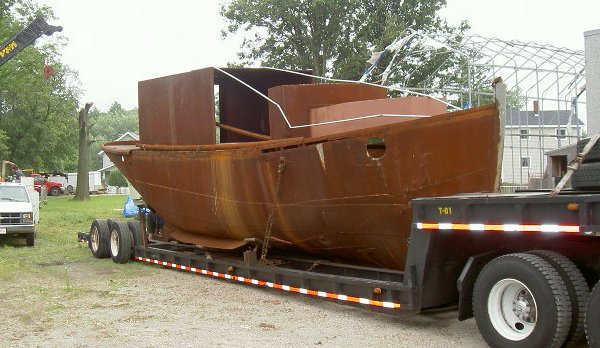 Stork Herron Nondestructive Testing Manager Jim Ewing got caught up in the excitement of the project, volunteering to conduct NDT testing below the waterline of the hull. His exam found thinning of the metal; the Marine Museum has issued a request for donation of 1/4 inch steel plating to reinforce the weak areas.
"In 1915, arc welding was still a new welding process in the experimental stages. Until then, most hulls were made by riveting metal together," explained Ewing. "It's really been interesting to work on this very unique boat and on steel this old." The Dorothea M. Geary was named for the youngest daughter of Frank Geary, who owned the Geary Boiler Works and Machine Shop in 1915. Originally built as a tugboat, the Dorothea also served as a Sea Scout training vessel and a pleasure boat before being put out to pasture.

Ewing estimates that restoration will take 1-2 years for the part-time, mostly volunteer project. Museum Assistant Director Bob Frisbie said, "We hope the vessel can be used for more than a museum display, perhaps providing rides aboard an historic boat in the Ashtabula Harbor."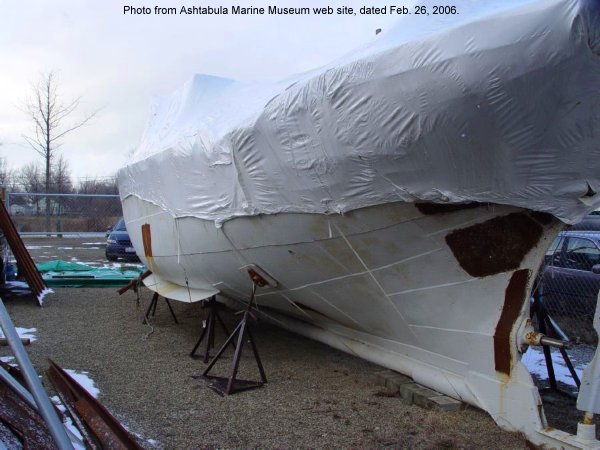 UPDATES NOV. 2017
http://www.nesys.org/DMGeary/DMG.html
http://www.starbeacon.com/news/local_news/ashtabula-marine-museum-covets-tugboat-listed-on-ebay/article_fc95faa0-734d-513f-830a-1946d7cd9ef1.html
http://archive.boatnerd.com/archivef/8-04/00011616.htm
http://www.starbeacon.com/community/neighborhoods/ashtabula/new-arrival-at-ashtabula-maritime-and-surface-transportation-museum/article_fb008a18-87ee-11e4-988f-3f7ac0d4b4ab.html
For more Russel exhibits visit Owen Sound Marine & Rail Museum 1165 1st Ave West, Owen Sound, ON N4K 4K8
(519) 371-3333

http://marinerail.com