Russel Brothers Limited OWEN SOUND, ONTARIO Steelcraft Boat Builders
| | | |
| --- | --- | --- |
| | | |
Steelcraft Warping Tugs
VIDEO OF FLAMAND
RAPIDE-BLANC, QC, 1955.

4:23 minute silent video of the St. Maurice River jammed with timber in Québec, Canada. At 1:50, we see Russel boats ploughing through, and shoving timber over the dam at Rapide Blanc.

There is a thrilling bow point of view as the tugs near the top of the chute, and reverse strongly just before hitting the guard wire seen on the bottom left.

WMV source: British Pathe PLC https://www.britishpathe.com/product_display.php?searchword=St+Maurice

Yves Cloutier notes: The Henry Sorgius and the Rapide-Blanc operated on the La Trenche Reservoir. The Amisk, the La Trenche, The Flamand, The Coucoucache and The Rapide-des-Coeurs were on the Rapide-Blanc reservoir. There is only 14 mile road between Rapide-Blanc and La Trenche.
Yves Cloutier comments: Wow! Exactly what I was boing with the boats! From 1:05 to 1:20, shot at La Trenche: Henry Sorgius, La Trenche and probably the Rapide-Blanc. Notice the water jets on the right side, those were installed at La Trenche and Beaumont. On occasion, a boat from the Rapide-Blanc lake (The Rapide-Blanc) was transfered to La Trenche when things got bad there.

From 1:20 to 2:33 filmed at Rapide-Blanc, Logs going through gate #4, The boat is most likely Le Flamand! The guys pushing on the Boom were at risk when gate 4 was used to replace the original log chute at Rapide-Blanc in the late 60's or early 70's... It was way too dangerous. Gate 4 was 52 ft wide and between 4 to 9 ft deep.... this was probably filmed the year they stopped using the original log chute where they (the men pushing from the boom) were required because the chute was shallow.

Fron 2:33 to 2:45, back to La Trenche Chute and then I think it is the CIP sorting facility at La Tuque. Pushing at Rapide-Blanc was a risky .... but thrilling... The Flamand had good power on reverse and was able to back from the front of the chute..... The Amisk was a hell of a beast to handle in front of gate 4. As I mentioned last year, most of the time we had to turn right in front of the chute.... at full power! Since we had more power, the bunch (of logs) was going in faster and we were able to release it early in order to turn!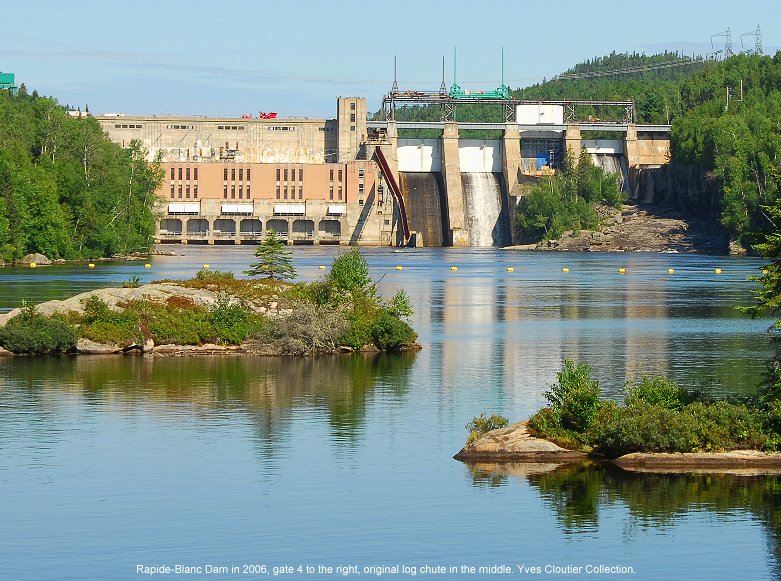 ENLARGE TO 2400 PIXELS WIDE
For more Russel exhibits visit Owen Sound Marine & Rail Museum 1165 1st Ave West, Owen Sound, ON N4K 4K8
(519) 371-3333

http://marinerail.com