The Power Winch boat was specially designed for making up tows, breaking rollways, towing boom-sticks and general mill pond work. It has not the power of the large warping tugs, but it has a great many general uses.
This small boat, with its shallow draft, can be operated by one man. Its propeller has a heavy steel guard to protect it when running among loose logs and it has been found not only more economical, but better adapted for this work than the more expensive warping tugs.
They were primarily designed to tow logs, but their powerful winch can be used to accomplish a variety of jobs such as portaging themselves between lakes, lifting heavy machinery, pulling heavy logs into the water. In fact their small initial cost has made them the best paying machine on any operation.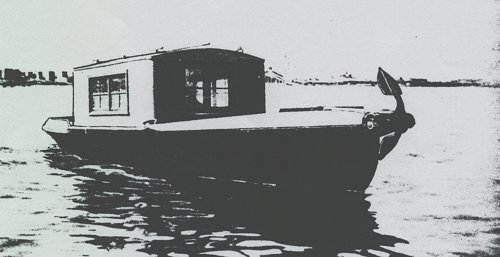 STEELCRAFT WINCH BOATS are built in two standard sizes, to accommodate either a 20 hp or 30 hp engine. The hulls are of the same all-steel construction and standard design as the larger warping tugs. They have a broader ratio of beam and less freeboard which provides extra stability and shorter reach from deck to water when handling boom chains, etc. The low steel bulwarks around the forward and after decks and the wood-covered decks provide protection for men in rough weather.
TO STAND THE ROUGH WATER these boats haveplating and frames exceptionally heavy for their size (a fullspecification is given in this leaflet). As they may require to portage themselves across land, heavy steel runners are welded into the bottom to give easier haulage. A twenty gallon water tank is installed to provide cooling for the engine when the boat is not afloat.
BOTH ENGINE AND WINCH are installed on steel beds, welded to the bottom frames, which eliminates any possibility of movement due to the tremendous strain when pulling a heavy load.
MAXIMUM HOLDING POWER on the anchor is essential, so the Russel special warping anchor was designed. It has exceptionally broad flukes, set at the most suitable angle for digging into soft bottoms. This feature enables a lighter weight anchor to be used than any other kedge-type on the market.
A VAST AMOUNT OF TIME AND MONEY has been saved by pulp and lumber companies all over Canada, by using Steelcraft winch boats. We have been able to constantly improve the design and we are certain that there are few machines capable of towing such large booms at such a small operational cost.
WE HAVE BEEN SPECIALISTS IN LOGGING BOATS FOR TWENTY-FIVE YEARS
RUSSEL GASOLINE POWER PLANT This straight-forward heavy duty marine engine has two main features. Firstly, its simplicity of design and accessibility of all parts. Any bushman can operate and service this engine. Secondly, its rugged construction, which is emphasized by the fact that Russel engines built 15 years ago are still as reliable as any newer type.

Our new engines are built with better materials than the earlier models, and several new improvements are incorporated.. The winch boatengine is the 20 hp or 30 hp size (according to power required); with enclosed heavy duty reverse gear, Russel throttle governor, dual ignition system of both high tension magneto and 6-volt coil and timer, up-draft carburetor, bronze gear-type water pump, and a 6-volt generator and storage battery.

Hand start is standard, but if required a 12-volt system can be installed to provide a 12-volt starting and lighting system at extra cost.

MODEL 36 RUSSEL WINCH GEAR This is strongly-constructed two-speed single drum winch gear, having a capacity of 2000 feet of 7/16" cable. Cast Steel alloy drum and gears coupled to the engine drive by a friction clutch in the engine flywheel. Brakes are fitted on both the main drum and gear drive. The main drum can be locked by means of a steel finger operated by a lever. The set is constructed of extra heavy materials and is capable of braking a 1/2" steel cable. An automatic cable guide is coupled to the winch gear.
SHEPPARD DIESEL POWER PLANT A thoroughly reliable and economical marine engine with reverse gear and 2:1 reduction gear. This diesel is designed, engineered and constructed in every detail for the tasks and service of this class of boat. Sheppard power is the only diesel of this size on which both heat exchanger and expansion tank are built into the engine as one unit. A built-in by-pass thermostat provides proper engine temperature regardless of running conditions. Equipped with variable speed governor of below 400 to 1400 rpm, bronze water pump, fuel supply pump, fuel oil and lube oil filters, water cooled manifold and oil bath air cleaner, 24-volt electric system providing starter, generator and 2 12-volt storage batteries.
MODEL 40 RUSSEL WINCH GEAR A strong steel two-speed single drum winch gear, having a capacity of 2000 feet of 7/16th" cable. Cut steel gears oil bathed in fully enclosed gear box coupled to the engine by a special friction clutch. Brakes are fitted to both the main drum and gear box drive. The main drum can be locked by means of a steel finger operated by a lever. The set is constructed of extra heavy materials and is capable of breaking a 1/2" steel cable. An automatic cable guide is connected to the winch gear by a dog clutch.
| | |
| --- | --- |
| | STEELCRAFT WARPING TUGS are designed and built in standard sizes from 35 to 85 feet. We can build a warping tug to meet any required condition. Powered by a marine or gasoline diesel engine driving a Russel warping set. Please write for our warping tug catalogue. |
| STEELCRAFT STANDARD TUGS are in service all over the world. Our standard sizes range from 35 to 80 feet and we can engineer any tug to suit your task. Construction is of tough all-welded steel throughout with accommodation as required. Write for our Diesel Tug catalogue. | |
| | STEELCRAFT CRUISERS, patrol boats and work boats can be built for the industrial user or the private pleasure boat owner. All-steel construction in sizes ranging from 25 feet upwards. Powered by gasoline or diesel. Give us an opportunity to quote you on this class of boat. |
| STEELCRAFT BARGES are built to any specification from 25 to 150 feet. Various types include oil tankers, pile drivers, rail ferry, car ferry, open deck scows with ot without power. An all-steel barge will last at least three times longer than a wooden barge with less upkeep costs. | |