Russel Brothers Limited OWEN SOUND, ONTARIO Steelcraft Boat Builders
Brompton Otter
Hull #1008. Canadian List of Shipping 1956: Brompton Otter [C.195576] registered at Montreal; built at Owen Sound in 1953. 27' 2 x 7' 5 x 2' 9; 4 g.t.; 3 n.t.; 55 hp. Owned by St. Lawrence Corp., Ltd., Montreal. Canadian List of Shipping 1970: Steel tug Brompton Otter [C.195576] registered at Montreal; built at Owen Sound in 1953. 27'; 4 g.t.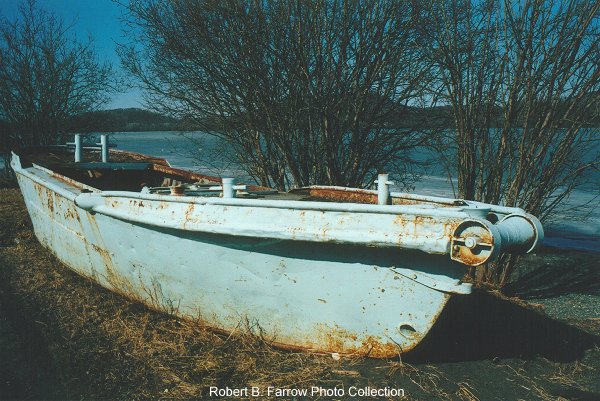 RBF notes: MacDiarmid ON, May 5, 2002.
RBF notes (April 23, 2007): Owned by Pat Maguire of MacDairmid, ON. He also owns Brompton Seal which he says he plans to sell the hull. Apparently he just bought them in the last two years. They used to sit along the waterfront of MacDairmid. He has a pretty good knowledge of these boats and has restored the Otter for use. He plans to build a pilothouse onto the plywood cabin that he has already built on it. I never asked him about the numbers on the boat but I thought that they might be registrations numbers. I checked and they aren't listed on the Transport Canada site. They are not the Coast Guard numbers like the 38E numbers. He has also put the name "Miss Keira" on the cabin front. When I looked inside I saw that it had a Russel Wheel. I asked him where he got it since I don't remember seeing on on either boat. He said when he drained the water and junk out of the hull, it was sitting back under the stern!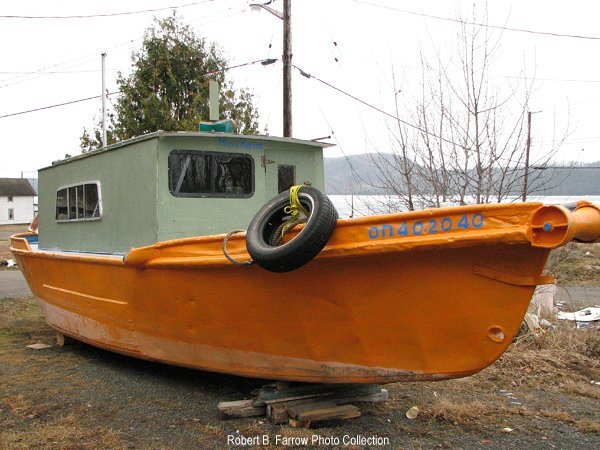 "Boat on Nipigon Bay used to push wood to the Slasher at the Red..." obtained from the Red Rock Public Library in Dec. 2017.
Ginny Flett comments (Dec. 19, 2017): "After looking at this boat and looking at the background... The picture was taken at the Red Rock storage if you look closely you can see a very fuzzy image of Nipigon in the background and the rock face shown had native pictographs on it. As for the boat I believe that it could be the Brompton Otter. I went highschool in Red Rock and used to see these boats working as the school bus went by. The river drives stopped in 1973 and coincidentally I graduated the same year. These boats were either registered to Brompton Paper or St. Lawrence Corporation not Domtar."
For more Russel exhibits visit Owen Sound Marine & Rail Museum 1165 1st Ave West, Owen Sound, ON N4K 4K8
(519) 371-3333

http://marinerail.com