Russel Brothers Limited OWEN SOUND, ONTARIO Steelcraft Boat Builders
C.T. 46
Steel Tanac class tug C. T. 46 [British Navy] built for British Ministry of Transport in 1943. Launch story filed in Russel Brothers clipping file. Ivan Brookes Scrapbook, 1943, page 41. David Asprey notes: The Tanac class were 60 foot Navy tugs.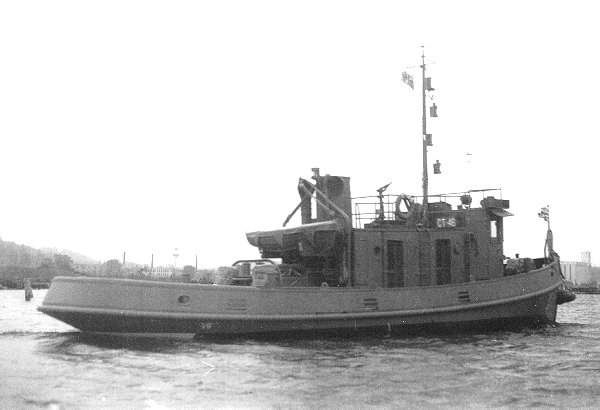 Graphic courtesy Joe Fossey. The Russel yard with 60' Navy tug CT 46 in the foreground
and the Glenora 80' tug ready for launching behind her, Sept. 1943.
"...H.M.C.S. Glenora shown just as she slid into the water, after being christened by Mrs. R.J. Russel. The Glenora, an 80 foot welded steel tug built for the Royal Canadian Navy, is the third of 5 being built by the local firm. On the right is the S.S.C.T. 46, a 60 foot tug built for the Royal Navy, as she stood awaiting christening. This picture was traken from the already launched Glenora, whose flag is in the foreground. Inset at left are a number of those that took part in the launching ceremony. From left to right they are Petty Officer William Tanner, chief engineer of the Glenora, Mayor W.G. Case, Mrs. N.E. Hipwell, who christened the C.T. 46, Chief Skipper Douglas Lloyd of the Glenora, Mrs. R.J. Russel, R.J. Russel, and Mrs. Colin Russel." The Daily Sun Times, Sept. 20th, 1943.
OSMRM Collection
For more Russel exhibits visit Owen Sound Marine & Rail Museum 1165 1st Ave West, Owen Sound, ON N4K 4K8
(519) 371-3333

http://marinerail.com