Russel Brothers Limited OWEN SOUND, ONTARIO Steelcraft Boat Builders
D. W. Murray
Canadian List of Shipping 1956: D. W. Murray [C.150634) registered at Windsor, N. S.: built at Owen Sound in 1940 for the Minas Shipping Co.of Hantsport, N.S.. 56'5 x 14'5 x 6'8, 30 g.t.; 21 n.t.; 250 hp. Owned by The Lords Commissioners of the Admiralty, London, England. GAO Notes: Photo of the D. W. Murray on a flat car in Ivan Brookes Scrapbook 1943, page 33. Canadian List of Shipping 1970, Steel tug D. W. Murray [C. 150634] registered at Windsor, N. S. Built at Owen Sound in 1940. 57',- 30 gt.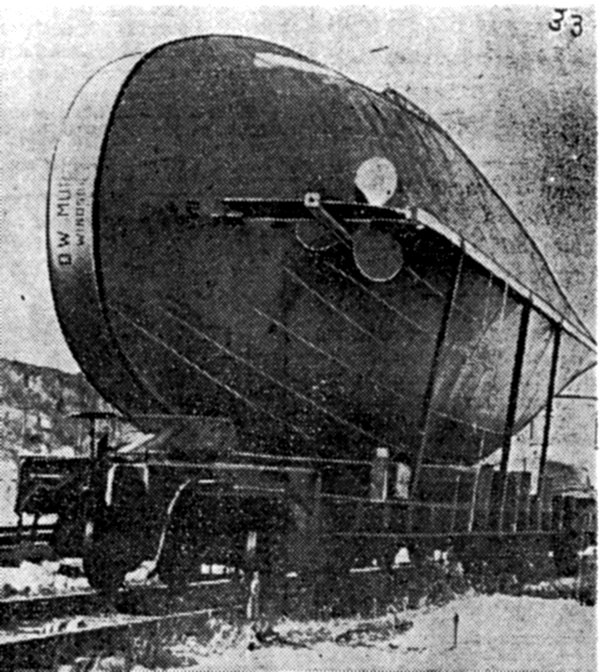 "The huge corvette boilers pictured at the left on CPR depressed - centre flat cars constitute only part of important war time shipments carried by the company with the aid of the engineering department, which makes special provision for getting by obstacles.

The technique for moving outsize and odd shaped war shipments was used to advantage in transporting the electric welded steel boat pictured above from Owen Sound to Saint John, NB. The boat, 61 feet, six inches long, was 12 feet 10 inches wide at its greatest width. Two machinery flat cars were used on this job to accommodate the full length of the boat and the deckhouse."
- Toronto Telegram, Wed. July 28th, 1943.
For more Russel exhibits visit Owen Sound Marine & Rail Museum 1165 1st Ave West, Owen Sound, ON N4K 4K8
(519) 371-3333

http://marinerail.com