Russel Brothers Limited OWEN SOUND, ONTARIO Steelcraft Boat Builders
Flo Cooper / Sandra Mary
(Thunder Bay, ON July 14, 2001). Steel diesel tug Flo Cooper [C.310464] built by Russel-Hipwell at Owen Sound in 1962. 75'; 97 g.t. In commission. Hull No. 1206. Bill Breaker's father's last vessel as chief engineer. Also engineered by Foster Hay according to Dick Warkington. Acquired by McNally Ltd., Hamilton, Ontario and renamed b] Sandra Mary.
---
This medium-sized tugboat was built in 1962 by Russel Brothers Limited of Owen Sound, ON as the Flo Cooper for C.A. Pitts Construction. In 2000 she was sold to McNally International of Hamilton, ON and renamed Sandra Mary. As the largest tug in the McNally fleet, the Sandra Mary can be found working around the Great Lakes, St. Lawrence, and East Coast in dredging, construction, and lake towing jobs for McNally. Type: Single Screw Tugboat Year Built: 1962 Builder: Russel Bros. Ltd., Owen Sound, ON Hull No.: 1206 Horsepower: 1,260 bhp Length: 80' 00? Breadth: 21' 00? Depth: 10' 09? Port of Registry: Charlottetown, PEI.
"The keels were laid for 8 vessels in 1962, ranging from a 25 work boat for the Ontario Paper Co., to an 80 foot, 900 hp tug for C.A. Pitts General Contractor Limited. This tug, the Flo. Cooper, operated on Lake Ontario in a large dredging operation until freeze-up in 1962." - Owen Sound Sun - Times, Jan. 31st, 1963.
Sea trials, early July, 1962.
Dr. John Hay writes (Feb. 18, 2010): "My father Foster Hay supervised the building of this tug for his employer C. A. Pitts Construction in 1962...he is standing in the Engine room doorway in this photo (above) of the tug undergoing sea trials in Owen Sound Harbour.
This is a photo of my Dad (Foster Hay, in the Flo. Cooper engine room (below left)) that I found last year in the Toronto Telegram archives. I think these pictures were all taken the day that the boat was christened by Florence Cooper the wife of the owner of C. A. Pitts (Syd Cooper). I believe that both Mr. and Mrs. Cooper are still alive. Incidentally, the Flo Cooper was the last winner of the CNE tugboat races which was around 1963. During that race another tug was sunk and this race was stopped after that accident.
(n.b. for more drama from the CNE tug race in 1961, see the RCL 12 page).
Photos courtesy Dr. John Hay.
The Flo Cooper was involved with many marine construction projects over the years including The Nanticoke coal unloading dock, Bickerdike pier in Montreal, The Douglas Point Nuclear Generating Station (where I got hurt), the Confederation Bridge to Prince Edward Island and Hibernia.
My father was a marine engineer and was the chief engineer on the tug for 5 or 6 years and then was promoted to marine superintendant. His job after that was supervising all of the Pitts Marine equipment (the Pitts-Merritt dredge, smaller and bigger tugs, numerous scows, barges, drilling equipment, etc.) keeping everything in good repair with the help of people like Bill Breaker. When Pitts would get a contract for dredging, dock work, etc., my father was often the construction boss for these jobs.
In the summer of 1970 and 1971 I was a deckhand on the Flo Cooper. On Septemher 7, 1971 I was operating the winch when I goofed and got my foot caught in the machine and ended up with a right hip disarticulation. My Dad was the boss on the job at that time and he was there to reverse the winch to get me out of that mess. This happened at Douglas Point in Lake Huron, not far from Owen Sound. In fact, the police brought blood for me from Owen Sound which I received in the Kincardine hospital. There was a small story about this in the Owen Sound Sun Times after the accident. I had a university degree before this mishap and continued my studies (after getting fitted with an artificial leg) and became a physician graduating from Queen's in 1978.
C. A. Pitts doesn't exist anymore and neither does my father. My dad was involved with Pitts from 1957 when he started working for Pitts as chief engineer on the tug John Drews (when they had a big dredging job on the seaway) until the summer before he died in Nov. 1996. My father's boss for many of these years was Ralph Rausch who was president of Pitts Engineering when the company was sold. Ralph lives in Scarborough and he could embellish the story as well."
OSMRM Collection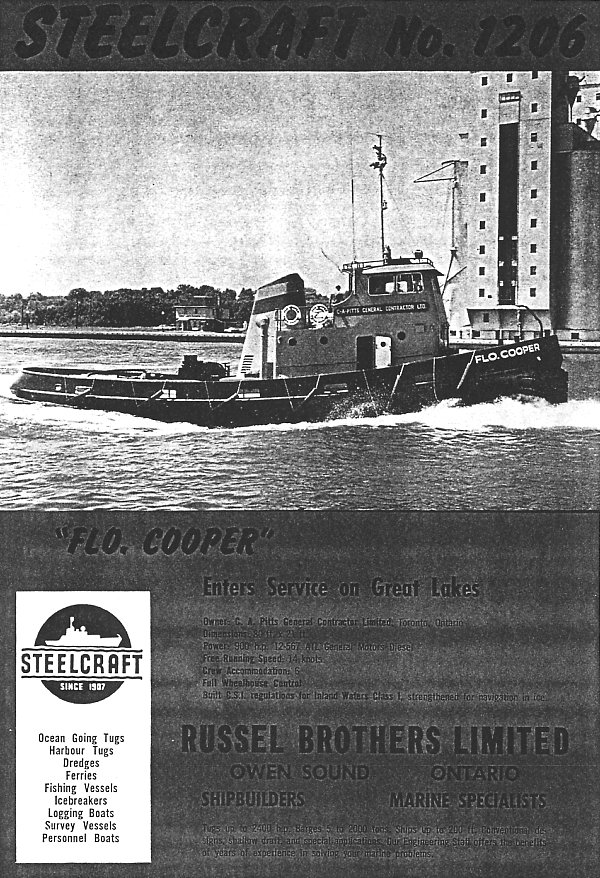 Owen Sound Sun Times, July 5th, 1962.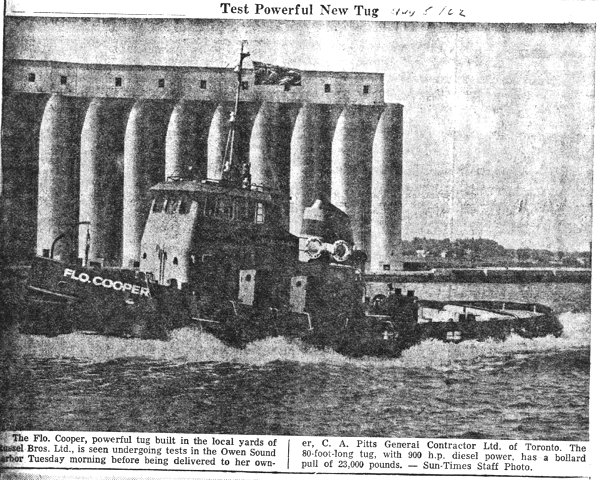 1973 photo by Rene Beauchamp.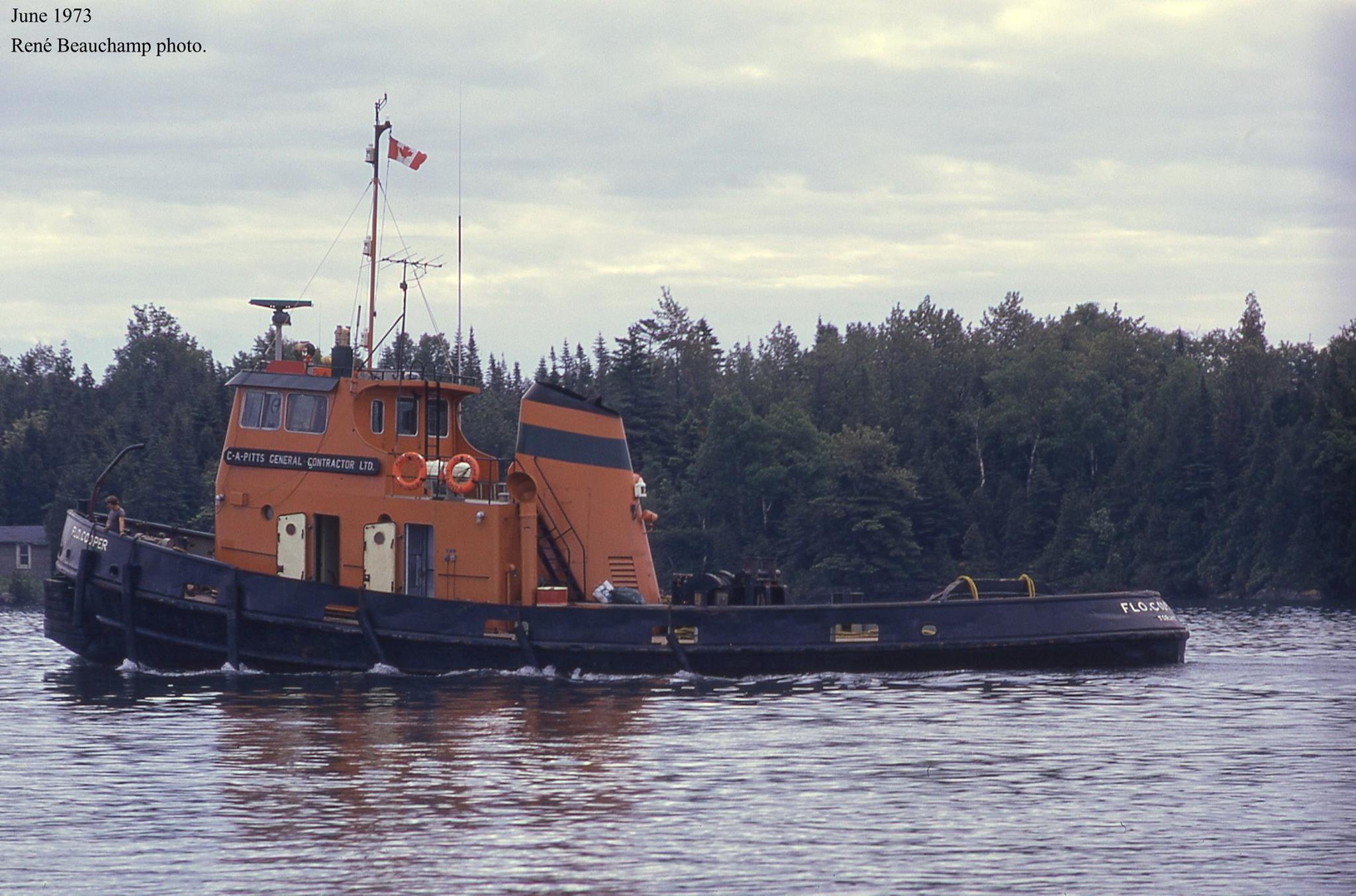 Purvis Yard, Soo, summer 1987. Bill Breaker photo from Gerry Ouderkirk.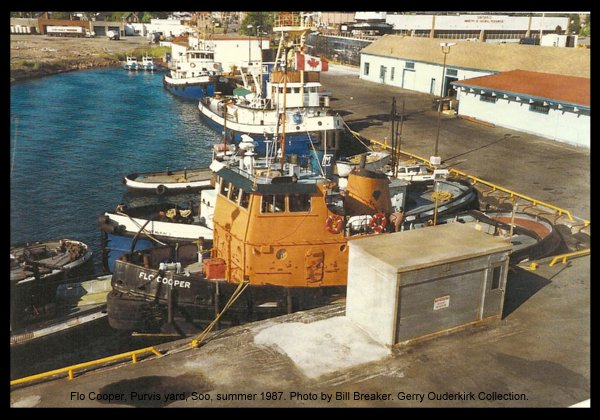 Sandra Mary - Ex Flo Cooper (Thunder Bay, ON July 14, 2001)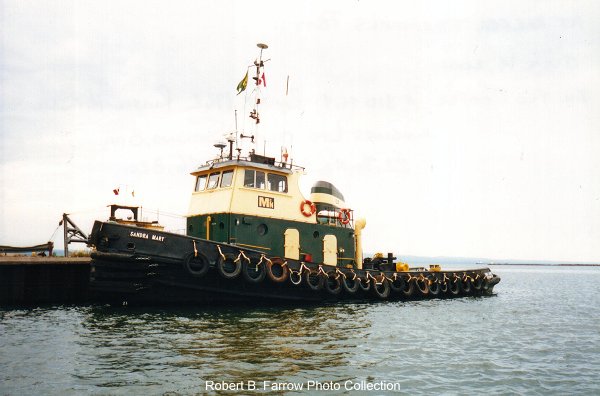 Lake Ontario, 2002. Photo by Gerry Ouderkirk.
GAO notes: My friend Capt. Eric Rogers owns Toronto Drydock.
These photos were taken by me at the drydock on August 25, 2004.
Sandra Mary arriving at Oshawa, Ontario on Aug 22nd 2005. Photos by Rod Burdick.
boatnerd source: http://www.boatnerd.com/news/newsthumbs/newsthumbs_153.htm
Photo by Bill Coring. Québec City, 2006. Gerry Ouderkirk Collection.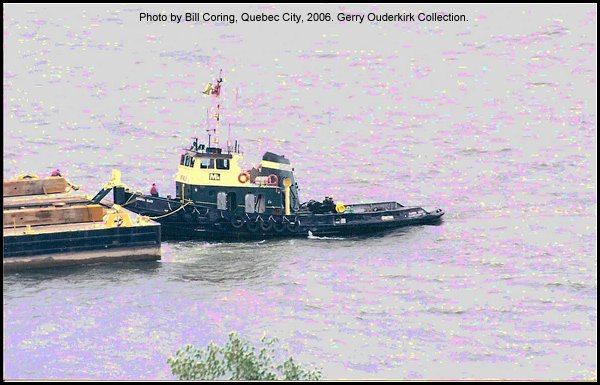 Mike Coutts of McNally Construction Inc. notes: Sandra Mary/ Ex Flo-Cooper in 2006. She had a major refit in 2005-2006.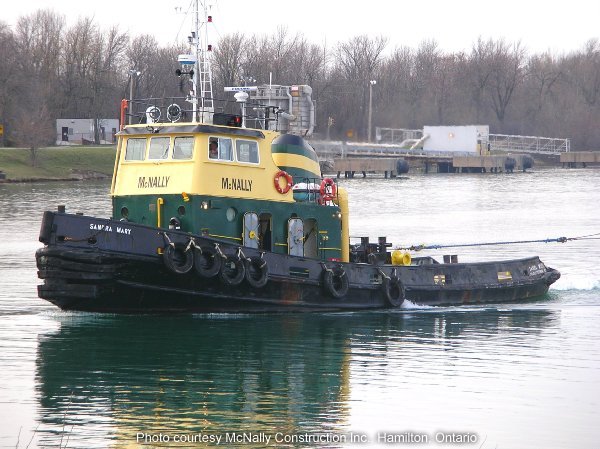 Sandra Mary on the St. Lawrence River by Mariatown, ON, June 26, 2007.
Ron Beaupre (boatnerd.com).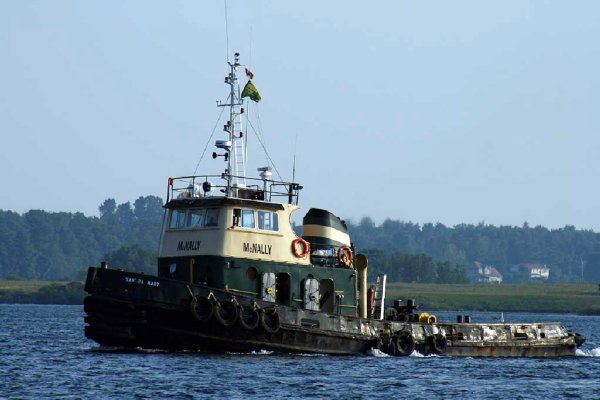 Sandra Mary & Carl M at Sarnia's North Slip, Mar. 15, 2009.
John McCreery (boatnerd.com).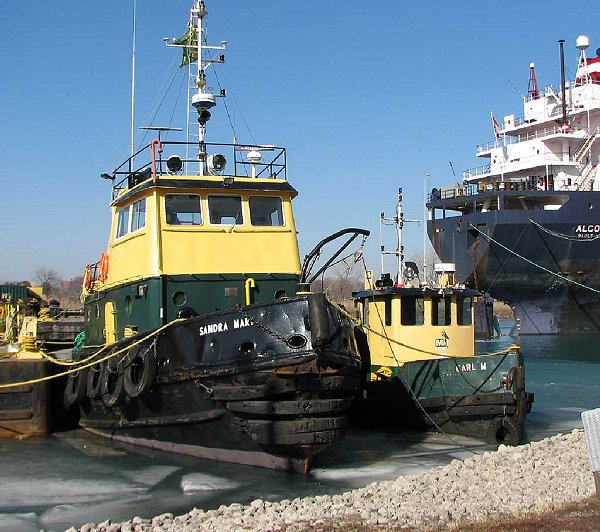 From Mac Mackay's excellent TUGFAX blog about Halifax vessels SUNDAY, APRIL 22, 2012
source: http://tugfaxblogspotcom.blogspot.ca/2012/04/mcnally-tugs-at-port-hawksbury.html

McNally tugs at Port Hawksbury A rare assembly of McNally Construction tugs greeted me in Port Hawksbury on April 20.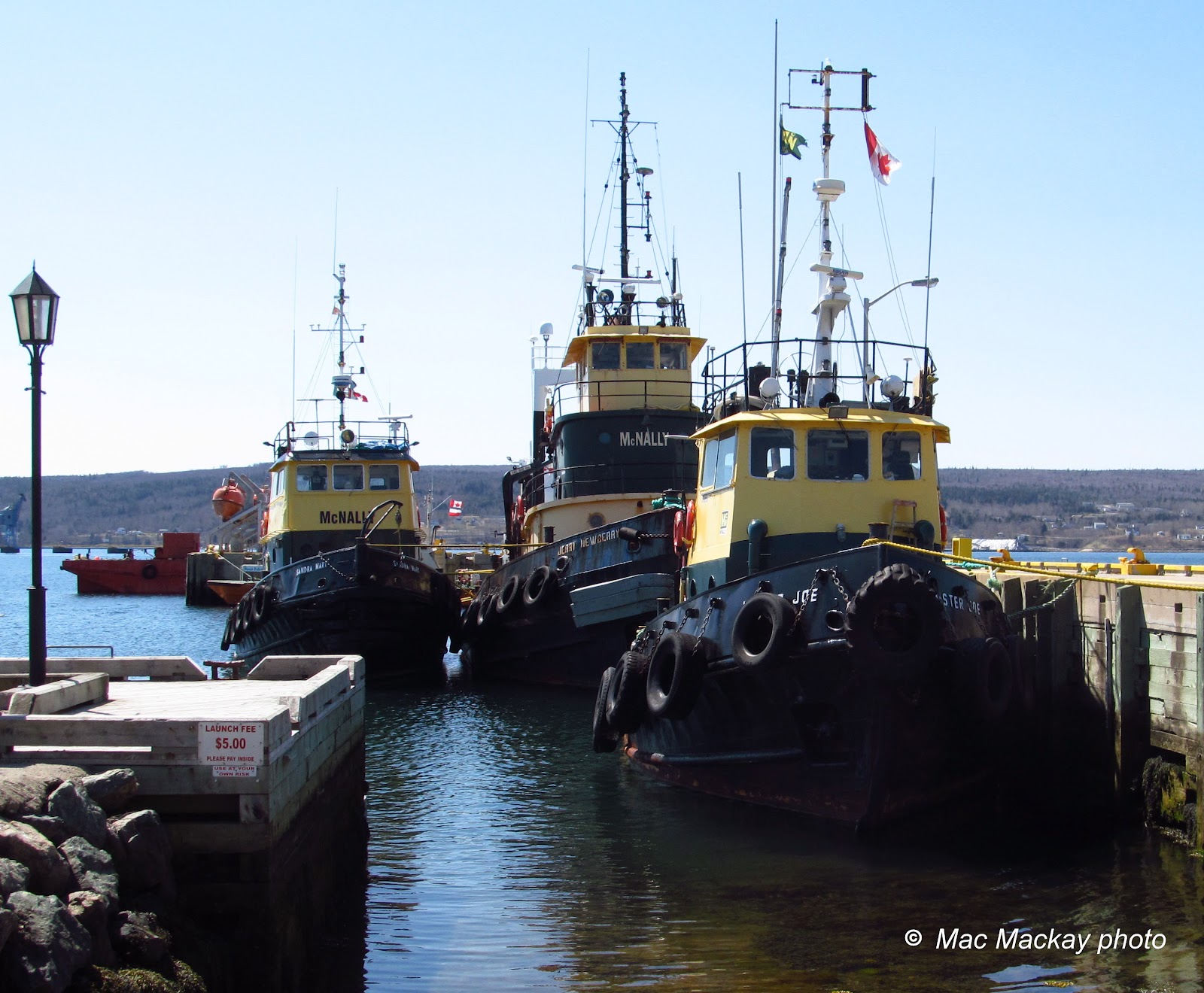 Sandra Mary, Jerry Newberry and Mister Joe together. Largest of the trio was the venerable Jerry Newberry, built in 1956 as Foundation Victor for seasonal service at Sept-Iles. In 1973 it became Point Victor for Eastern Canada Towing and in 1977 became Kay Cole for Pitts Construction. It passed to McKeil and acquired its current name in 1995. McNally acquired the tug from McKeil and it has been employed towing all over eastern Canada and into Hudson's Bay. It is now reported to be for sale. It is a single screw tug with a 1280 bhp Fairbanks Morse. Mister Joe, a 1964 product of Russel-Hipwell in Owen Sound, is a familiar sight in these parts and also ranges far and wide including Labrador. Its original name was Churchill River which it carried until 2001. It is a twin screw tug of 750 bhp.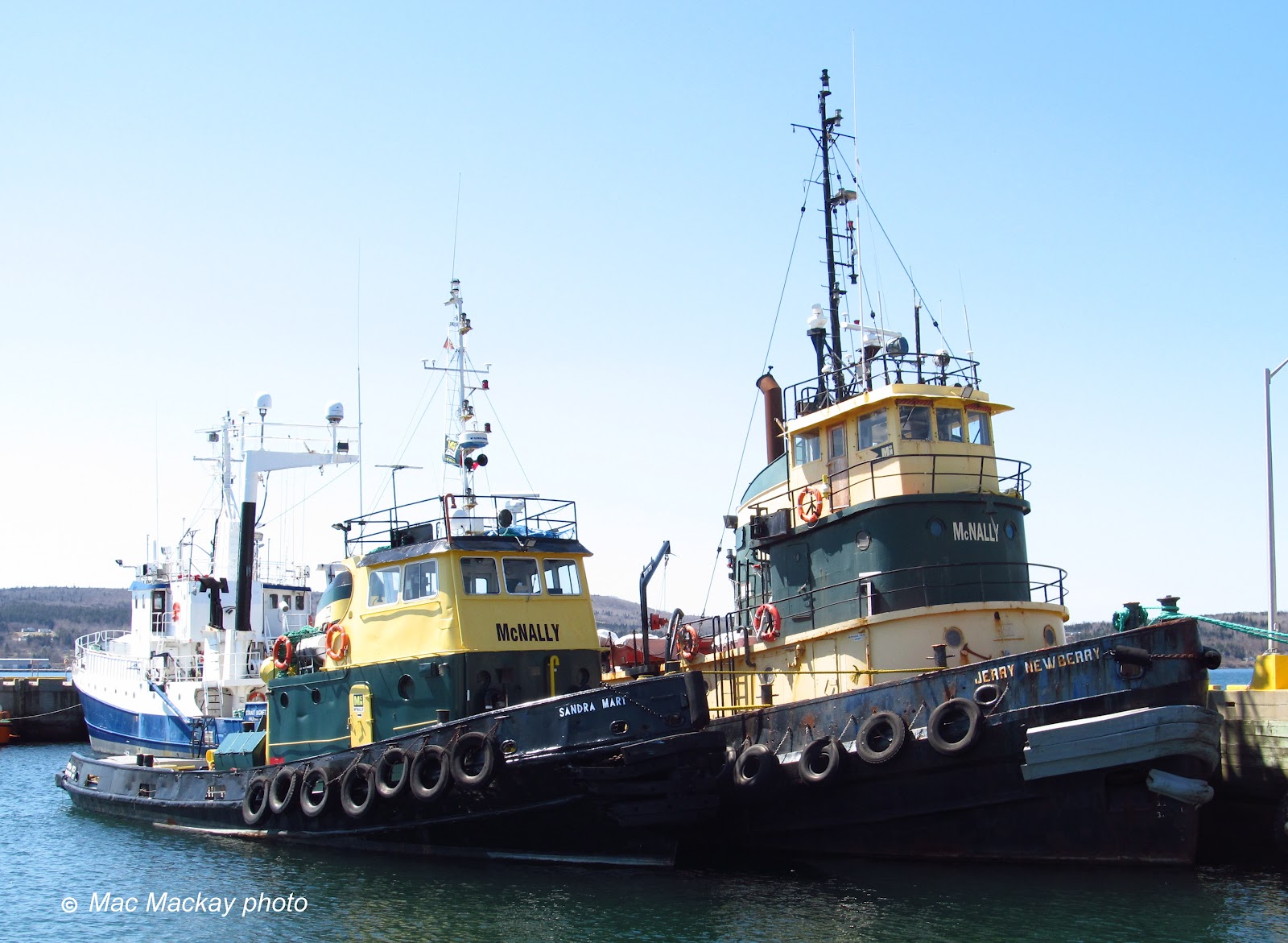 Sandra Mary with a fresh coat of paint. The pleasant surprise for me was Sandra Mary, also a Russel tug, built in 1962 as Flo Cooper (also for Pitts Construction) A slightly larger version of the Mister Joe, it has 1260 bhp. It usually works on the Lakes but also ranges as far as Newfoundland and Nova Scotia. In fact it just came down through the Seaway April 6 towing the barge Quensa. With fresh paint, it looks quite splendid.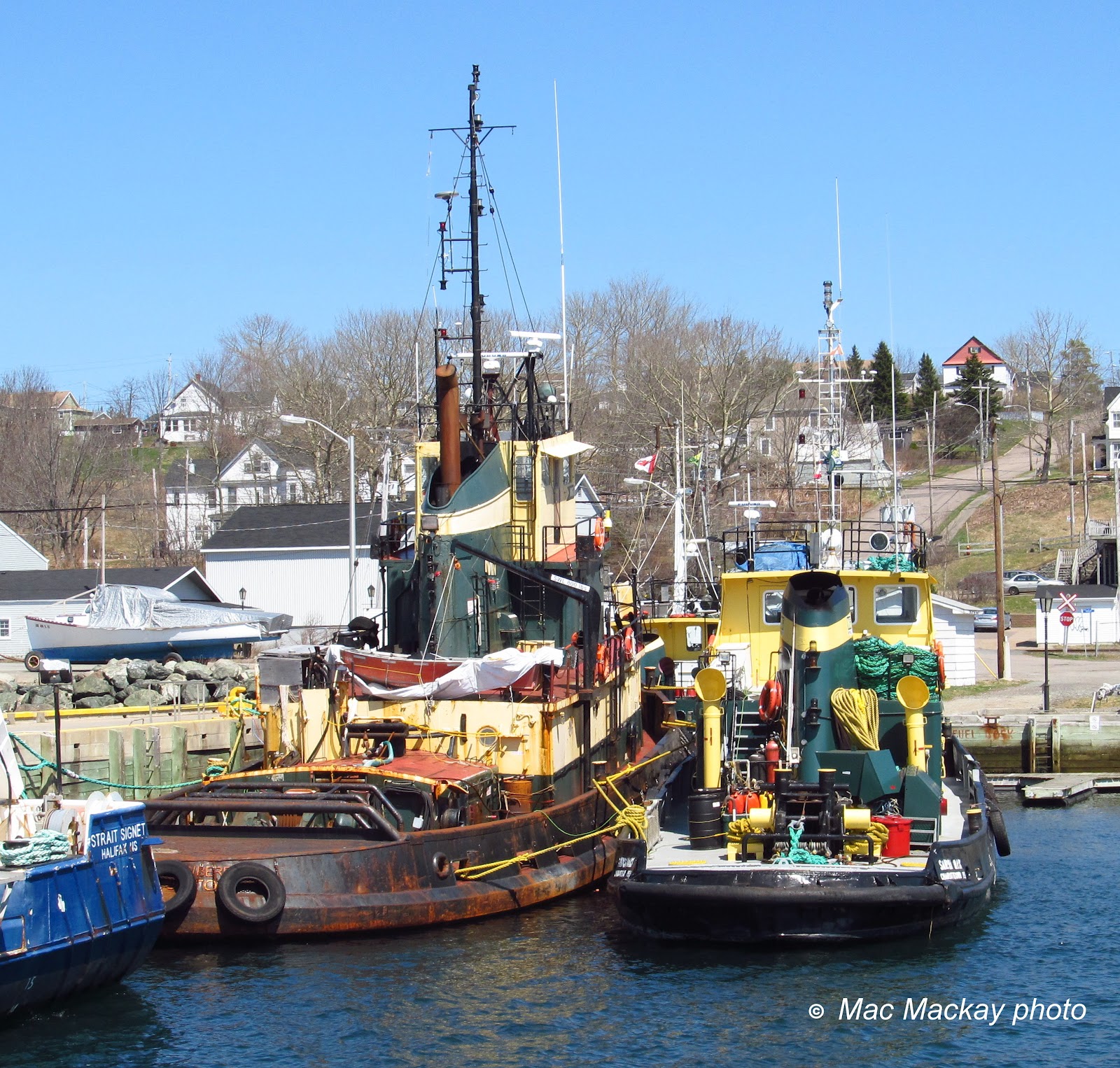 From Mac Mackay's excellent TUGFAX blog about Halifax vessels SUNDAY, FEBRUARY 24, 2013
source: http://tugfaxblogspotcom.blogspot.ca/2013/02/sandra-mary-and-pair-of-veteran-scows.html

Sandra Mary and pair of veteran scows A rare assembly of McNally Construction tugs greeted me in Port Hawksbury on April 20.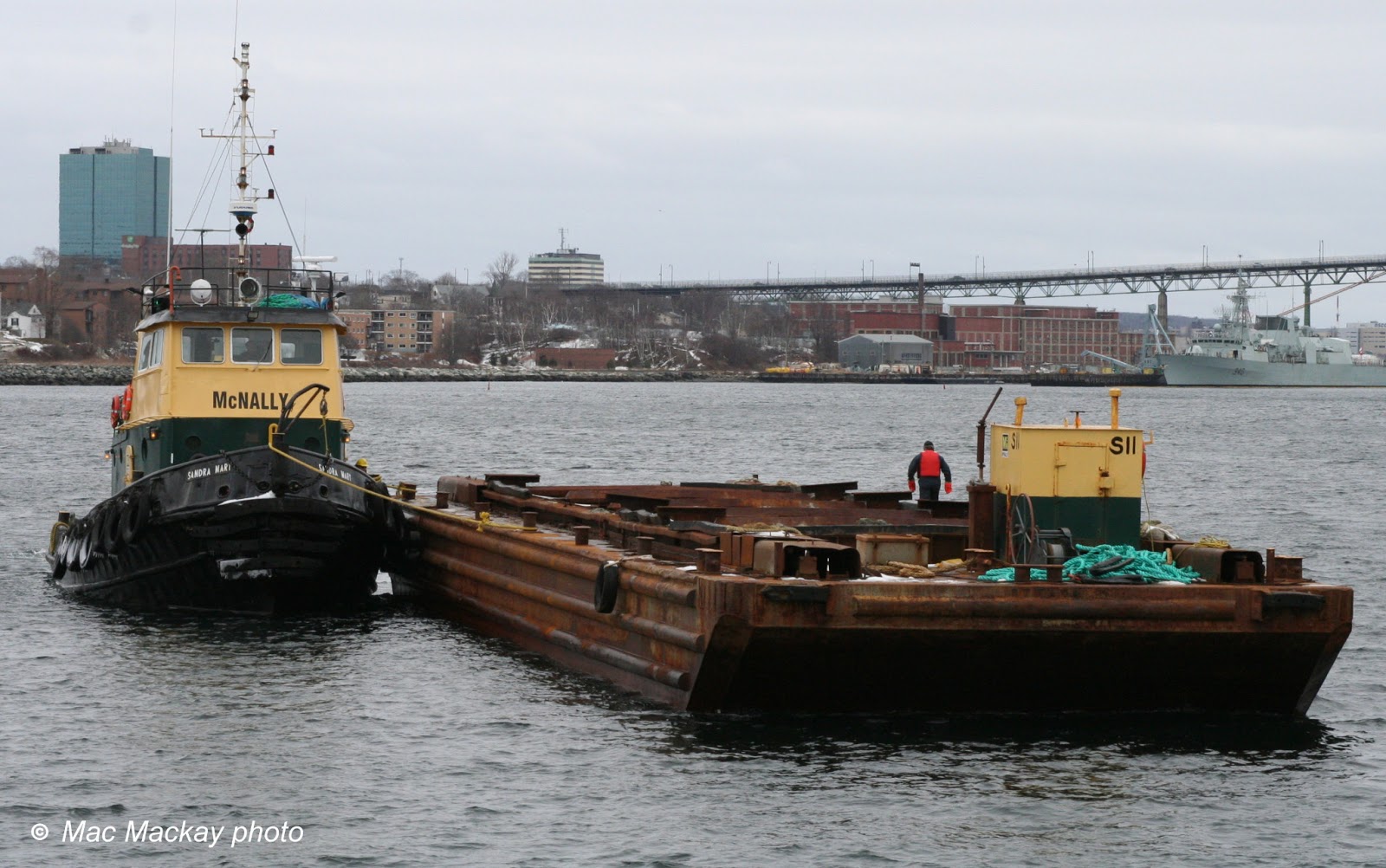 Sandra Mary put in to Halifax today en route to a dredging job in southwest Nova Scotia., towing a pair of veteran mud scows. Due to restrictions against double tows in Halifax harbour, Dominion Diving's tug Roseway went out and took over the tow of one of the scows. All four vessels are veterans in fact. Sandra Mary was built by Russel Hipwell in Owen Sound in 1962 as Flo Cooper, a name she carried until 2000, through a variety of owners, starting with C.A.Pitts Construction, She is rated at 1360bhp on a single screw. Sister tug to Sandra Mary, is Mister Joe which is being rebuilt over the winter in Belleville, ON.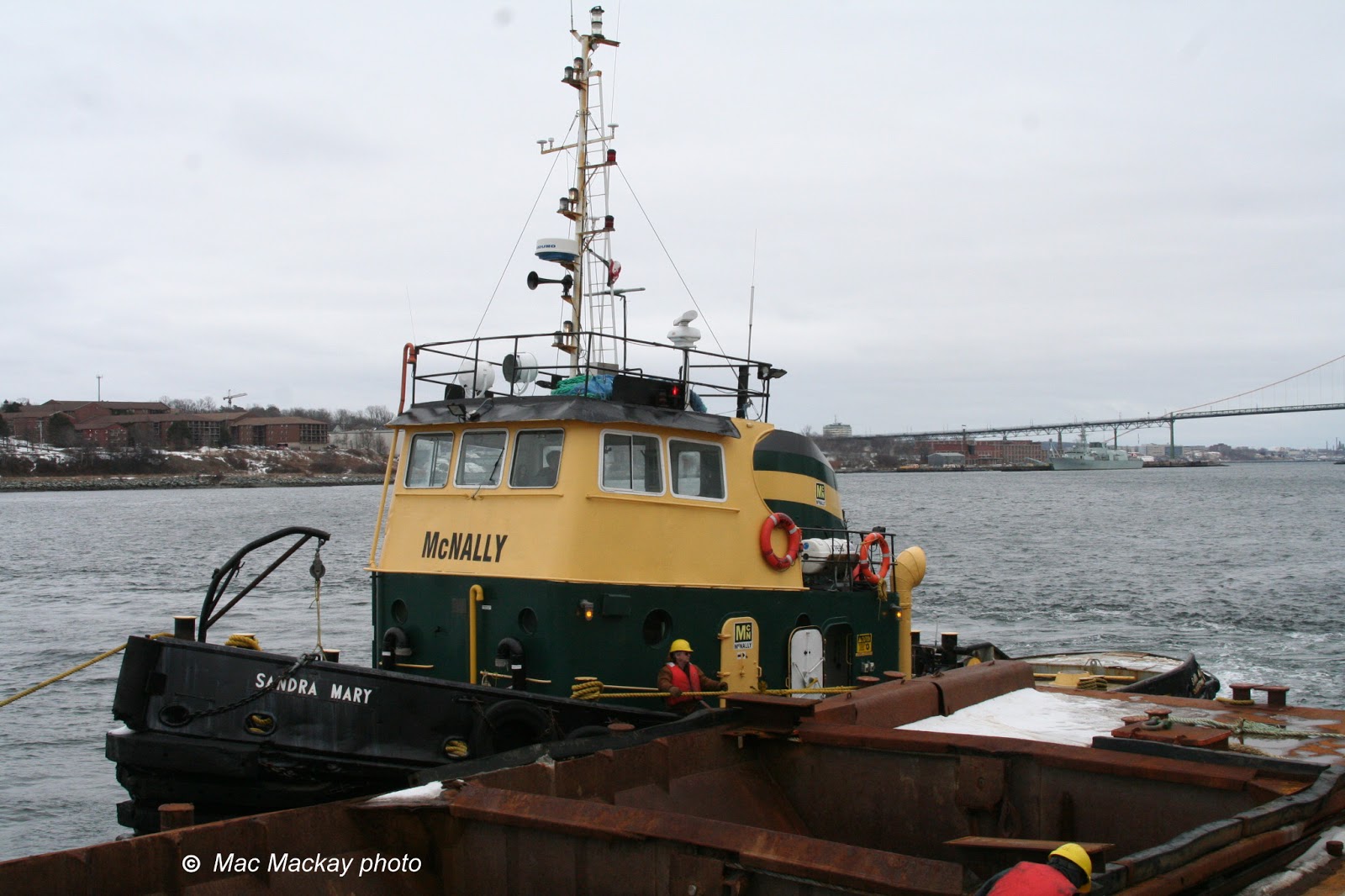 From Mac Mackay's excellent TUGFAX blog about Halifax vessels MONDAY, APRIL 8, 2013
source: http://tugfaxblogspotcom.blogspot.ca/2013/04/sandra-mary-short-tow-line.html

Sandra Mary - short tow line Sandra Mary returned to Halifax last week from Digby, but had to wait several days for high winds to die down before setting out again with the spud scow VMS 087. (It is shown as VM/S 87 in the register, but is painted as VMS 087 on the hull.)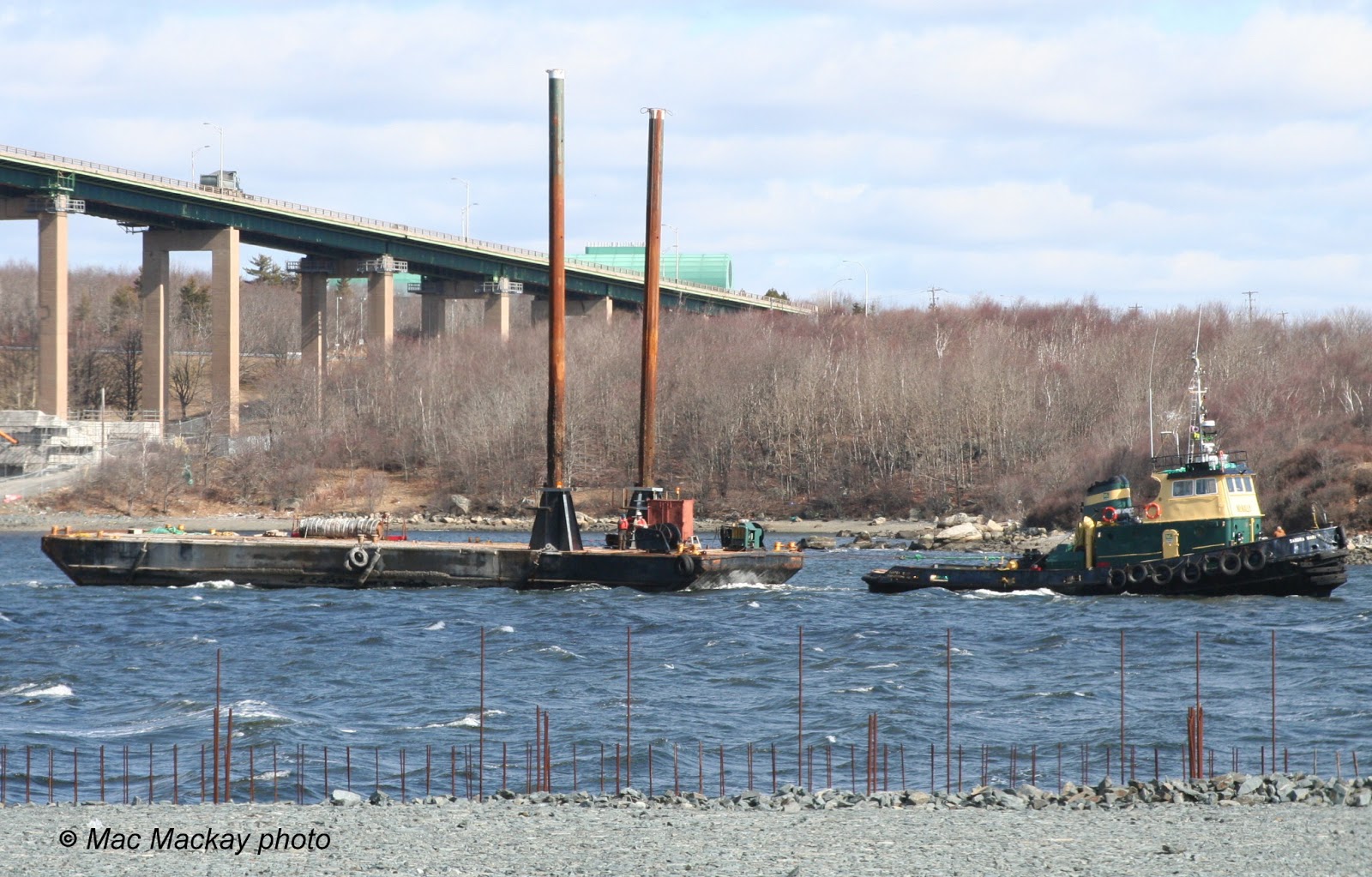 On April 2 the scow was retrieved from its winter resting spot, in the shadow of the MacKay bridge on the Dartmouth side - in the background of this photo, an area known as Turple's Cove. It took a bit of pulling in the high wind to get it over to the Halifax side to prepare it for sea.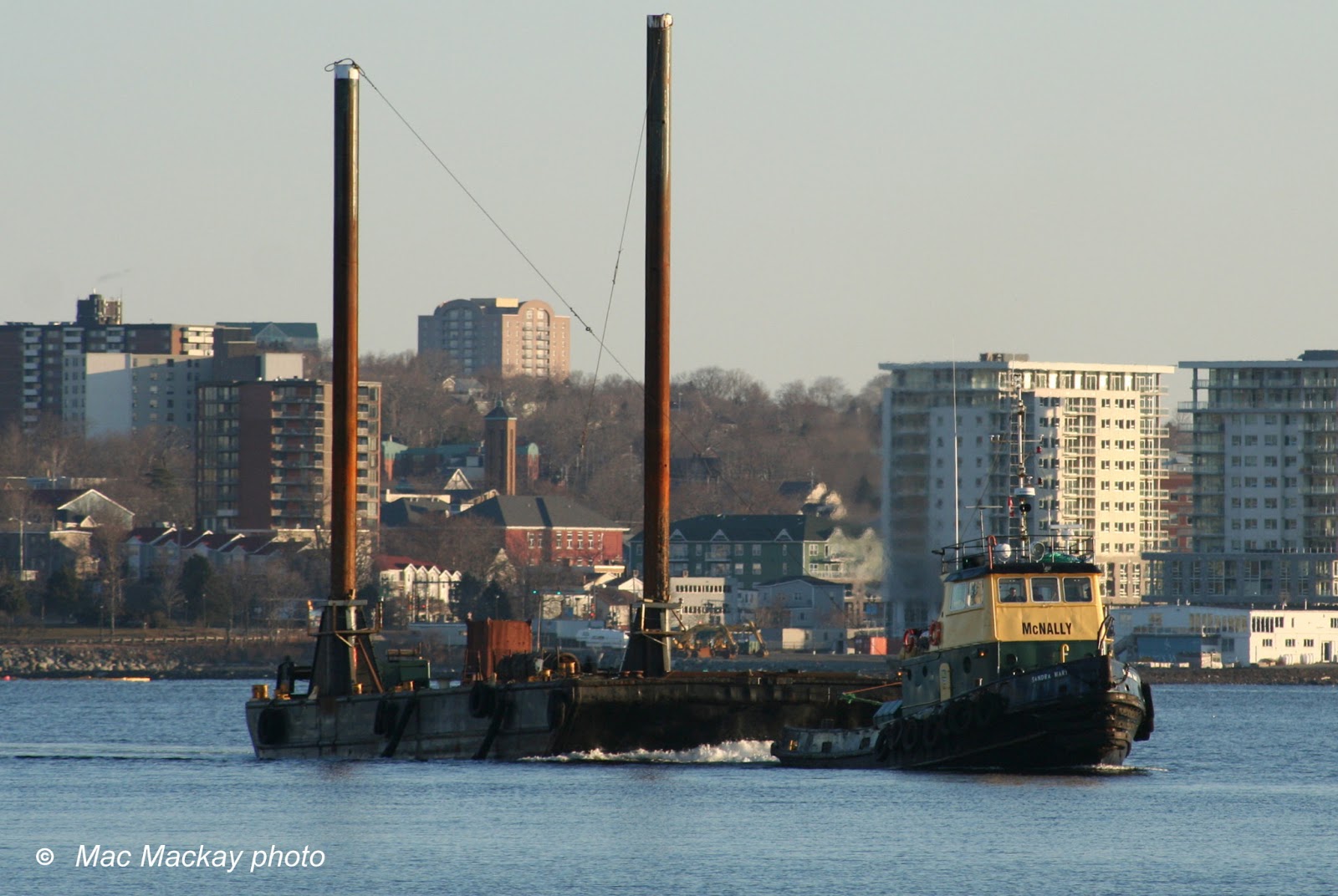 On April 7, it was much calmer, and with the spuds guyed in place and pegged, they headed for sea. The pair reached Liverpool that evening where they will shelter from more high winds. The scow's unusual name is derived from its first owners the St.Lawrence Seaway Corp (in French La Voie Maritime St-Laurent.) It was built in 1958 in Collingwood, ON as S.L.S.87 for use by the then new St. Lawrence Seaway system in maintenance work.
Photos by Mac Mackay. source: https://gltugs.wordpress.com/sandra-mary/


For more Russel exhibits visit Owen Sound Marine & Rail Museum 1165 1st Ave West, Owen Sound, ON N4K 4K8
(519) 371-3333

http://marinerail.com