Russel Brothers Limited OWEN SOUND, ONTARIO Steelcraft Boat Builders
Glenada
Melba Croft Notes: Particulars of Canadian War- Vessels Building & Projected., Glenada [C.N.534] launched 23/11/1943. Canadian List of Shipping 1956: Glenada [C.177886] registered at Montreal; built at Owen Sound in 1943, 73'2 x 20' x 7'5; 101 g.t.; 25 n.t.; 320 hp. Owned by National Harbours Board, Ottawa. GAO Notes: Steel tug Glenada [C.177886] built by Russel Bros, Ltd., at Owen Sound, Ontario in 1943. Owned by Sandrin Bros., Sarnia until 1995, when acquired by Thunder Bay Tug Services, Thunder Bay Ontario. See also Griffon, F. A, Johnson and Donna B. and Richard M. Marshall clipping files.
Historical Collections of the Great Lakes Great Lakes Vessels Online Index
Photo source http://ul.bgsu.edu/cgi-bin/xvsl2.cgi Item 002343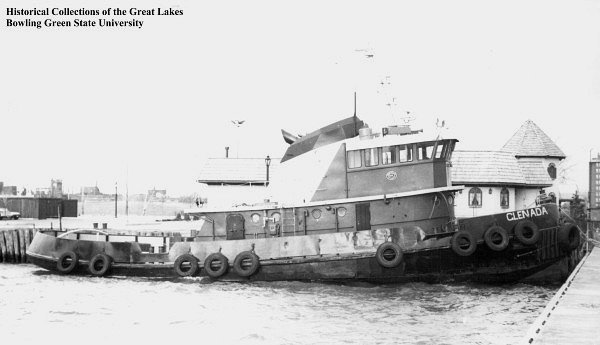 RBF notes: Active service (Thunder Bay, ON April 10, 2001)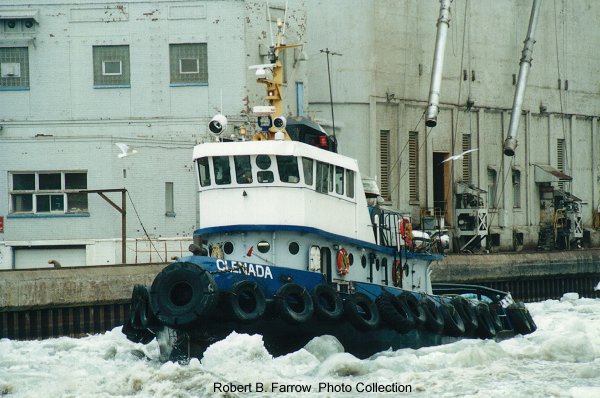 Glenada working in Thunder Bay. 12/06/2001.
Photo by Robert B. Farrow, boatnerd.com.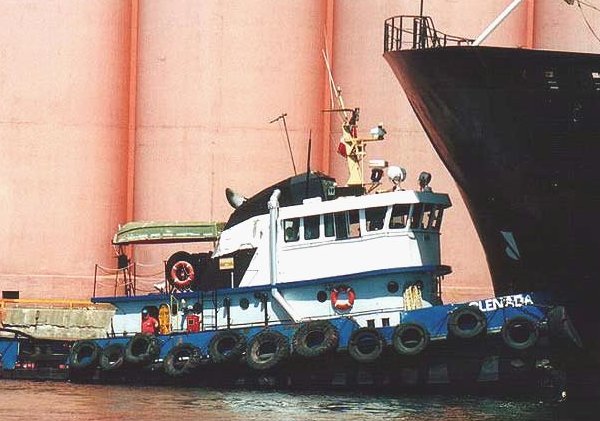 Glenada downbound passing the Fort Gratiot Light, Port Huron.
Photo by Skip Meier, boatnerd.com.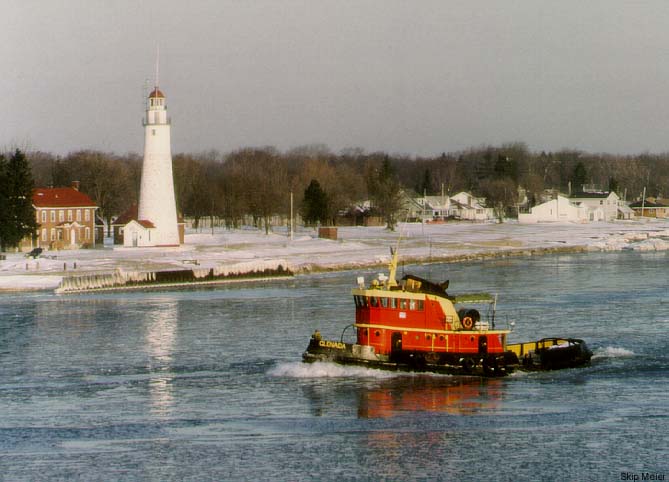 Matthew Carlson notes (Oct. 14, 2016): The second Russel tug I work on, the WW2 tug Glenada. Built in 1943, 76' long, 23' beam. Heavily modified after she was retired from the Canadian Navy with a Blown engine in 1973. She was widened by 2 feet on each side using sponson tanks, new wheelhouse, back rooms removed from the lower deck and repowered with a Caterpillat D399 v16 Diesel engine producing 1300hp. The Glenada was purchased by Thunder Bay Tug Services in 1995 from Sandrin Brothers in Sarnia, Ontario. This tug has gained some local fame for several rescues of pleasure boats, fishing boats and for rescuing the crew of the Grampa Woo cruise boat in a bad storm.

Plaque reads: "Tug Glenada" Capt. Gerry Dawson, Chief Engineer Jack Olson, Deckhand James R------ are highly commended for their courage and skilful seamanship in the rescue and saving of two men from the vessel "Grampa Woo" on Oct. 31, 1996 during storm force winds and 18 ft. seas on Lake Superior. Congratulations on a job well done.
For more Russel exhibits visit Owen Sound Marine & Rail Museum 1165 1st Ave West, Owen Sound, ON N4K 4K8
(519) 371-3333

http://marinerail.com