Russel Brothers Limited OWEN SOUND, ONTARIO Steelcraft Boat Builders
Glenevis
Particulars of Canadian War Vessels Building & Projected by, Naval Service Headquarters (D. N. C. Dept.) 1943 - 1945: Glenevis [C.N.890] built by Russel Bros. Ltd., Owen Sound, Ontario. Canadian List of Ships 1994: Steel tug Glenevis [C.371772] registered at Hamilton. Built at Owen Sound in 1944. She measures 75'; 90 g.t.: 19 n.t. Owned by McKeil Work Boats Ltd., Hamilton, Ontario. Transport Canada List 2003: Owned by Mckeil Work Boats Ltd., Hamilton, Ontario.
From the book UNDER TOW: A HISTORY OF TUGS AND TOWING
by Donal M. Baird, page 97.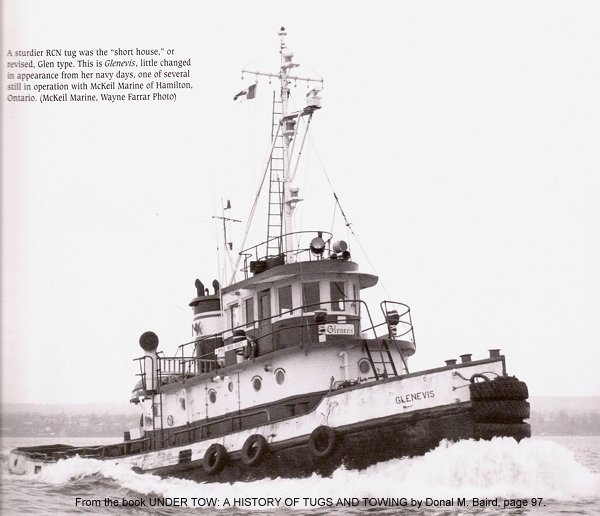 Glenlivet II (left) and Glenevis, Halifax, May 1977. Photo by Mac Mackay.
ATOMIC AND GLENEVIS. WINTER 2006 LAY UP TORONTO HARBOUR, CHERRY STREET.
tugfest.net: Uploaded by: PROPROP [03-03-2006 20:48:24 EDT]

GLENEVIS. WINTER 2002 LAY UP TORONTO HARBOUR.
source unknown, dated 01/12/2002.

Glenevis at Port Weller Dry Docks, St. Catharines, ON in April, 2006.
Photo by Bill Bird, boatnerd.com.

From McKiel.com April 2007. More McKeil Russels: Atomic and Progress (ex P.J. Murer).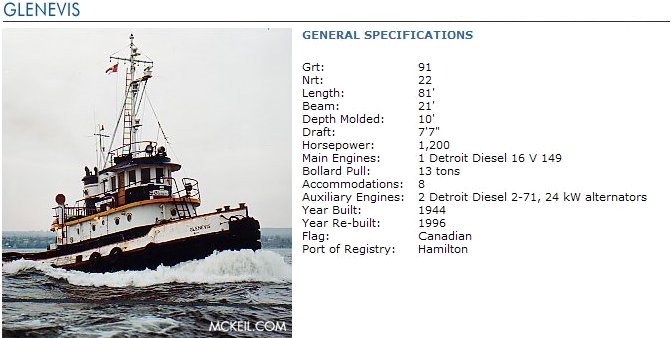 Departing the lakes by way of the New York State Barge Canal. McKeil sold two of its tugs (Glenevis and Paul E. No. 1) off-lakes. They went to Oswego and down the barge canal, rumoured to be headed for Caribbean owners. Their registers closed June 26, 2007.
source unknown, via boatnerd.com. Gerry Ouderkirk Collection.

For more Russel exhibits visit Owen Sound Marine & Rail Museum 1165 1st Ave West, Owen Sound, ON N4K 4K8
(519) 371-3333

http://marinerail.com