Une histoire oubliée Adéodat "Cowboy" Ruest, mon oncle ne le reverra plus jamais.
Né à Price, le 1er avril 1923, Adéodat Ruest surnommé Cowboy, disparu à jamais dans le lac Métis le 26 octobre 1954.
À bord du Jose. D, un petit remorqueur construit en 1947, lui et ses collègues devaient faire le ménage sur le lac afin de préparer le printemps prochain. Ernest Ross, capitaine de Mont-Joli et Émilio St-Pierre, commis en chef de Rimouski, l'accompagnaient. Ils ne pouvaient se douter du drame qui les attendait. Le remorqueur mit en marche son moteur vers 8 h 30 du matin. Adéodat, comme à l'habitude, devait se rendre sur le pont arrière pour s'occuper de la pompe et de la mécanique. Le capitaine fit une manœuvre pour positionner le navire : il recula. Il est environ 9 heures. Adéodat sort de la salle des machines pour se rendre à son poste. La passerelle où il se trouvait était glissante, la vitesse soudaine du Jose. D le projeta dans l'eau. Il essaya de s'accrocher au manche de la pompe mais en vain, il tomba à l'eau, car le manche, fabriqué de bois, se cassa. On ne le reverra plus jamais.
La cause de la noyade demeure encore un mystère aujourd'hui. Selon ses compagnons, il dut perdre l'équilibre et s'assomma, alors il perdit conscience. Incapable de nager afin de refaire surface, il fut aspiré par le tourbillon produit par l'hélice du moteur. Une autre théorie pourrait être considérée. Ne sachant pas nager, il put tout simplement se noyer. Quand ses collègues qui se trouvaient sur le remorqueur ont vu qu'il ne répondait pas, ils ont immédiatement fait appel à un compagnon qui prit une petite chaloupe pour faire le tour du lac. Après plusieurs minutes d'observations soutenues, sur la grandeur du lac, il trouva finalement les mitaines et la casquette d'Adéodat près d'une petite île.
Des équipes de recherches, qui furent au travail jusqu'au samedi soir suivant la disparition, ont dû interrompe leurs opérations pour des causes inconnues. Ils ont repris le jeudi 4 novembre mais peine perdue ils doivent laisser place aux plongeurs. Environ deux semaines plus tard, des scaphandriers ont essayé de retrouver le corps d'Adéodat, mais la noirceur causée par des résidus et des arbres couchés sur le fond rendait les recherches impossibles. Ils ont donc tout abandonné au détriment de la famille.
Au début des années 70, cette histoire prit une tournure étonnante, un pêcheur américain ressortit du lac une botte avec l'os de la jambe d'Adéodat. Ceci prouva qu'il était bel et bien dans ce lac maudit. Suite au décès d'Adéodat, la compagnie Price a muni le Jose. D d'une barrière pour prévenir les chutes. Trop peu trop tard, le lac Métis avait fait une autre victime.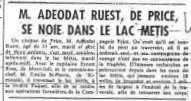 Copyright © 2008 Samuel Côté - Tous droits réservés.
A forgotten story
My uncle Adéodat "Cowboy" Ruest never came back.
Born in Price, April 1st, 1923, Adéodat Ruest, nicknamed Cowboy, vanished in lake Métis, October 26, 1954.
Aboard the Jose. D, a small tug built in 1947, the crew were cleaning the lake of stray logs in order to prepare for next spring's river drive. Ernest Ross, captain of Mont-Joli and Émilio St-Pierre, of Rimouski, accompanied them. They could not suspect the drama that awaited them.
The tug started its motor about 8h 30 that morning. Adéodat, as usual, left the rear bridge to take care of the pump and mechanics.
At about 9am, Adéodat (who could not swim) left the engine room when the captain made a sudden manoeuvre to position the tug. He slipped on the footbridge and fell in the water. He tried to cling to the wooden handle of the pump, which broke, and he fell into the water, never to be seen again.
The drowning remains mysterious today. According to the crew, he might have lost consciousness after his fall. Incapable of swimming, he might have been sucked under by the whirling propeller. Or, he simply drowned. When his mates who were on the tug saw that he didn't answer, one crew member took a small rowboat out to search the lake. After several desperate minutes, he finally found Adéodat's mittens and cap close to a small island.
Search teams worked until the Saturday evening following the disappearance, but had to interrupt their operations for unknown reasons. By Thursday November 4, they left the search to the divers, still to no avail. About two weeks later, divers again tried to recover the body of Adéodat, but poor water visibility frustrated the operation, and the search was finally called off, much to the family's disappointment.
In the early 1970's, this story took an astonishing turn. An American fisherman found a boot with a decomposed human leg still in it. Adéodat's widow was able to confirm the boot belonged to Adéodat.
Following Adéodat's death, the Price company installed more railings on the Jose. D. to help prevent falls. Too little too late, lake Métis had already claimed her victim.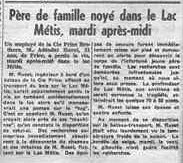 © copyright 2008 Samuel Côté - all rights reserved.