Russel Brothers Limited OWEN SOUND, ONTARIO Steelcraft Boat Builders
La Tuque
Canadian List of Shipping 1956: La Tuque [C.173236] registered at Montreal; built at Owen Sound in 1941. 32' 7 x 9' 5 x 3' 5; 7 g.t.; 5 n.t.; 50 hp. Owned by St. Maurice River Drive Co. Ltd., Trois Riviers , Québec.
Delivery of La Tuque by rail in 1941 to the STMRD. Arrival at Fitzpatrick, Qc., in 1941, near La Tuque of 3 boats ordered by the STMRD from Owen Sound, Ont.
L to R: La Tuque, Bostonnais and La Croche.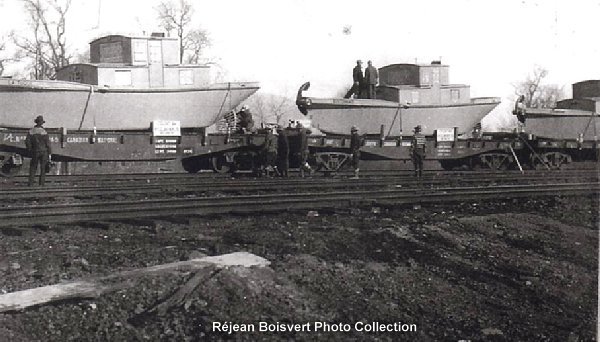 This photo was found on ebay.ca by Mario Pompetti of Montreal, Feb. 2018. Given the year, and the place (likely La Tuque) we can reasonably narrow it down to the three boats shown being delivered in 1941 above. Mario Desilets (who drove Russel tugs in La Tuque '84-'98) is sure it is not La Croche, as that boat had a narrower nose. So this may be either Bostonnais or La Tuque.
---
The back reads" (Editors: This one of a set of pictures on logging in Canada for release to AM's of Thursday July 9. Watch release date.) PLOUGHING THROUGH LOGS An "Alligator" boat (foreground), specially built to cross log raft booms, ploughs through logs jammed together as far as the eye can see in the St. Maurice river, Province of Quebec, Canada. WATCH RELEASE DATE: AM'S OF THURSDAY JULY 9 Associated Press photo PJM 7/7/42 11:30P

For more Russel exhibits visit Owen Sound Marine & Rail Museum 1165 1st Ave West, Owen Sound, ON N4K 4K8
(519) 371-3333

http://marinerail.com