Russel Brothers Limited OWEN SOUND, ONTARIO Steelcraft Boat Builders
Expanse / Le Phil D.
Ex- Expanse. Canadian List of Shipping 1970: Steel tug Expanse [C.313124] registered at Ottawa. Built at Owen Sound in 1961. 56'; 37 g.t. Marine Museum of the Great Lakes at Kingston, - Russel Brothers clipping file: Photo. Built for Canadian International Paper Company. GAO Notes Renamed b) Le Phil D. owned in 1997 by Navigation Arcade Ltd., Notre-Dame De Pierreville, Québec. Transport Canada List 2003: Owned by Navigation Arcade Ltee, Pierrville, QC
Don Moon Collection.
From Russel company brochure.
OSMRM archive.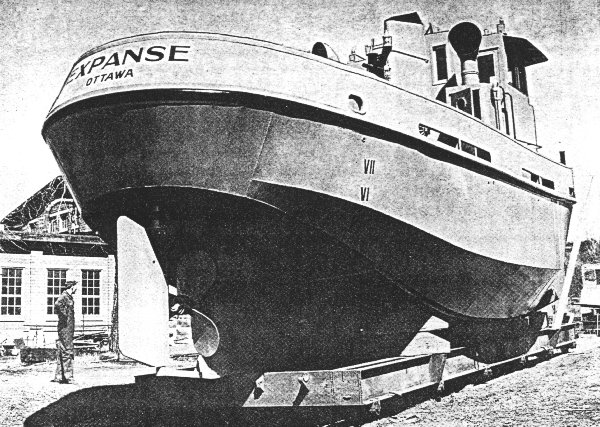 Notre-Dame de Pierreville, 8 Jan. 1983. Photo by Rene Beauchamp.
Rene Beauchamp comments (March 20, 2018): "LE PHIL D. wintering at her base in January 1983 at Notre-Dame-de-Pierreville. At that time, the registered owner was listed as Artlac Dredging Ltd. Later on, Navigation Arcade Ltée. became the registered owner. Nowadays, owned by a number company, a subsidiary of Groupe Ocean."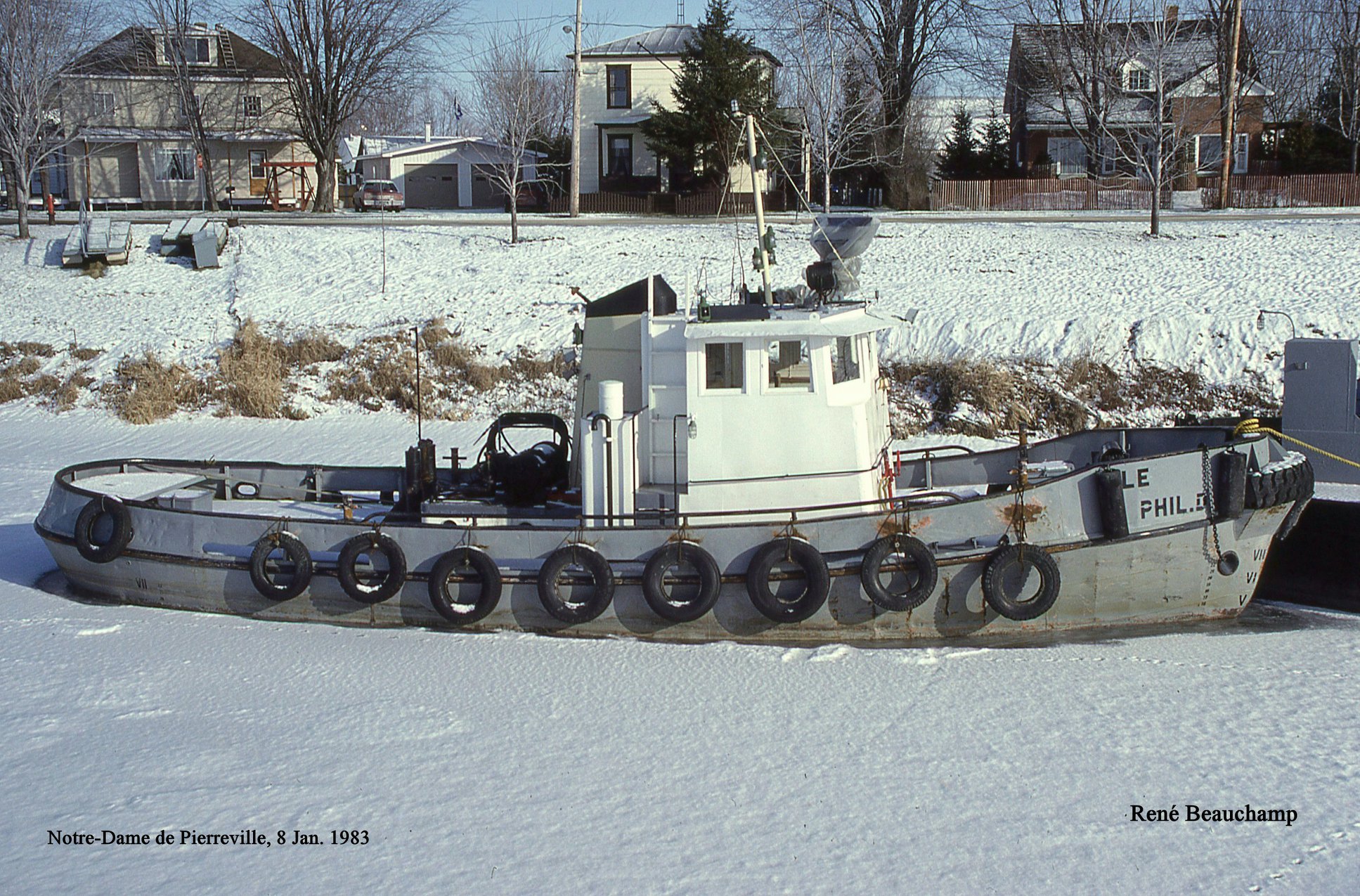 June 21, 2001, St. Lawrence River. Photo by Mac Mackay.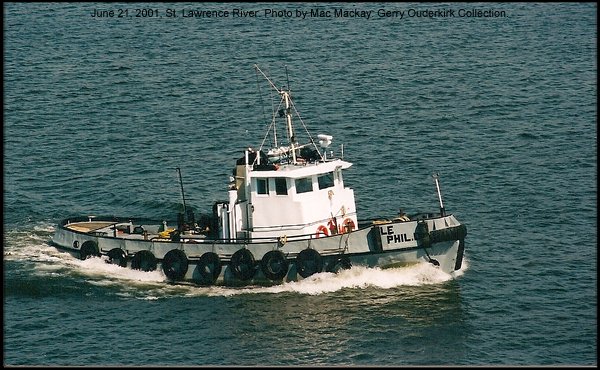 2006. Photo by Kent Malo.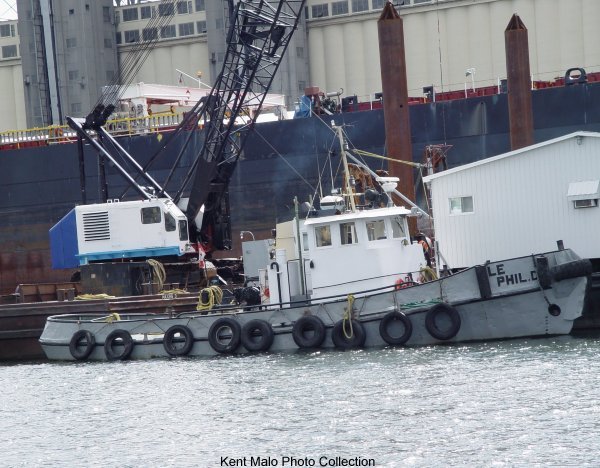 July 27, 2007, Mac Mackay photo.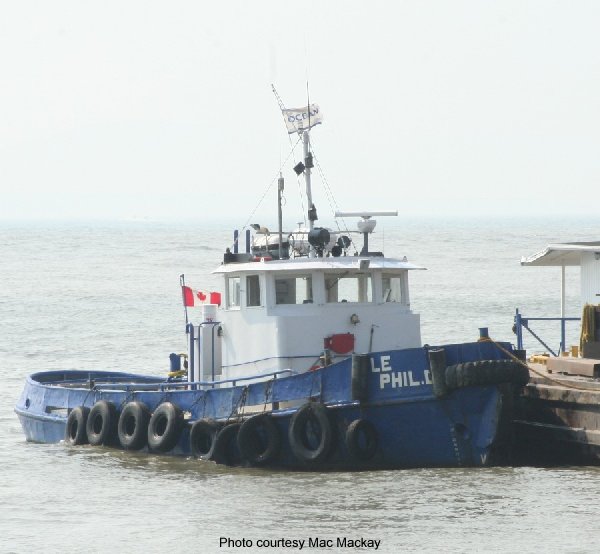 From Mac Mackay's excellent Tugfax blog about Halifax boats WEDNESDAY, JULY 20, 2011
source: http://tugfaxblogspotcom.blogspot.ca/2011/07/russel-tugs-do-they-last-forever.html
Le Phil D. ex Expanse, was built in 1961. It is seen here at Rivière du Loup, June 30, 2011,
tending the dredge Ocean Basque 2. It too works for Groupe Océan.

From Mac Mackay's excellent Tugfax blog about Halifax boats WEDNESDAY, JULY 2, 2011
source: http://tugfaxblogspotcom.blogspot.ca/2011/07/russel-tugs-do-they-last-forever.html
As usual maintenance dredging was underway at Rivière-du-Loup (they can't start much before the end of June due to the freshet of spring run-off). Also as usual, the veteran 1961 tug Le Phil D was attending the dredge Océan Basque 2. Over the past several years, crews have been working away at painting the small tug in Groupe Océan colours. This year it was time for the corporate logo.

Ocean Yvan Desgagnes opening the ice for Le Phil D, a 1961 Russel Brothers Ltd. vessel. Photos by Will Van Dorp.
source: https://tugster.wordpress.com/2017/03/23/ocean-blue-4/


From source: https://gltugs.wordpress.com/le-phil-d/


For more Russel exhibits visit Owen Sound Marine & Rail Museum 1165 1st Ave West, Owen Sound, ON N4K 4K8
(519) 371-3333

http://marinerail.com