Russel Brothers Limited OWEN SOUND, ONTARIO Steelcraft Boat Builders
Sandra E. / Marion B.
Steel fish tug. Transport Canada List 2003: Owned. by Ben Bruinsma & Sons Ltd., Chatham, Ontario. Shaun Vary Notes: Marion B. ex- Sandra E. [C.806676] built at Owen Sound in 1954 by Russel; registered at Owen Sound. 41'; 34 g.t.; 28 n.t. Owned by Ben Bruinsma & Sons, Ltd., Chatham, Ontario.
OSMRM Collection. Don Capel notes (Feb 2nd, 1993): When in Owen Sound, Sandra E. was licenced 33E___. Registration not shown in 1977 Registry Book. The boat was likely built for a Mr. Edmonstone, who later sailed for the Tobermory ferry service. The boat was later sold and the turtle top built on after it left Owen Sound.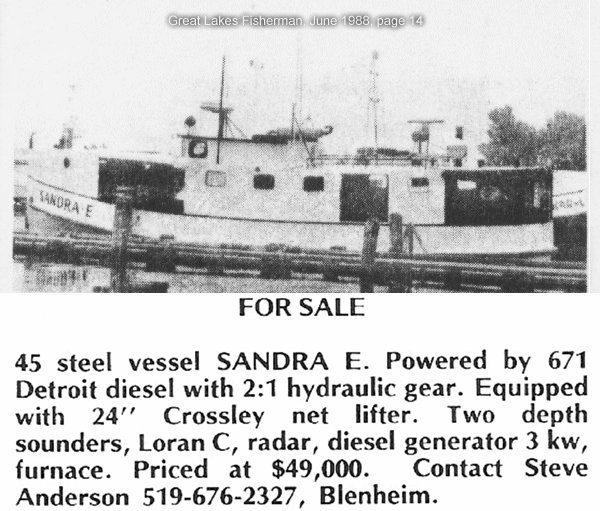 Great Lakes Fisherman, Oct. 1980. Erieau, ON. Gerry Ouderkirk Collection.
Sandra E. (right) and One-O-One, Owen Sound, Nov. 1959. John Mackay photo.
This photo pastiche was pieced together from two John Mackay photos. The right
hand side can be found on the Translake III page, and is dated Nov. 1959.
Mitchell's Bay, Lake St. Clair, Feb. 2002. Photo by Capt. George Lee,
of Hammond Bay Yacht Charters in Sombra.
Marion B., Feb. 2002. Photos by George Lee. George comments (Jan. 2018):
"They towed their barge back to Wallaceburg and the boat has
been there ever since....hasn't moved in years."
Marion B., Wallaceburg, Jan. 7, 2005. Photo by Al Mann, courtesy Gerry Ouderkirk.
For more Russel exhibits visit Owen Sound Marine & Rail Museum 1165 1st Ave West, Owen Sound, ON N4K 4K8
(519) 371-3333

http://marinerail.com