Russel Brothers Limited OWEN SOUND, ONTARIO Steelcraft Boat Builders
Mark Whitman
Canadian List of Shipping 1956: Mark Whitman [C.173699] registered at Port Arthur; built at Owen Sound in 1945. 38'7 x 11'6 x 4'3; 14 g.t.; 10 n.t.; 90 hp. Owned by Marathon Corporation of Canada Ltd.. Toronto. Canadian List of Shipping 1970: Steel tug Mark Whitman [C.173699] registered at Port Arthur. Built at Owen Sound in 1945. 39'; 14 g.t. Canadian List of Ships 1997: Owned by G. L. Robbins Construction Ltd., Courtright, Ontario. Mark Whitman ON 173699 Date of registry closing: 2002-04-19.
That is Harry Warkentin in the suit. Harry designed many of the Russel Brothers boats, this one is probably undergoing sea trials in the bay, probably either the Mark Whitman or perhaps the Cassell, late 40's before being loaded onto a rail car. Richard was Harry's son, and was the last CEO of Russel Brothers when it died in 1993.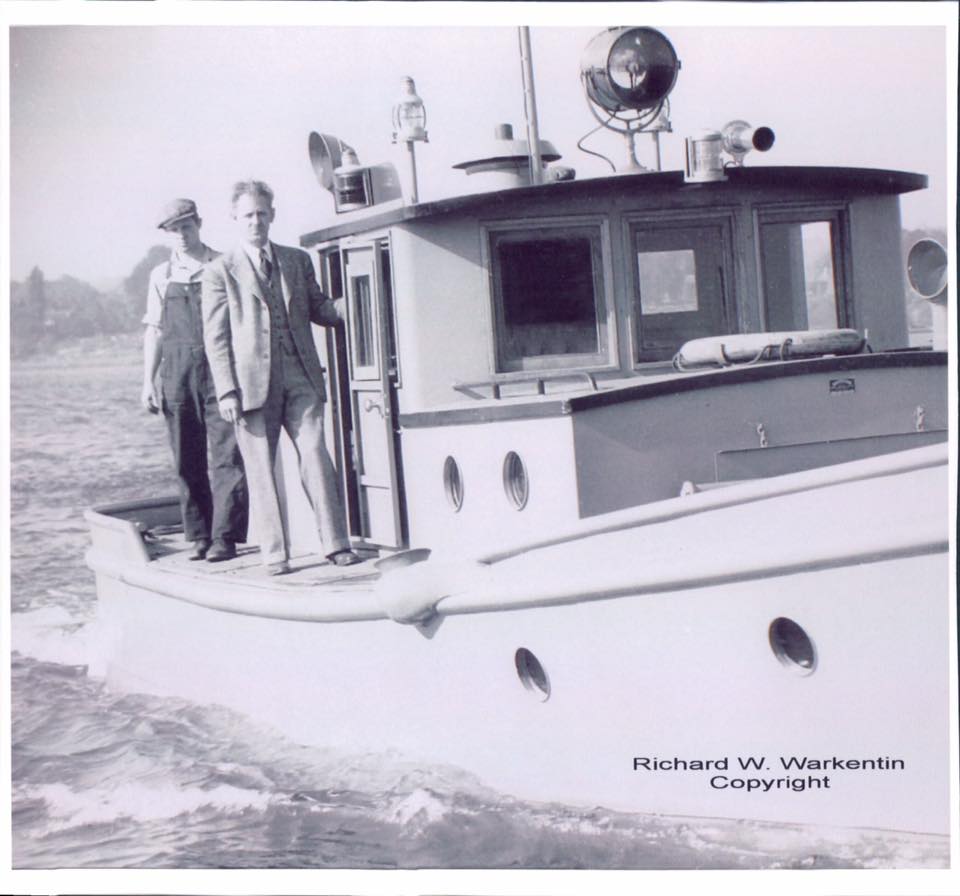 Photo from Company Brochure Circular 46A, Steelcraft Warping Tugs
Clipping from Gerry Ouderkirk archive. From 1947 Russel ad Logging Tugs In Standard Sizes

Stan Johnson of M&DH Society identifies these tugs L to R as Martin E Johnson, Mark Whitman and Polygon.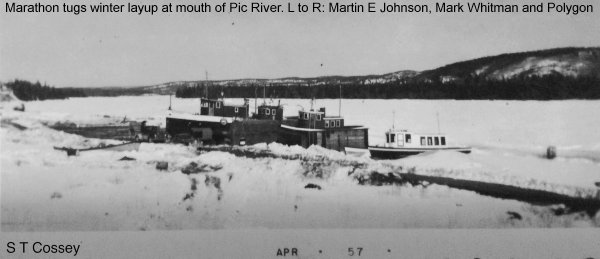 Workers clear logs during the final river drive on the Pic River in 1983, Marathon's mill was the last in the province to be supplied with logs driven by river. Rivers such as the Nipigon, White and Kaministiquia were the original highways for the forest industry. Logs would flow to mills carried by high waters in the spring. Photo from an old calendar, courtesy Don Loponen.

Photos courtesy Leigh Cossey. Appear to be from the same day as the photo above (1983).

Mike Scruton notes (May 14, 2017): "The Mark Whitman was rebuilt in Port Dover, and a 12-71 Detroit Diesel was installed. From there it went to work in the St. Clair River for a while. After that it seemed to disappear, then about 5 years ago we listed it for sale for a customer in the Boston area. It sold to a marina on the East Coast of the US. The owner informed me at the time he replaced the 12-71 with an 8-71, claiming it had too much power.

For more Russel exhibits visit Owen Sound Marine & Rail Museum 1165 1st Ave West, Owen Sound, ON N4K 4K8
(519) 371-3333

http://marinerail.com