Russel Brothers Limited OWEN SOUND, ONTARIO Steelcraft Boat Builders
Martin E. Johnson
Canadian List of Shipping 1970: Steel tug Martin E. Johnson [C.188403] registered at Port Arthur. Built at Owen Sound in 1959. 43'; 26 g.t. Transport Canada List 2002: Built by Russel-Hipwell Engine Co., Owen Sound, Ont. Owned by Purvis Marine Ltd., Sault Ste. Marie, Ontario. Transport Canada List 2003: Owned by Purvis Marine Ltd., Sault Ste. Marie, Ontario.
---
This small tugboat was built in Owen Sound, Ontario in 1959 by Russel Brothers Limited as the Martin E. Johnson for American Can of Canada. In 1984, she was sold to Purvis Marine of Sault Ste. Marie, Ontario. The Martin E. Johnson is often utilized by Purvis for icebreaking, dredging, and other smaller projects on the St. Marys River. Type: Single Screw Tugboat Year Built: 1959 Builder: Russel Bros. Ltd., Owen Sound, ON Engines: 1 Cummins NVH-12 Horsepower: 600 bhp Length: 47' 00? Breadth: 16' 00? Depth: 7' 00? Port of Registry: Thunder Bay, ON.
Stan Johnson of M&DH Society identifies two of these tugs as Martin E Johnson and Polygon. Gord Campbell comments (Feb. 1, 2018) "The vessel with the white superstructure I believe, was owned by McCuaig of Heron Bay. It was both a fishing tug, and a beachcombers tug. The dark coloured tugs were red. Usually the logging tug Mark Whitman was beached for winter at Camp 19 or about 8 miles up river above the first rapids on the Pic River. There is a logging road on the south end of the Airport that headed for the valley and it wandered down to the river valley."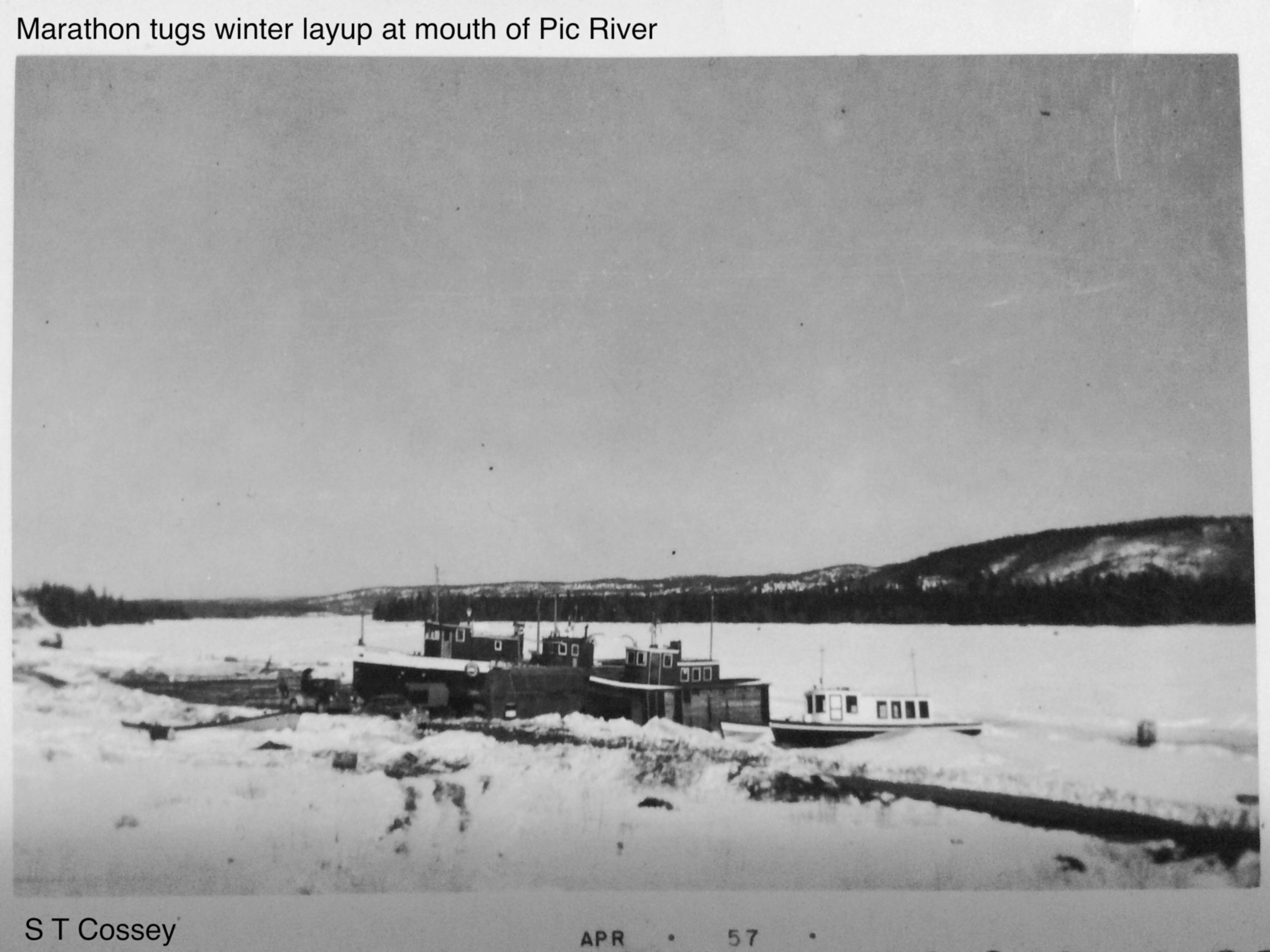 c. 1984, working as part of the James River Corp. / Marathon Corp. fleet. Photo courtesy of Gord Campbell.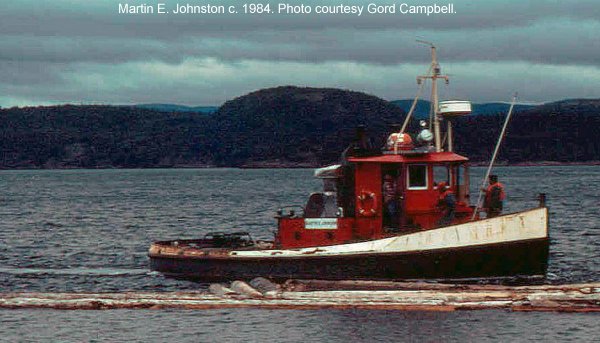 Marathon, Aug. 22. Leigh Cossey notes (Dec. 10, 2017): "Polygon and Martin E. Johnson bring
the last log booms into Marathon. Clipping from Stan Johnson's Home Towners group."

Martin E. Johnson - (Soo, ON July 2, 2004)

Photo courtesy the Marathon & District Historical Society.

Martin E Johnson
Photo by Mike Nicholls, boatnerd.com.

Undated photo courtesy Marathon & District Historical Society.

Regan and Martin E. Johnson
Alan Johnson comments (Dec. 14, 2017): "THE PICTURE WAS TAKEN IN 2010 DURING THE ANNUAL TUGBOAT PARADE HELD AT THE SOO , SPONSORED IN LARGE PART BY PURVIS MARINE WHO BOUGHT THE TUG MARTIN E. JOHNSON FROM AMERICAN CAN IN 1984. THE TUG WAS BUILT IN 1959 AND NAMED THE MARTIN E JOHNSON IN MEMORY OF MY FATHER WHO DIED IN 1955. AT THE TIME OF HIS DEATH , HE WAS MARINE SUPERINTENDENT FOR MARATHON PAPER. THE TUG REMAINS FULLY OPERATIONAL AND PART OF THE PURVIS FLEET. THIS PICTURE IS PART OF THE ANNUAL SOO TUG BOAT RACE/PARADE. THE "PM" ON THE STACK OF THE MARTIN E JOHNSON STANDS FOR PURVIS MARINE WHO ARE THE CURRENT OWNERS."

Clipping courtesy Gerry Ouderkirk

OSMRM Collection, source unknown

Martin E. Johnson in Sault Ste Marie Ontario - Scotty Purvis busting ice.
Photo courtesy Rob Goodfellow.

June 2006, at night, in the rain. Soo, Purvis yard. Photo courtesy Shaun Vary.

Dec 28, 2017. Martin E. Johnson involved in refloating sunken tug.

Workers brave extreme cold to refloat diesel-toting tug in St. Mary's River. Vessel, known as Dispatch II, contains an unknown amount of diesel fuel and lubricant. The Canadian Coast Guard says the tugboat that sank on Christmas Eve has been refloated. Source: http://www.cbc.ca/news/canada/sudbury/ssm-tug-sunk-1.4466288

For more Russel exhibits visit Owen Sound Marine & Rail Museum 1165 1st Ave West, Owen Sound, ON N4K 4K8
(519) 371-3333

http://marinerail.com