Russel Brothers Limited OWEN SOUND, ONTARIO Steelcraft Boat Builders
Mitoi
Probable, but not confirmed, Russel Build.
RBF notes: Looks like a Russel Built 37' flat bottom hull, not confirmed.
(Grand Bend, ON April 4, 2004)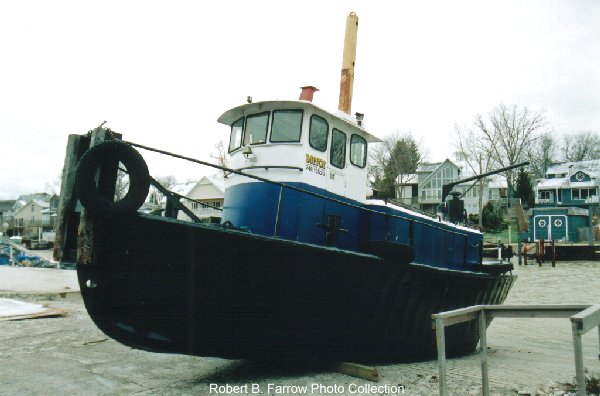 SV notes: I call this a "fringe" shot since nobody has positively identified Mi Toi as a Russel boat. After seeing the photo of her out of the water, I would bet that she is. The photo was taken at Grand Bend in 2004. One can clearly see the hydraulic spud that goes through her hull, just behind the wheelhouse.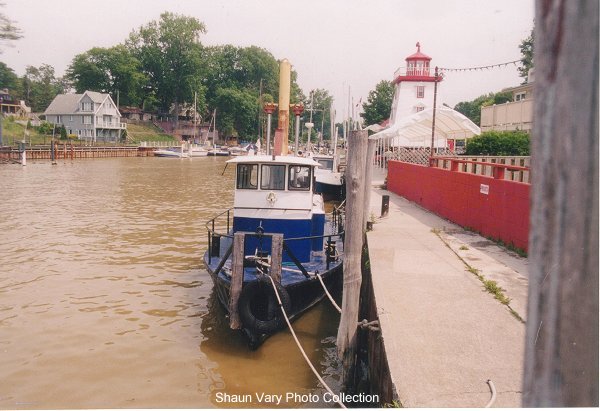 Mitoi September 2016 in Grand Bend, Ont. Photos by Carl Burkett. David Bannister comments: "Owned by Charlie Miller, who has a contract with Lambton Shores to dredge Grand Bend and Port Franks channels." Mike Cunningham comments: " I've seen her used for dredging. Spud down and prop wash in Grand Bend. There was a deflection plate mounted aft of the prop same as a trolling plate used to deflect the discharge current downward."

Mitoi in Port Franks, ON. May 7, 2017. She winters on the launch ramp in Grand Bend. Photo by Mike Cunningham.

Mitoi, Grand Bend, ON, Nov. 19, 2017. No hull number seen on the bow.
Photo by Mike Cunningham.

Mitoi, Grand Bend, ON, Jan. 28, 2018. 602 on the stern is likely the hull number, which would date it to c. 1946. Photos by Mike Cunningham.

Mitoi, Grand Bend, ON, April 1, 2018. Photos by Mike Cunningham.

For more Russel exhibits visit Owen Sound Marine & Rail Museum 1165 1st Ave West, Owen Sound, ON N4K 4K8
(519) 371-3333

http://marinerail.com