Russel Brothers Limited OWEN SOUND, ONTARIO Steelcraft Boat Builders
Nascopie Lighter
Design 331 – 31'0 x 10' – 37 hp. One of the most historic and celebrated ships of the Hudson's Bay Company was the Royal Mail ship Nascopie (NOT a Russel!), a 2500 ton, 285 ½ foot long steamer-icebreaker. This Russel built self-propelled lighter was built to rigid specifications, for the Arctic waters.
Bob Plakholm Collection.
About RMS Nascopie
| | |
| --- | --- |
| | Nascopie in ice, 1934 HBCA Album 53/78 (N6925) |
Named after First Nations people of Québec and Labrador, Nascopie was designed and built in Scotland in 1911. Hudson's Bay Company owned the majority interest and the Job Brothers, a Newfoundland fishing and packing company, owned the minority. They later relinquished their share leaving Hbc the sole owner. In July of 1912 the Nascopie set sail on the first of thirty-four voyages through the Hudson Strait as a supply ship for the Hudson's Bay Company's northern outposts. Throughout her historic career, however, she would be called upon for other duties as well.
The Nascopie played key roles in Canadian history. In 1916, during the first World War, Hbc chartered the Nascopie to the French Government as a supply ship. She was used to bring wheat from Russia and munitions and war materials from France to Russia. It was during a voyage from Russia to Newfoundland that the Nascopie encountered a German submarine north of Murmansk. They exchanged gunfire and to all appearances the submarine was hit and sunk. It was later confirmed that the submarine didn't sink but instead fled. However, the Nascopie is still remembered as sinking a German submarine.
One of the Nascopie's more bizarre duties happened in 1921 when she was called upon to sail to Loppen, Norway. There she was to pick-up a cargo of 550 reindeer to be delivered to Baffin Island. Caribou were becoming scarce and it was believed that reindeer would do well there and supply meat and skins to the Inuit. Unfortunately the venture was not a success.
Over the next few years the Nascopie made her annual Arctic voyage each year, going farther and farther north than she had ever been, as far as Arctic Bay in 1926. (The farthest she would ever go was Robertson Fiord in Greenland). During this time she also performed such heroics as rescuing crew and passengers in 1925 from the Company ship Bayeskimo which had been crushed by ice in Ungava Bay. In 1929 she rescued crew from the sinking S.S. Florencia.

Advertisement from
The Beaver, 1933
The early 1930s would see her docked for three winters and two summers for refitting at Ardrossan, Scotland, where she had been built. During this hiatus the eastern Arctic posts were supplied by the S.S. Ungava. Finally in 1933 Nascopie sailed again and on June 16 of that year she ended the tradition, begun in 1668, of Company ships sailing between England and Hudson's Bay. From this point on Nascopie was based in Montreal and was managed by the Canadian Committee. The year 1933 was also the first year tourists traveled on the Nascopie. By 1939 she had carried such illustrious passengers as painter Frederick Varley of the Group of Seven. After the annual voyage of 1941 passengers were no longer permitted as it was feared it was affecting the health of the Inuit.

During the thirties the Nascopie was part of many historic events, two of which happened in 1934 and 1937. In 1934 Hbc Governor Patrick Ashley Cooper and his wife joined the Nascopie in Montreal and sailed as far as Churchill. This marked the first time a Governor of the Company had ever visited Hudson Bay. In 1937 the ship sailed from the East to Prince Regent Inlet and into the Bellot Strait to allow the Hudson's Bay Company to establish Fort Ross. There she was met by the schooner Aklavik which had sailed into Bellot Strait from the West. With the historic meeting of the two at Fort Ross, the North West Passage became a reality.

The 1940s began with the world once more at war and the Nascopie was again fitted with a 3.7 inch naval gun and an anti-aircraft gun. Along with her annual Arctic voyages she was also used for the war effort to ship cryolite, used in aluminum manufacturing, from Greenland to Canada. Sadly, Nascopie would not survive the decade.

In 1947 the Nascopie struck a steeply rising uncharted reef off of Beacon Island at the entrance to Cape Dorset harbour. There she remained for over two months when on September 25th she was broken in half by a storm and her partly submerged bow slid into the deep water. Her stern, still clinging to the reef, was swept off by another storm less than a month later on October 15th.

The Nascopie remained undisturbed in her grave for close to fifty years until a team of scuba divers, headed by Paul Beilstein, discovered her. To honour the vessel the team placed a plaque on the reef to commemorate the 50th anniversary of the sinking in 1997.

The Nascopie is a symbol both of Canada's sovereignty in the Arctic and Hbc's formative role there . To pay homage to her the Hudson's Bay Company has commissioned a detailed model of her by Bill Ballenger, which is now on display at the Hbc Gallery – Montreal, the city that for many years was her home port. http://www.hbc.com/hbcheritage/history/transportation/nascopie/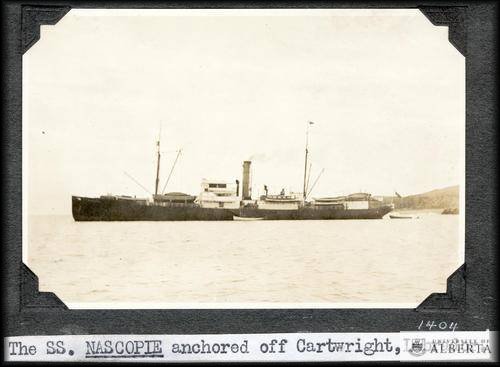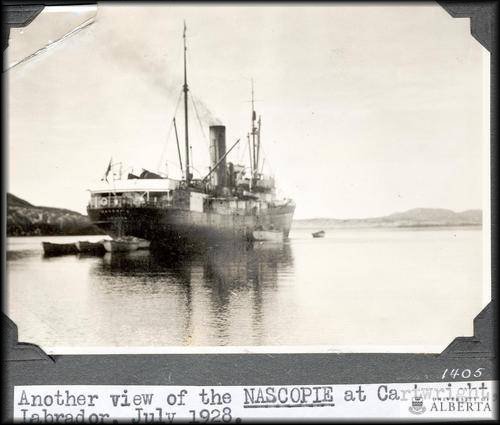 http://archive1.lse.ualberta.ca/asp/list_items.aspx?FileName=79-21-34
---
The SS Nascopie was built by Swan Hunter and Wigham Richardson of Newcastle, England. She was launched on December 7, 1911 and achieved speeds of 14.1 knots during her sea trials. Her gross tonnage was 1870 tons and she was 285.5 feet in length, 43.5 feet at the beam. Fully laden she drew 17.5 feet forward and 22 feet aft. She was powered by triple expansion steam engines with cylinders , 21.5, 35.5 and 58 inches in diameter and a stroke of 42 inches. Her boiler pressure was 180 pounds and the two main boilers were 15 feet in diameter and 11.5 feet long, fired by six furnaces.
The Nascopie was fitted with an ice breaker bow and her plates were of five-eights inch steel. She carried Marconi apparatus located beside the wheelhouse on the upper deck. Her maiden crew was from Newfoundland under Captain Smith and they sailed for Penarth, South Wales in late January, 1912 to take on a load a coal bound for St. John's. That winter she was employed in the annual seal hunt of the coast of Newfoundland under Captain Barbour for the Job Brothers mercantile business at St. John's.
Soon after World War I had broken out the Russians was in dire need of ships with ice breaking capacity, and they placed orders with British shipyards and at the same time began a campaign of purchasing icebreakers on the open market. They first went to Ottawa and purchased the icebreakers Earl Grey and Minto. They then purchased from the Reid Newfoundland Company the icebreaking mail steamers Bruce and Lintrose. They then began negotiations with A. J. Harvey and Co. for the purchase of Bellaventure, Bonaventure and Adventure and with Job Brothers for Beothic and Nascopie. They purchased all except for the Nascopie which continued her supply route to service the Hudson Bay operations.
For more Russel exhibits visit Owen Sound Marine & Rail Museum 1165 1st Ave West, Owen Sound, ON N4K 4K8
(519) 371-3333

http://marinerail.com