Russel Brothers Limited OWEN SOUND, ONTARIO Steelcraft Boat Builders
Rae II

Design 130 - 35' Raised Deck Cruiser

Andy Charette Notes: Built 1936, Fort Frances, ON by Russel Brothers Ltd. 35' Raised Deck Cabin Cruiser. Fire destroyed the superstructure and it was rebuilt in metal. Russel Express engine replaced with Chrysler Ind 6 cyl. Renamed X II and registered in Toronto, ON by Abitibi Power and Paper Company 50-E-1. First boat registered in Toronto, ON. Owned by Andy Charette. RBF Notes: Sitting in a field beside Twin Falls Marina at Iroquois Falls, ON as of 2004.
From a newspaper clipping Jan. 8th 1937
courtesy Robert B. Farrow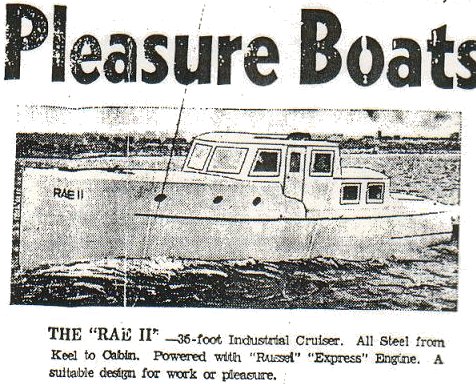 RBF Notes: Sitting in a field beside Twin Falls Marina
at Iroquois Falls, ON as of 2004.
Andy Charette of Grimsby, Ont. notes (Jan. 2007): I purchased the X II 50-E-1 with my buddy Ritchie Irvine in 1973 from Abitibi Consolidated. My friend lost interest in the boat and wanted to purchase a cottage so he asked me to buy him out which I did. Abitibi had ended their river drives and this boat was made available on bids. At the time I had also bid on Abitibi II with the MNR and while I was waiting for their answer I was advised that my bid was approved for the X II 50-E-1 (known earlier as the Ray II).
We chose to go with the bird in hand. Later I was told my bid for the Abitibi II was successful but had to withdraw my bid on this. I believe it was also a Russel Boat. The reason I took the X II out of the water was because of heavy hull pitting and was not prepared to spend money on it. The hull is sound above the water line but that is not the place where it counts the most. The engine was changed to a Chrysler 260 cu. in. which is the same block as the 252 that was in it. I had to purchase a new manifold for it, Later on I was given another manifold. You find them when you do not need them. The trans is an Acme Screw and Gear. I have the manual for it somewhere.
For more Russel exhibits visit Owen Sound Marine & Rail Museum 1165 1st Ave West, Owen Sound, ON N4K 4K8
(519) 371-3333

http://marinerail.com