Russel Brothers Limited OWEN SOUND, ONTARIO Steelcraft Boat Builders
Romeo and Annette /
Upper Canada
Hull #815 (Dick Warkentin newsclipping Jan. 10, 1997). Canadian List of Shipping 1956: Romeo and Annette [C.190421] registered at Owen Sound; built at Owen Sound in 1949. 86'4 x 36'1 x 10'3; 165 g.t.; 88 n.t.; 350 hp. Owned by Restigouche Ferries Ltd., Cross Point, Québec. Steel motor vessel [C.190421] passenger and automobile ferry built at Owen Sound in 1949 by Russel Brothers Ltd. and launched as a] Romeo and Annette 1949 - 1966; renamed b] Upper Canada in 1966.
"Originally launched as the Romeo and Annette, the Upper Canada was was the 822nd ship Russel Bros. built (Fred) Russel said. It was one of two ferries built for Capt. Romeo Allard, who ran a ferry service betweenBathurst, New Brunswick and Québec's Gaspé Peninsula, he and (Bob) Farley recalled. A similar vessel, the Ongiara, was built a few years later and still carries passengers and service vehicles to Toronto Island from the city on a daily basis..." - Owen Sound SunTimes, 1/04/97
Upper Canada on a 1997 return to her original port of Owen Sound.
Photo by Marjorie Couchman Black.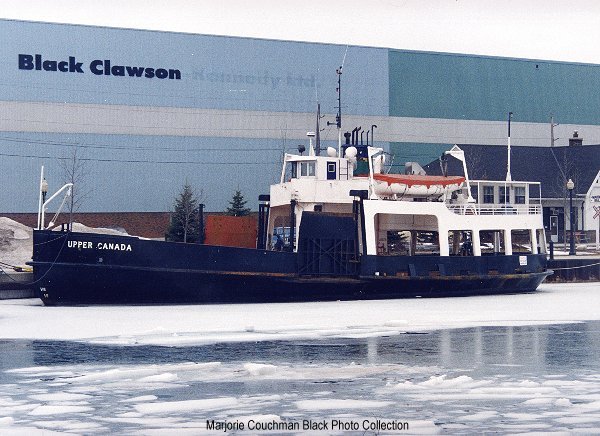 Owen Sound SunTimes May 28, 1949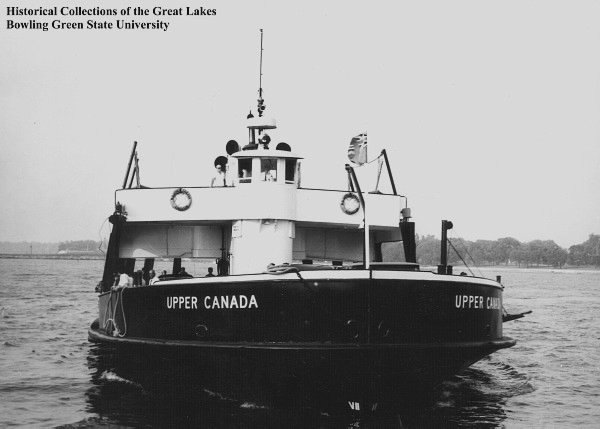 Photo Date: Aug. 19th, 1971
Photo and tables below courtesy Great Lakes Vessels Index, Historical Collections of the Great Lakes,
Bowling Green State University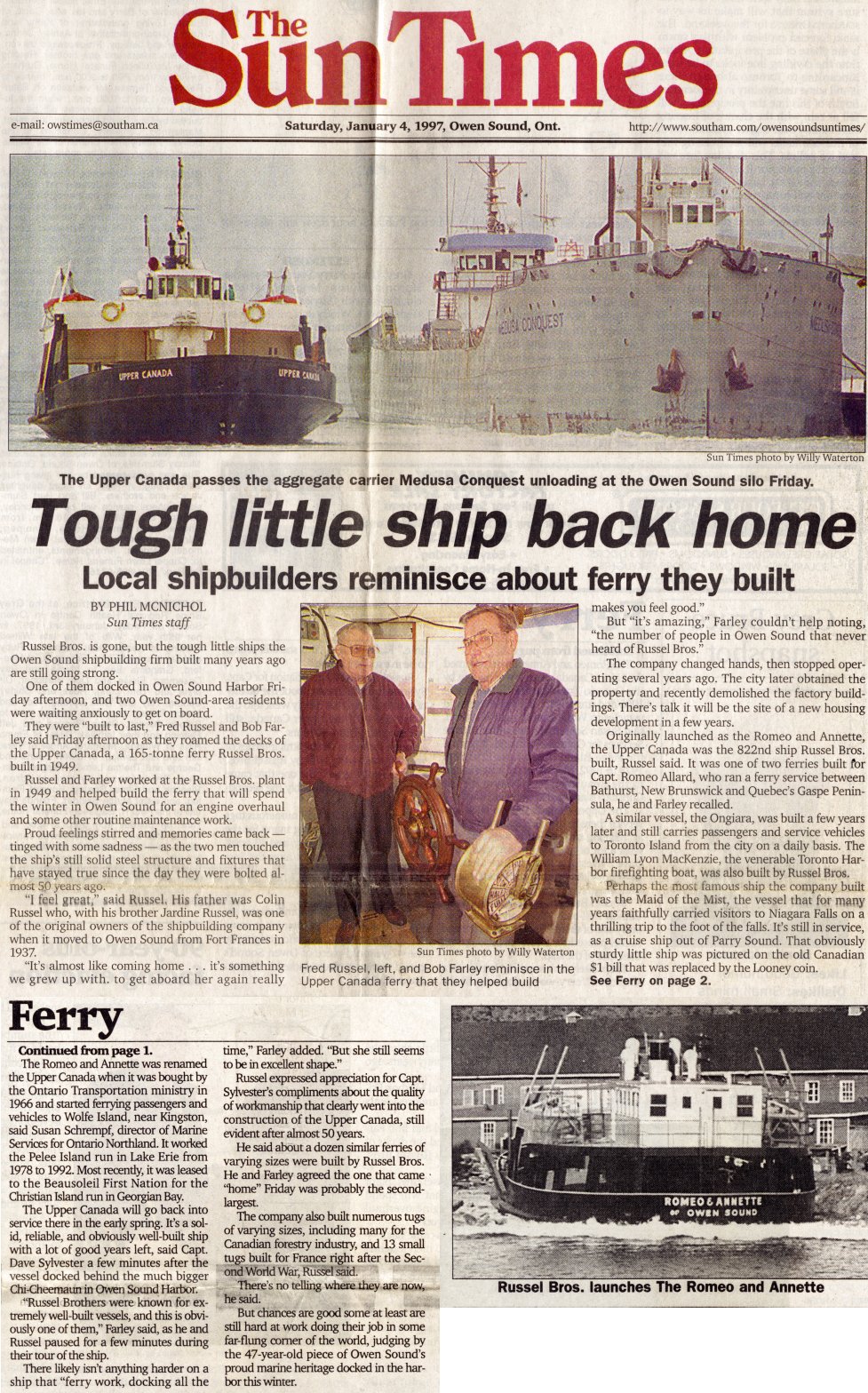 OSMRM Collection
From Russel company brochure: BARGES - SCOWS - FERRIES.
Gerry Ouderkirk archive.
OSMRM Collection
courtesy Harold Woodruff 1988.



OSMRM Collection
courtesy Harold Woodruff 1988.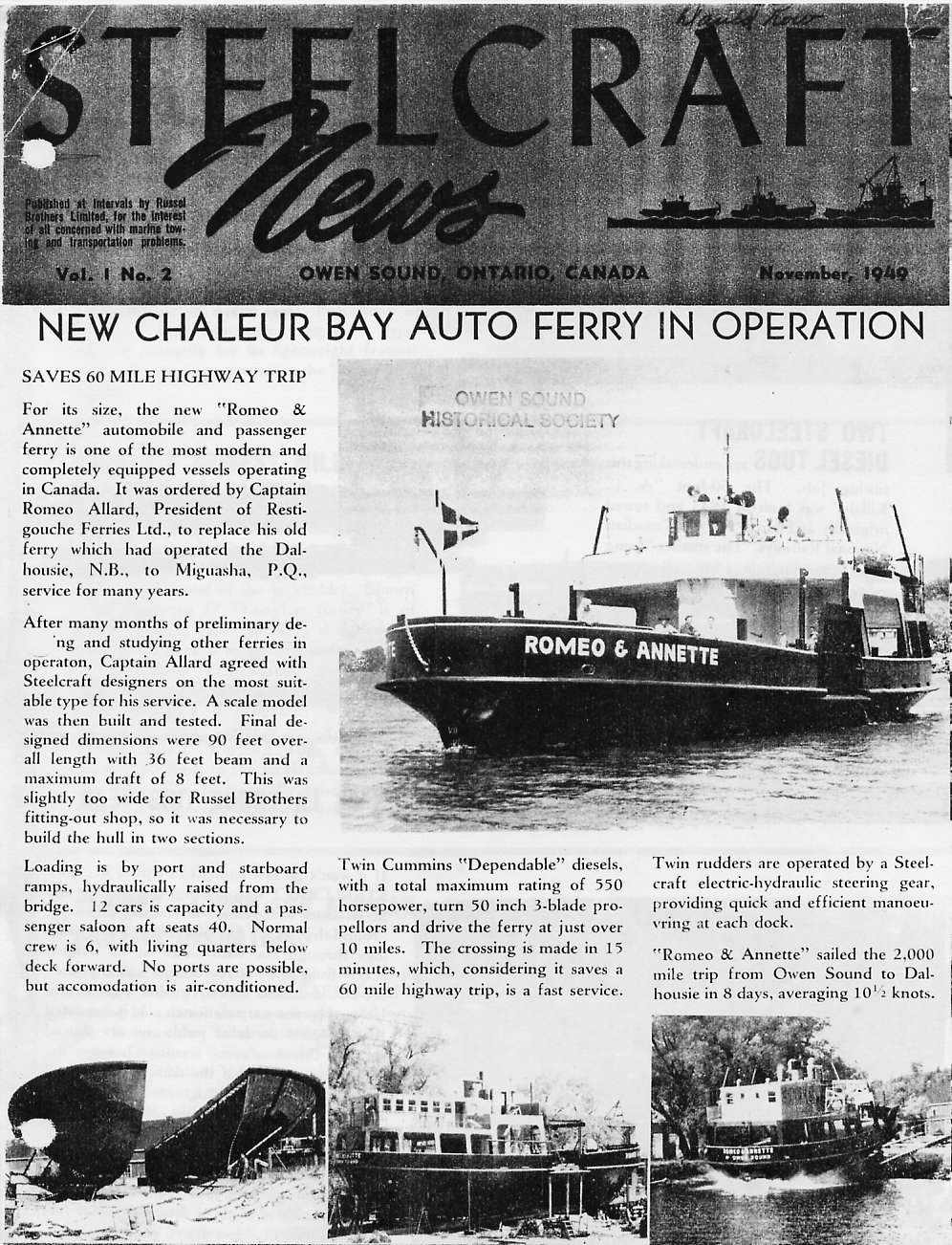 OSMRM Collection.
Can. Transportation, March 1950. Gerry Ouderkirk Collection.
Joe Fossey Collection.
OSMRM Collection.
Description posted February 28, 2002.
http://www.wellandcanal.ca/shiparc/carferries/uppercanada/romeo&annette.htm
Photo taken from a post card supplied
by Matthew Carlson. Click to enlarge.
Romeo & Annette [C.190421] was Hull 815 of Russel Bros. Ltd., Owen Sound. Built for Captain Romeo Allard and operated by Restigouche Ferries Ltd. of Cross Point, Quebec. She was launched on Friday, May 27, 1949 and later went to work running between Dalhousie, New Brunswick and Miguasha Point, Quebec on the Bay of Chaleur in the Gulf of St. Lawrence. Her dimensions were 86.4' in length and 36.1'10.3' in width with tonnages registered at 165 Gt and 88 Nt. Propulsion was achieved with a single screw that was connected to a 350 horsepower diesel engine. She was sold to The Minister of Highways, Ontario in 1965 and was upbound in the Seaway in October of that year bound for Kingston. She ended up wintering there and it was during this layup that her name was changed to Upper Canada. In the spring of 1966 she replaced the Wolfe Islander (2) which was laid up at the LaSalle Causeway undergoing a major engine overhaul. In 1975 Upper Canada was retired after the Wolfe Islander III went into service. On July 15, 1977 Captain Harold Hogan and crew took Upper Canada to Leamington, Ontario where she was used as a back up boat for the Pelee Islander. On March 3, 1978 she was officially re-registered out of Chatham, Ontario.
Ontario Northland Marine Services operated the small vessel until 1991 when their new Jiimaan went into service on the Pelee island run. Shortly thereafter she was taken to the Dean Construction yard in LaSalle, Ontario, where she sat until June of 1994. Upper Canada was leased to the Beausoleil First Nation for Christian Island service at that time and she was taken to Georgian Bay. She wintered at Owen Sound 1996 - 1997.
Upper Canada was replaced on the Georgian Bay run to Christian Island by the double-ended ferry Sandy Graham in 2000. Sandy Graham came to the Great Lakes from Norfolk, Virginia, in the fall of 1999 and wintered at Vic Powell's shipyard in Dunnville, Ontario. She ran aground in the St. Clair River in the spring of 2000 on her delivery voyage to Christian Island and had to be taken to Hamilton for drydocking. Sandy Graham finally entered service during the summer and Upper Canada was retired. Ontario Northland brought her back to Leamington for the winter of 2000-2001. Presently she is owned by Al Johnson who also also owns 6 tugs, 5 of which are in service off the Great Lakes. She is currently docked in the Black River in Lorain, Ohio under the high level bridge. It is possible that she may one day return to service as a cross lake ferry for Lake Erie.
Story by Gerry Ouderkirk with thanks to Dan McCormick, Massena, N.Y.; Jim Toyne, Leamington, Ontario; Ron Beaupre, Port Elgin, Ontario; Jay Bascom, Toronto, Ontario; Rev. Al Hart and the scrapbooks of the late TMHS memeber, Ivan Brookes.
April 28, 2008. Photos by P. Csizmadia via Flickr. Click to enlarge to 1024 pixels wide.
https://www.flickr.com/photos/paulcsiz/2449760480/in/photostream/
| | | |
| --- | --- | --- |
| The carferry "Upper Canada" docked along the Black River in Lorain, OH. Hopefully waiting for the day she may be restored and returned to some type of service. | One of the lifeboats of the carferry "Upper Canada" seems to be a good collector of rain water. At least the life boat appears to be water tight. | The pilothouse of the once proud carferry "Upper Canada" docked along the "Black River " in Lorain, OH. Hopefully waiting for a day she can be refurbished and placed into service. |
Photo November 12, 2008. "I thought this ferry to be a neat little ship but unfortunately it is laid up and probably will not sail again. The Upper Canada, a strange name for a U.S. tug was built in 1949 as the Romeo and Annette. It became the Upper Canada in 1966. Owned by Lake Towing of Cleveland, Ohio and laid up in Lorain, Ohio. No IMO number found."
source: http://www.shipspotting.com/gallery/photo.php?lid=777958
April 15, 2009. Upper Canada at Lorain, Ohio. Photo by Mike Nicholls (boatnerd.com).
Additional comments from boatnerd: "I worked aboard the 21-car ferry "Romeo & Juliette" built in 1953 and retired off the Millidgeville run, Kennebacasis River, NB in 2002. She had survived being replaced by a bridge on 2 previous runs - one at Campbellton, Bay of Chaleur and the other at Chatham, Miramichi River. She was operated by the Highways - NB Dept of Transportation. Her steering-gear bore Russel Bros. manufacturing plate & there was quite the commotion when it needed repairs ["we can't get parts - they're no longer in business!"]. And to her last days, she carried "Owen Sound, Ont" as her Port of Registry [Saint John, just down-river, is a deep-sea port] which totally bewildered the tourist traffic. Much-loved by the locals of the Kingston Peninsula, and a credit to her builders...
Been on hundreds of trips to and from Pelee Island visiting relatives as a kid. Lots of memories riding
on that ferry especially during bad weather. It is quite wide for its length and has a relatively round bottom, rode like a cork in bad weather...
Upper Canada was tied up in the river just north of the Henderson Bridge, good shots from the bridge (the bridge is on Rt. 611. Looks down on the Jonick Dock where Ryerson unloads). She hasn't moved since they towed her in years ago (2003?). The owner of the vessel also owns the adjacent shore property. She's been listed for sale, & hasn't run in years...
Mac MacKay notes (04.17.09): "Her Canadian registry was suspended January 14, 2008. This usually happens when the owner can't be reached or fails to renew registration. She does not appear as Upper Canada in US registry."
Upper Canada ferry October 18, 2014 at Lorain, Ohio. Photo by Shaun Vary.
Photo April 18, 2015.The derelict vessel known as the Upper Canada sits on the bank of the Black River underneath the Lofton Henderson Memorial Bridge.
Abandoned in the early 2000s, Lorain officials are not sure how or why it ended up there.
source: http://www.morningjournal.com/article/mj/20150418/NEWS/150419511

By Drew Scofield, The Morning Journal POSTED: 04/18/15, 6:50 PM EDT | UPDATED: ON 04/18/2015 9 COMMENTS

Unbeknown to some, Lorain is home to its very own "ghost ship" — a 90-foot vessel that mysteriously showed up on the Black River in the early 2000s having run aground underneath the Lofton Henderson Memorial Bridge. It has sat there derelict ever since. Last registered in 2008, the boat, now named the Upper Canada, has puzzled officials from the U.S. Coast Guard as well as the Lorain Port Authority for over a decade. "At this point, the boat is not officially registered to anybody and no one knows who owns it," said Ed Favre, marine patrol officer of the Lorain Port Authority. A 1997 article by the Owen Sound Sun Times states that the boat was built in Owen Sound, Canada, by Russel Brothers Limited as an automobile and passenger ferry for a company called Restigouche Ferries. She was originally named the Romeo and Annette and entered service in 1949 under command of Capt. Romeo Allard, who ran a ferry service between Bathurst, New Brunswick and Quebec's Gaspe Peninsula. A Russel Brothers newsletter published in 1949 states that the ship could carry 12 cars, hold up to 40 passengers, was operated by a crew of six and came equipped with two life boats. The vessel was built large enough that it was constructed with living quarters below the forward deck, complete with air conditioning. She was powered by twin diesel engines that were rated at 550 horsepower, powering a 50-inch three-blade propeller with an average speed of 10 knots. When she was built, she was hailed as "one of the most modern and completely equipped vessels operating in Canada." Records show that in 1965, ownership of the vessel was transferred to the Ministry of Highways and was renamed the Upper Canada where she continued operation, carrying passengers and automobiles between Wolfe Island and Kingston, Ontario. In the 1970s, she was removed from service after being replaced by another ferry, the Wolfe Islander III, and was taken to Leamington, Ontario, to be used as a back up boat for the Pelee Islander. During the early 1990s, her route was once again changed when she was leased to the Beausoleil First Nation for Christian Island Service, where she served until the late 1990s. According to the Great Lakes Vessels Online Index, maintained by Bowling Green State University, a man named Al Johnson took ownership of the Upper Canada sometime in 1999. City officials are unsure how or why a Canadian registered boat ran aground in Lorain, and with no way to contact the owner, there seems little that can be done at this point. Even the Coast Guard has no record of how or why it came to rest on the Black River, Bosun Mate First Class Eric Eberl said. "The tough thing for us, is that we rotate every three or four years, so no one really knows about it or when exactly it was left there," Eberl said. Eberl said that after it did show up and was finally considered abandoned, the Coast Guard inspected the ship to make sure that it did not pose an environmental hazard by leaking pollution. But beyond that, it doesn't fall under their responsibility. "We try not to get in the practice of dealing with abandoned vessels," Eberl said. "It doesn't fall under our responsibility unless it became a hazard of some sort, or it broke free of its moorings and posed a navigation problem on the river." Since the boat still technically sits in the river, although it has run aground, the legal aspect of what to do with it is complicated, said Maritime Attorney James Reinheimer. In order to salvage the boat or remove it, someone would need to have a claim against the vessel to try and get a title for it, he said. Somebody would need a monetary claim to do anything with it, Reinheimer said. "Just running aground and abandoning the boat doesn't give any individual or company a claim against the vessel," Reinheimer said. The legalities would be less complicated if it was sitting on land, he said. "For instance, if it was sitting in a marina, they would be owed storage fees," Reinheimer said. "That would give them a right that could be enforced in court to take the vessel and sell it for payment of the storage fees." Favre said that the Lorain Port Authority has renewed its interest in finding the last registered owner of the ship, but the issue is complicated since it was never re-registered after the registration expired in 2008. So the owner may not even be the same person, he said. "We have this boat just sitting here on the river and no one knows who currently owns it," Favre said. "It's not that we want to go after the owner, but just as a point of information, we have this vessel here and we need to know who to get ahold of incase of an emergency." Until that time, the fate of the ferry is as mysterious as the reason it came to rest in Lorain.
April 20, 2015. News 5 Cleveland.
It sits there rusty, quiet and full of stories to be sure, if it could speak.

April 21, 2015. News 5 Cleveland.

For more Russel exhibits visit Owen Sound Marine & Rail Museum 1165 1st Ave West, Owen Sound, ON N4K 4K8
(519) 371-3333

http://marinerail.com