Russel Brothers Limited OWEN SOUND, ONTARIO Steelcraft Boat Builders
Romeo and Juliette
Steel motor passenger and automobile ferry built at Owen Sound, and launched on April 16, 1953 by Russel Brothers Ltd. and launched as Romeo and Juliette [C.194962] 79', 234 gross tons. Hull No. 1000. Canadian List of Shipping 1956: Romeo and Juliette [C.194962] registered at Owen Sound; built at Owen Sound in 1953. 78'5 x 41' x 6'8; 234 g.t.; 191 n.t.; 250 hp. Owned by Restigouche Ferries Ltd., Cross Point, Québec. Canadian List of Ships 1997: Owned by Owned by Minister of Transport, Fredericton, N. B. Transport Canada List 2002: Built by Russel-Hipwell Engine Co., Owen Sound, Ont. Transport Canada List 2003: Owned by Minister of Transport, Fredericton, N. B.
Published on 23 Nov 2016. Found this old movie from 1953, the launch at the Russel Brothers Yard of the car/passenger ferry Romeo and Juliette. She carried cars from New Brunswick to Quebec in the 1950s, worked the Miramichi in the 1960s and spent 34 years on the Kennebecasis River near Saint John.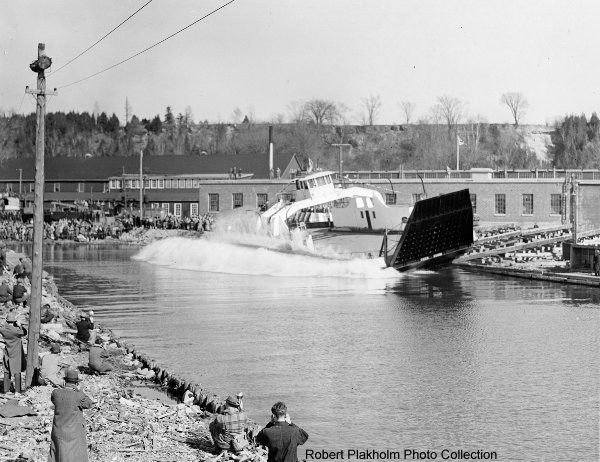 April 16, 1953. Romeo & Juliette launch, Russel hull #1000. Photo courtesy Marsha Courtney.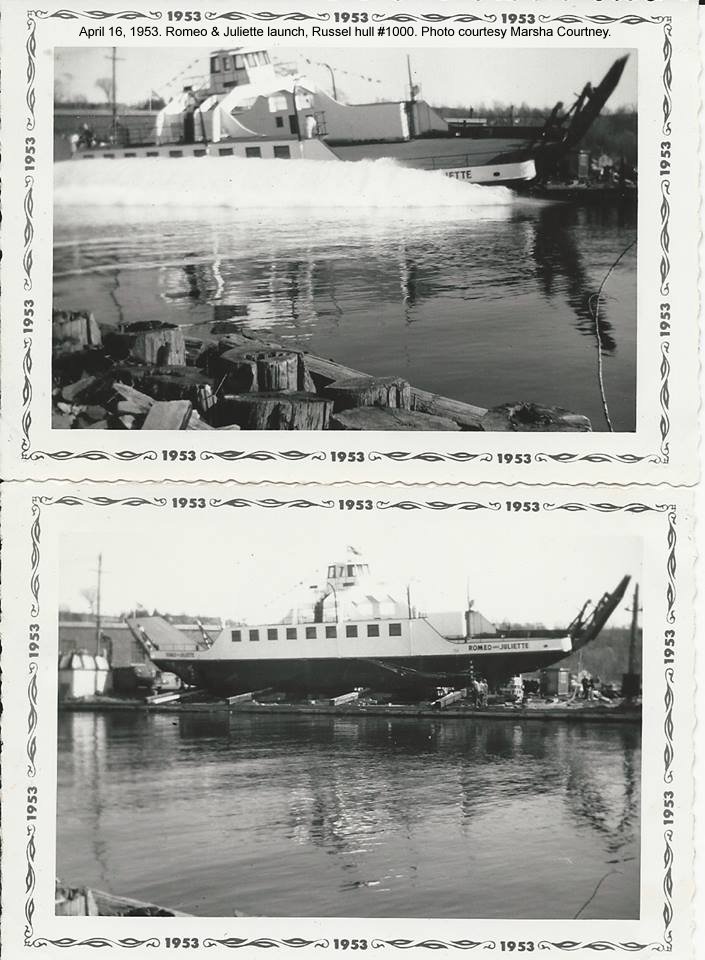 Canadian Shipping magazine,
May 1953
Fred Landon Scrapbooks, Box 4199, Vol. 3, p. 273: The Toronto Globe & Mail, April 16, 1953: Photo & Cutline. New Auto Ferry for the Maritimes, the Romeo and Juliette is launched at Owen Sound, the 1,000th delivery from the Russel-Hipwell steel boat and shipyard. From the same ways in May, 1889, the CPR Manitoba, said to be the first steel ship built in Canada, was launched. New ferry will operate between Campbellton, N. B., and Cross Point, Que. [See Russel Bros. clipping file for photocopy].
From Russel company brochure: BARGES - SCOWS - FERRIES.
Gerry Ouderkirk archive.

From the OSMRM Collection

From the OSMRM Collection

Historical Collections of the Great Lakes Great Lakes Vessels Online Index
Photo source http://ul.bgsu.edu/cgi-bin/xvsl2.cgi Item 005778

For more Russel exhibits visit Owen Sound Marine & Rail Museum 1165 1st Ave West, Owen Sound, ON N4K 4K8
(519) 371-3333

http://marinerail.com