Russel Brothers Limited OWEN SOUND, ONTARIO Steelcraft Boat Builders
| | | |
| --- | --- | --- |
| | | |
Slo Moe / Silt Prince
Shaun Vary Notes: Steel fish tug Slo-Moe, Owned by Siddall Marine Services, Goderich, Ontario. Built by Russel. 45' x 11' Not registered. Transport Canada List 2003: Steel tug Slow Moe I [C.824505] registered at Goderich 2003/01/31. Built by Russel Bros., Owen Sound in 1949. Owned by Siddal Marine Services Ltd., Goderich. GAO Notes: See clipping file for pics. Transport Canada List of Ships 2005: Steel Special Purpose [C.824505] registered Goderich, ON January 31, 2003. Built Russel Brothers, Owen Sound, ON 1949. 12.73m x 3.58m x 1.18m; 12.34 g.t.; 9.26 n.t.; 112 hp. Owned Siddall Marine Services Ltd., 143 Warren St., Box 31, Goderich, ON, N7A 3Y5.
---
This tug was built in 1949 by Russel Brothers Limited of Owen Sound, ON as the fish tug Slo Moe for an owner in Kingsville, ON. She was later sold to Jim Sovie, and then Ron Moody. Ed Siddall later purchased the Slo Moe and converted her to a towing vessel. Dave MacAdam acquired the tug in 2009. In 2015, Scruton Marine Services of Port Dover, ON purchased the Slo Moe, renaming her Silt-Prince. Silt-Prince is active in the contracting trades on Lake Erie out of Port Dover. Type: Single Screw Tugboat Year Built: 1949 Builder: Russel Bros. Ltd., Owen Sound, ON Engines: 1 Cummins HH-6-M Horsepower: 285 bhp Length: 41' 09? Breadth: 11' 09? Depth: 3' 10? Port of Registry: Goderich, ON.
Slo-moe in Kingsville likely late 1950's, before her name was applied. About the lack of name, Clancy Fuller comments: "I don't think he decided what to name her yet. All they did was reg. her in Leamington with the normal E numbers E being Lake Erie.It wasn't till a truck driver suggested a name that he named her.The poor truck driver was always waiting for Ted (Fuller). He was last boat most days so he suggested the name. The boat was never fast nor was Ted...". Shaun Vary photo supplied by Clancy Fuller. (n.b. Slo-moe is the second, larger un-named boat in this photo, and the shanty in the foreground is the other side of the building shown in the photo below).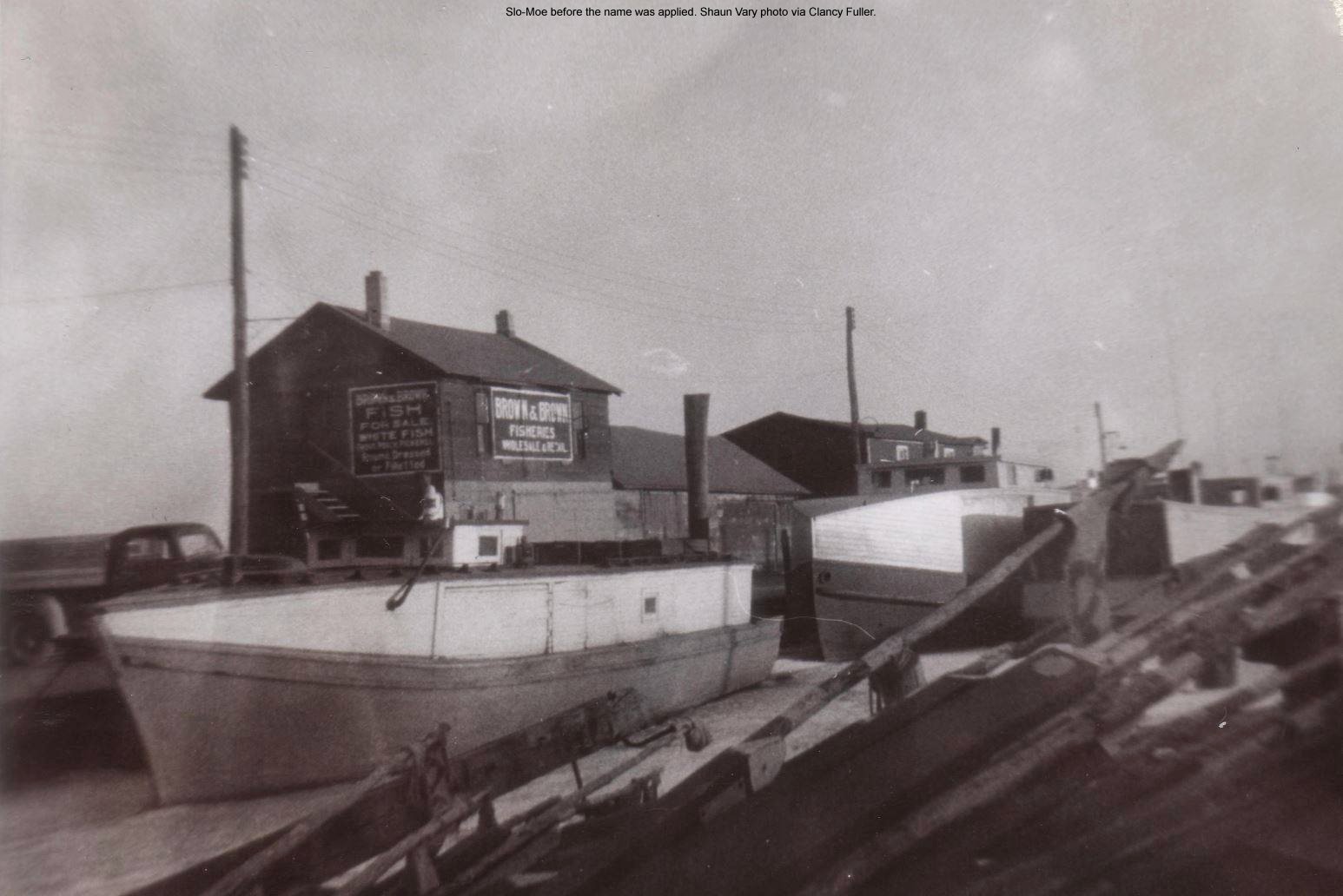 The photo below is Slo-moe in Kingsville in 1967, freshly painted by Clancy Fuller. Clancy writes (April 2017): "The SLO-MOE was built in 1949 for Harold Cull from Kingsville, Ont. and he was a fishermen. Harold later sold the tug to my Dad's uncle Ted Fuller who named the SLO-MOE and fished her during the 50's and the 60's. My dad Sonny Fuller ran her from '67 till '69 and it was the first fish tug I worked on starting in '67 and she had a wooden house and green shingles on the sundeck. Later around 1971 Ted sold her to the Pickard Bros. and they fished her until they sold her to Ron Moody around 1974 or 1975. She a had a G.M. 4 cylinder in her for power." Photo courtesy Clancy Fuller.

GAO notes: Great Lakes Fisherman Oct. 1985.

Shaun Vary notes: I took this photo of Sloe-Moe 1988 at Bayfield on Lake Huron. She still appeared as a fish tug, but was being used as a tug/workboat by this time. She was originally a Kingsville fish tug, but I don't know who owned her. She was fished by the Moody family, and later, Ed Siddall on Lake Huron. Ed then converted her to a workboat, and sometime in the '90's, to her present configuration as a tug.

Slo-Moe at Bayfield, Ontario Nov. 9, 2001
Photo by Gerry Ouderkirk, boatnerd.com.

Slo-Moe, Bayfield, Jan. 22, 2002. Gerry Ouderkirk Collection.

Slo-Moe, Bayfield, Jan. 22, 2002. Gerry Ouderkirk Collection.

RBF notes: Former Fish Tug (Bayfield, ON April 4, 2004)
David MacAdam notes (Aug. 30 2009): "I acquired the tug Slo-Moe from Ed Siddal's son Brian. Ed passed away a few years ago. (2006 I believe). My first recollection of this boat was when she first arrived in Goderich as a fish tug. (I was employed with my father as a teen at MacDonald Marine Tug Service at the time, mid to late 70's). At that time she was owned and operated by Jim Sovie. Jim Sovie then sold the business to Ron Moody. The boat then was acquired by Ed Siddal. I am not certain and we will have to clarify this but I think the number welded on the hull is 726. This is not listed in the hull index. I do see Hull 724 and have noted that this too was a "standard fish tug". The registry change over is in the works."
before...
...and after...
Old ad from 2016: 1949 45' x 12' x 6' Russel Bros Tug/Work Boat Equipped for deepening channels for sale. Used Commercial boat 1949 45' x 12' x 6' Russel Bros Tug/Work Boat Equipped for deepening channels for sale located in Located on north shore of Lake Erie, ON, Canada, founded in 1949. Its overall length is 13.72 meters. Width of boat is 3.66 meters. Draft is 1.83 m. Engine Cummins HH-6-M, 285 hp uses Diesel fuel. Fuel capacity is 1591 liters. Cruising speed is 17 kmph. 36750 CAD.
source: http://dailyboats.com/boat/28554-1949-45-x-12-x-6-russel-bros-tugwork-boat-equipped-deepening-for-sale
| | |
| --- | --- |
| | |
Mike Scruton now owns the boat and has renamed her SILT PRINCE. Here are some recent (May 1 2017) photos: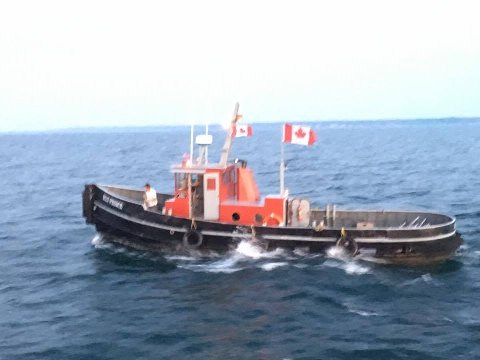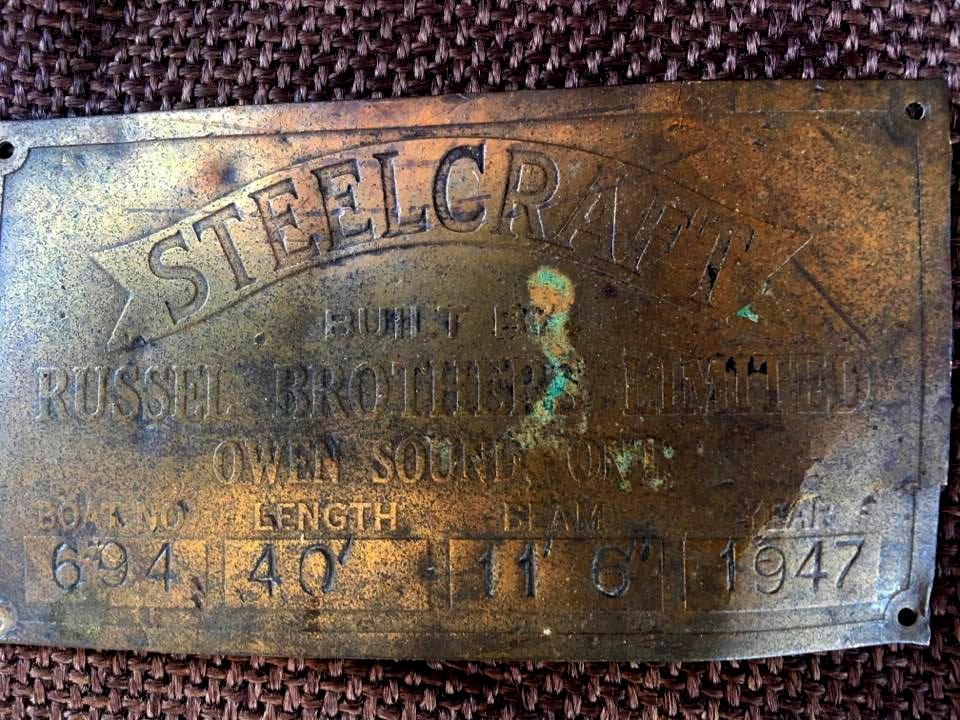 Hull number 694, 1947.
Photos by Shaun Vary.

Silt Prince at the memorial tribute for Peggy Scruton. June 26, 2016. Photo courtesy George Lee.

Silt Prince at Port Dover tug race June 24, 2017. Photo courtesy George Lee.

Silt Prince at Port Dover June 24, 2017. Mark Harris photo, courtesy Shaun Vary.

Silt Prince, Port Dover, July 1, 2017. Note the (temporary) fire monitor. Photo by Shaun Vary.

Silt Prince, Port Dover. Photos by earlhartlen.com

For more Russel exhibits visit Owen Sound Marine & Rail Museum 1165 1st Ave West, Owen Sound, ON N4K 4K8
(519) 371-3333

http://marinerail.com