Russel Brothers Limited OWEN SOUND, ONTARIO Steelcraft Boat Builders
Tay
Canadian List of Shipping 1970: Steel tug Tay [C.313133] registered at Ottawa. Built at Owen Sound in 1956. 38'; 12 g.t. Canadian List of Ships 1997: Owned by The Minister of Transport, Ottawa. GAO Notes 2000: Micheal Guy of Torville says Tay is Hull No. 1121 and operates on the Rideau Canal. Transport Canada List 2002: Built by Russel-Hipwell Engine Co., Owen Sound, Ont. Transport Canada List 2003: Owned by The Minister of Transport, Ottawa.
Historical Collections of the Great Lakes Great Lakes Vessels Online Index
Photo source http://ul.bgsu.edu/cgi-bin/xvsl2.cgi Item 006937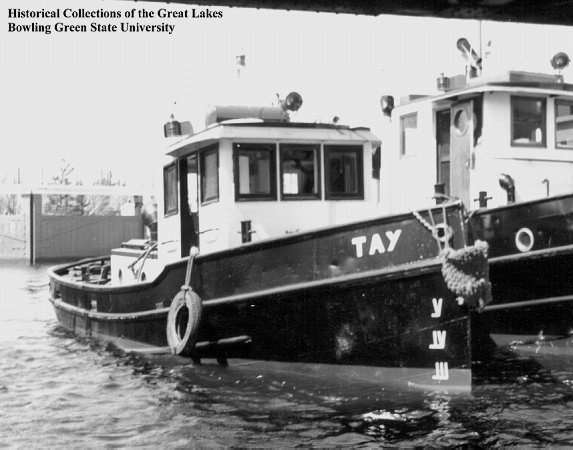 Photo by Ken Watson, 2001.
source: http://www.rideau-info.com/canal/images/places/img-tugtay.html
The workhorse of the Rideau, the tug Tay with its powerful engines hauls barges back and forth along the Rideau, bringing materials and supplies to the lockstations. Tay was built in Owen Sound, Ontario, by Russel Brothers, in 1956. It is about 40 feet long with a 10' 5" beam and a 5 foot draft. Russel Brothers' shipyard built hundreds of heavy-steel full displacement vessels. Russel tugs are still considered among the toughest, best-built tugs in the world. Properly maintained, Tay should have a very long life ahead. (Information supplied by Doug Coupar, Authetic Yacht Brokerage).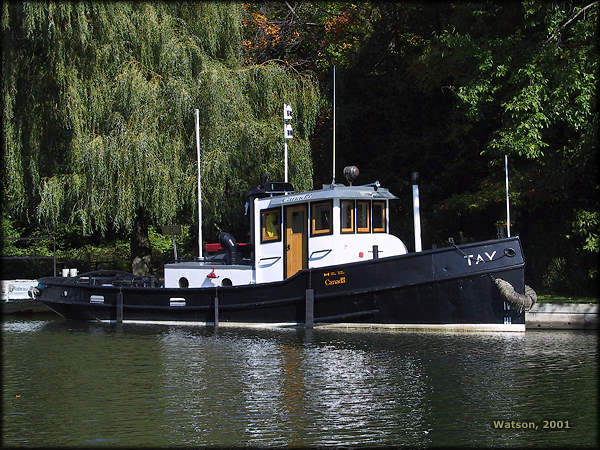 Randy Patterson notes (Jan. 2006): shots of the TAY taken at Merrickville ON while
she waited on a crew change at the Hydo Generating Station. Notice the solid
hardwood fenders, her stove pipe stack, and Dutchmans bar.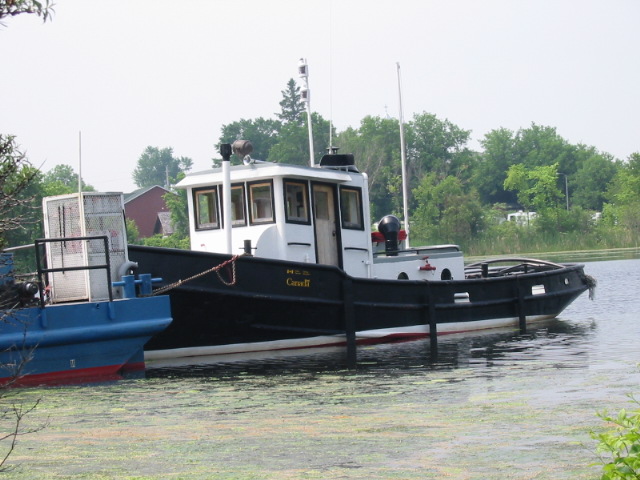 The Tay Canal is the portion of the Tay River in the Eastern region of Southern Ontario, providing a connection between the town of Perth and the Rideau Canal at Beveridge Bay on Lower Rideau Lake. The canal is 9.8 km (6.1 mi) in length and is operated today by Parks Canada as part of their Rideau Canal operations. At the entrance to the Tay Canal are two locks, Upper and Lower Beveridges which provide a total lift of 7.6 m (25 ft.). Tugboat Tay, Tay Canal, Ontario, Canada, 7 August 2011. Photo by D. Gordon E. Robertson.
Click to enlarge to 4000 pixels wide. source: https://en.m.wikipedia.org/wiki/Tay_Canal
Tay, July 30th, 2017. Photo by Mike Downey.
For more Russel exhibits visit Owen Sound Marine & Rail Museum 1165 1st Ave West, Owen Sound, ON N4K 4K8
(519) 371-3333

http://marinerail.com