Russel Brothers Limited OWEN SOUND, ONTARIO Steelcraft Boat Builders
Glenlivet / Canadian Franco
Vigilant I
Ex- Glenlivet II, Ex- Canadian Franco, Ex- H.M.C.S. Glenlivet - GAO Notes: Renamed Vigilant I in 2002. Transport Canada List 2003: Owned by Nadro Marine Services Ltd., Port Dover, Ontario.
Edison Horton notes (June 26, 2006): when built she was called the Glenlivet, but in 1947 she was loaned out to Public Works, Canada, thus had to be registered in Ships Registery, since there was already a tug registered with the name Glenlivet, she became the Glenlivet 11. I am attaching a few pictures, one when she had her original wheelhouse, another when the wheelhouse was changed and taking during sea trials at Pictou, N.S. The other picture is of her original Enterprise engine.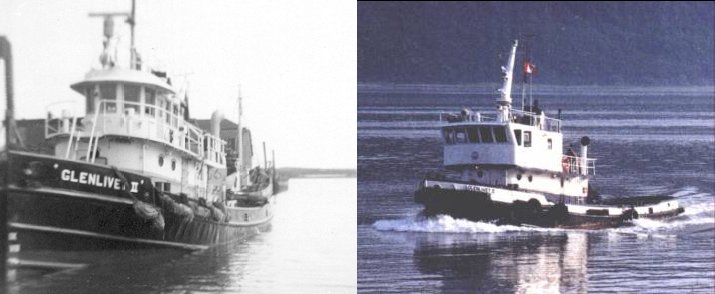 Historical Collections of the Great Lakes Great Lakes Vessels Online Index
Photo source http://ul.bgsu.edu/cgi-bin/xvsl2.cgi Item 002361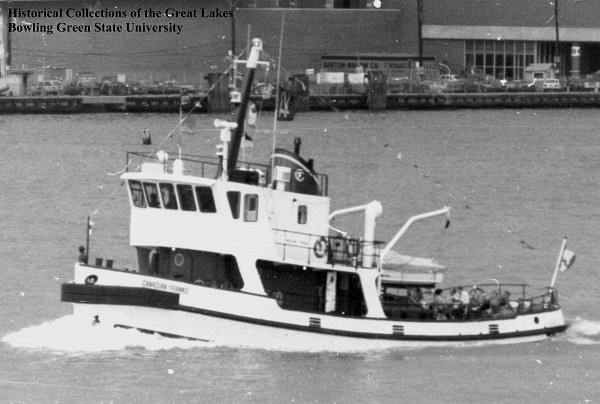 Glenlivet 11 sea trials, Pictou, N.S. just after the wheelhouse conversion.
From the Edison Horton Collection.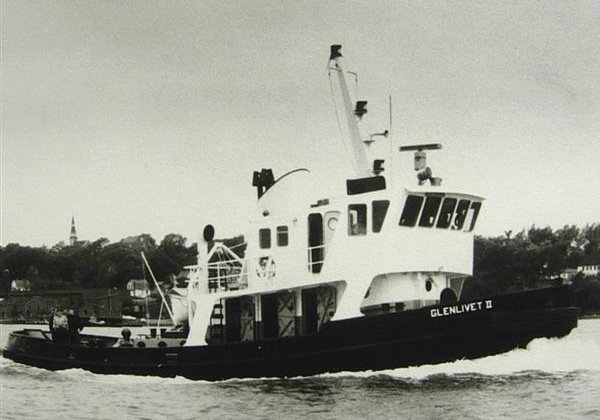 Edison Horton notes (May 2007): Regarding the conversion of the wheelhouse on the Glenlivet, this was completed at Ferguson Industries, Pictou, N.S. in 1964. This new wheelhouse was designed by Public Works, Canada and it turned out to be not a good design, all right for outside towing but not for working with dredges and scows, which we were called upon to do, quite often.
The wheelhouse was very blind when coming along side, and the side stantions from the upper deck to the main deck, were always in the way when handling lines on deck. Yes, I have seen that the port and starboard wings have been removed, the deck extended around the front of the wheelhouse and the deck stantions removed. That would help get rid of the blind spots and make the handling on deck easier.
When the Glenlivet was turned back over to the Navy in 1973, they soon found out that she wasn't much good for working in under bows and sterns of Navy ships, as the wheelhouse wings would hook. I recall seeing her in Halifax in the Naval Dockyard with fenders hanging over the wings of the wheelhouse.
I couldn't understand at the time how this design was approved, the Navy would have to approve it as she was always owned by the Navy and leased out to DPW Canada in 1947.Of course there will be blunders in Govt. deptartments. The designer that designed the conversion, also designed the conversion on several dredges, from steam to diesel hydraulic, these didn't work out like planned either.
Glenlivet's original engine: an Enterprise DMG6 installed by Russel Bros. Click to enlarge right side photo.
From the Edison Horton Collection.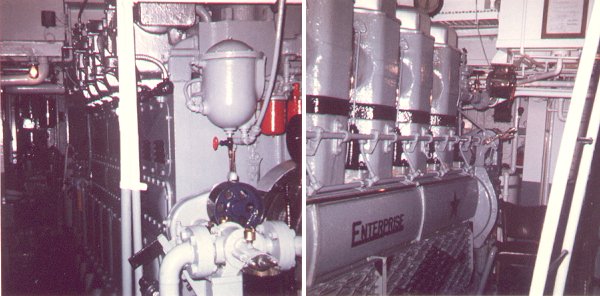 Glenlivet II (left) and Glenevis, Halifax, May 1977. Photo by Mac Mackay.
Halifax, Aug. 4th, 1990. Photo courtesy Mac Mackay.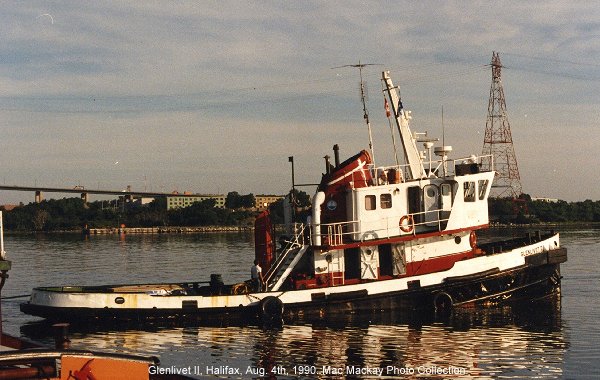 Glenlivet II and Henley, Halifax, Sept. 3, 1990. Photo by Mac Mackay.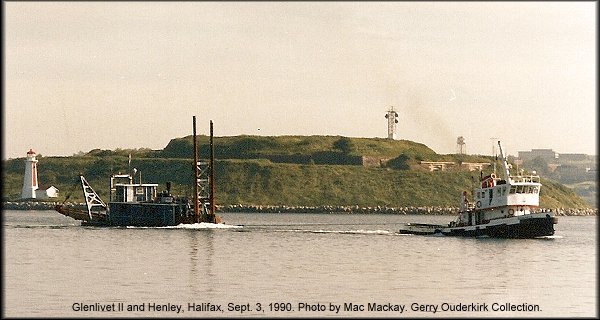 May 4, 2004. Vigilant I towing Québecois. Source boatnerd.com. Click to enlarge to 800 pixels.
Vigilant I as stern tug on the Canadian Venture tow to Montreal
June 24, 2004. Kent Malo Collection.
March 19th, 2006, Toronto. Towing Canadian Miner.
From the Gerry Ouderkirk Collection.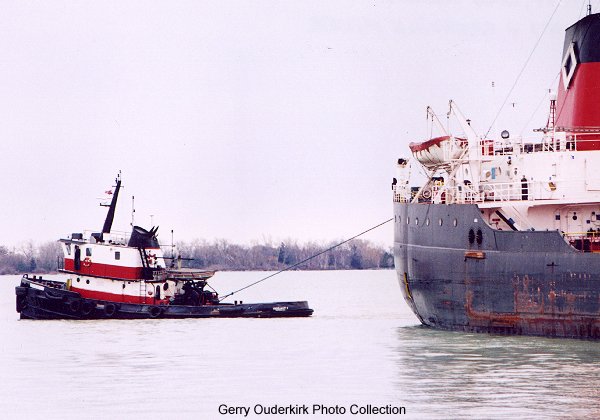 Vigilant I at Port Weller Dry Docks, St. Catharines, ON in April, 2006.
Photo by Bill Bird, boatnerd.com.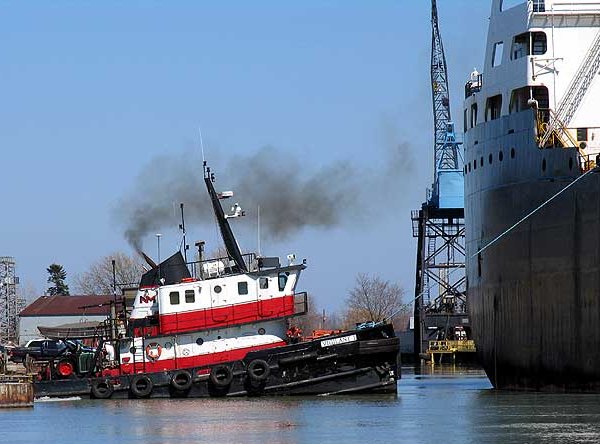 Vigilant I and Lac Manitoba attempting to pull the Isodora free in the Welland Canal, Dec. 18, 2007.
John McCreery (boatnerd.com).
Courtesy Nadro Marine Services.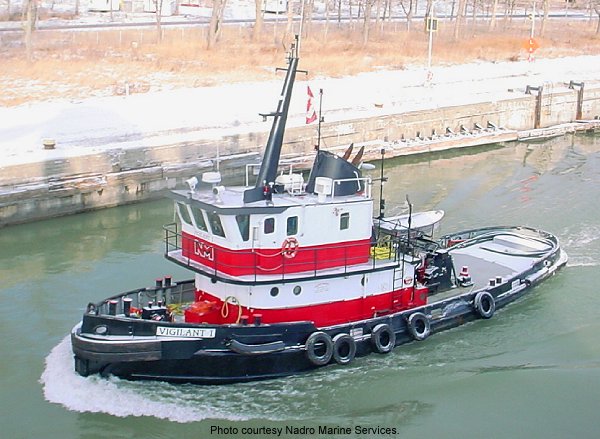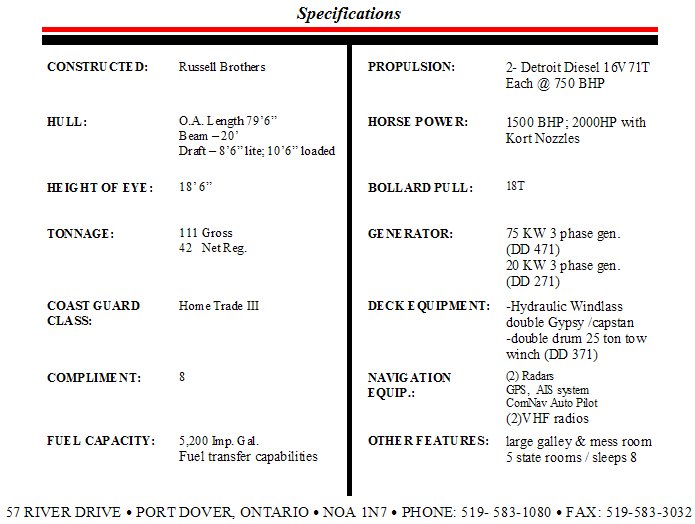 Vigilant l at Hamilton, ON, May 27, 2008 sporting a new elevated pilothouse.
John McCreery (boatnerd.com).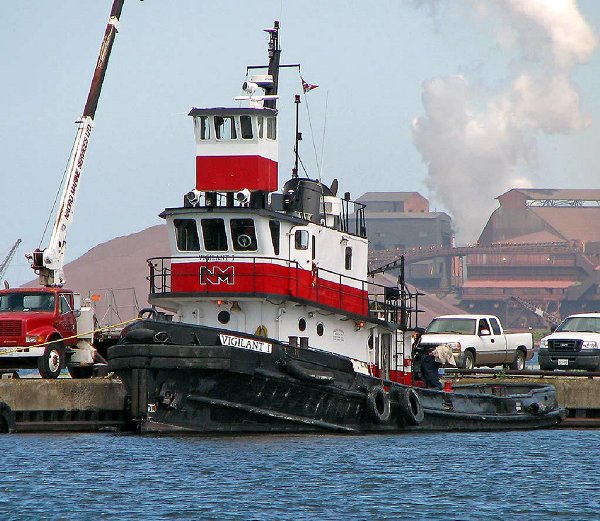 RBF notes: Vigilant I - Ex Glenlivet II - (Port Dover, ON)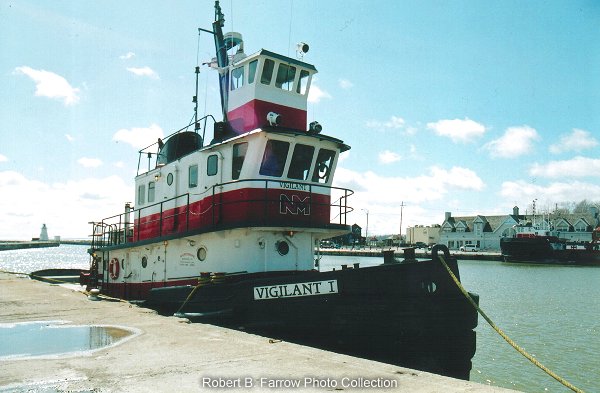 HISTORY OF H.M.C.S. GLENLIVET (Tug)
by Edison Horton, April 2001.
(Edison Horton worked as engineer aboard the Vigilant I and has built a model of the vessel)
Navy Pennant Numbers:
War Time- W 43 21 July, 1944 to 09 December, 1947.
Post War- YTM 504 25 February, 1974 to 1977.

Builder: Russel Bros., Owen Sound, Ontario.
R.C.N. Order Number: CN 796.
Laid down on 03 March, 1944.
Launched on 11 July, 1944. Christened by Mrs W.W.Warkentin.
Commissioned on 21 July, 1944.
Displacement: 170 tons.
Length 80 ' 6" x beam 20' 7" x draught 9' 8". Steel Hull. Short House.
Power: 1 Enterprise diesel, 6 cylinders (12" x 15"), 400 hp @ 400 rpm. Serial # 43412. Speed- 10.5 kts.
The GLENLIVET was a tender to Naval Base H.M.C.S. Protector, Sydney, N.S., H.M.C.S. Scotian and H.M.C.S. Stadacona, Halifax, N.S.
Radio Call Sign: "CGCN", "CGQK" "HOODLUM I"
Naval Skipper: Osburn S. Long, 15 July, 1944.
The management and operation of the GLENLIVET was entrusted over from the Dept. of National Defense to the District Superintendant, Chief Engineer's Branch, Dept of Public Works (Canada), Saint John, N.B. on the 09 December, 1947. (Sixty-four (64) shares and registered with Ship's Registration under the name GLENLIVET 11. Offical No. 179311, Port of Registery- Saint John, N.B. * Ship's Registery already had a steam tug with the same name GLENLIVET, No. 130928.
In 1964 renovations were carried out at Ferguson Industries, Pictou, N.S. A new wheelhouse, hydraulic anchor windlass, stack and crews quarters were fitted. In December, 1973 the GLENLIVET 11 was turned over to the Dept. of National Defense at Charlottetown, P.E.I. and towed to Halifax by the tug RIVERTON.
Owners and renames after having been released from Naval Service.
1977: CANADIAN FRANCO Francisco Petroleum Enterprises Inc., Frank Rawlings, Chatham, Ont., used as a pleasure boat.
1981: CANADIAN FRANCO McKeil Work Boats, Winona, Ontario.
1984: CANADIAN FRANCO renamed GLENLIVET 11
1989: GLENLIVET 11 Construction A. Dufrense Ltee, Bois Des Filions, Québec.
1990: GLENLIVET 11 Royalease Limitee, Monreal, Que.
1992: GLENLIVET 11 Royal Bank of Canada, Montreal, Que.
1993: GLENLIVET 11 2860848 Canada Inc., Toronto, Ont.
2000: GLENLIVET 11 Voyageurs Marine Construction Ltd., Dorion, Que.
2001: GLENLIVET 11 Nadro Marine, Port Dover, Ont.
In 1993 was repowered with 1 GM Detroit 16V-71, 700 hp diesel, extensive modifications carried out.
2002: Repowered, changed to twin screw, 2 GM Detroit 16-71 turbo's, 1600 hp total.
Reduction: Twin Disc Gear 5.17: 1.
Propellers: 2-Bronze Props, 56" dia., 51" pitch, 6" shafts.
Generators: 1 GM Detroit 4-71, 1 GM Detroit 2-71.
Kort Nozzels. Removed wheelhouse P/Stbd wings, walk around deck in front of wheelhouse fitted, other alterations to house.
2003: VIGILANT 1, Towing winch installed.
References:
Canadian War Vessel C.B. (Can) 0809 (July 1944)
Canadian Navy Lists (March) O.U.(CAN) 1250 (3) 45.
Information letter from Capt. C. Morrison.
Information letter from Scruton Marine.
Conversation with Blair McKeil, McKeil Marine.
Working experience on Glenlivet 11, while with D.P.W.(Canada) as engineer, Edison Horton.
Vessel Registration, Transport Canada.
Eastern Great Lakes Shipping Report.
For more Russel exhibits visit Owen Sound Marine & Rail Museum 1165 1st Ave West, Owen Sound, ON N4K 4K8
(519) 371-3333

http://marinerail.com