Russel Brothers Limited OWEN SOUND, ONTARIO Steelcraft Boat Builders
W. B. Marguerite
Canadian List of Shipping 1956. W. B. Marguerite [C.177509] registered at Ottawa; built at Owen Sound in 1946. 27'3 x 7'5 x 3'; 4 g.t.; 3 n.t.; 30 hp. Owned by The KVP Co. Ltd., Espanola, Ontario. Canadian List of Shipping 1970: Steel tug W. B. Marguerite [C.177509] registered at Ottawa. Built at Owen Sound in 1946. 27'; 4 gt. Canadian List of Shpping 1997: Owned by Upper Ottawa Improvement Co., Ottawa. Transport Canada List 2003: Owned by Gordon Black, Manitick, Ontario. RBF Notes: Located at Log's End, Bristol Mines, QC. Hull 618, for sale 2004.
With the last log drive taking place on the Ottawa River in early 1990, the ICO (Upper Ottawa Valley Improvement Company) fleet was retired from service and sent to dry dock. In 1997, Logs End purchased five of the old boats, with the intention of restoring them to their original working condition, and sending them out yet again, to salvage logs that their forbearers had lost during log drives. The Marguerite was the first boat to be refurbished by Logs End, and she is now harboured near Bristol, Québec.

W. B. Marguerite, c. 1997. Photo courtesy Logs End, Inc.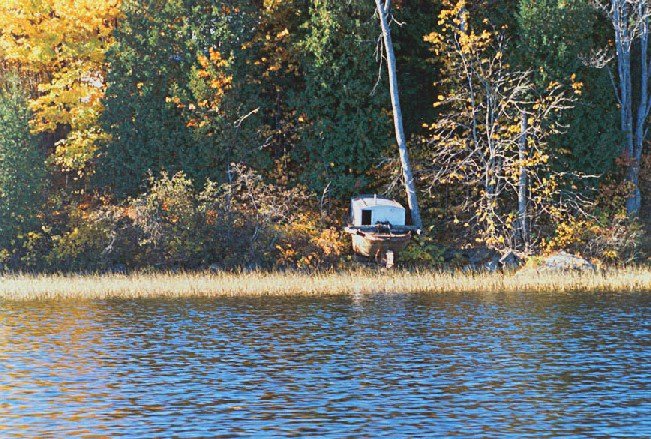 W. B. Marguerite on shore. Photo courtesy Logs End, Inc.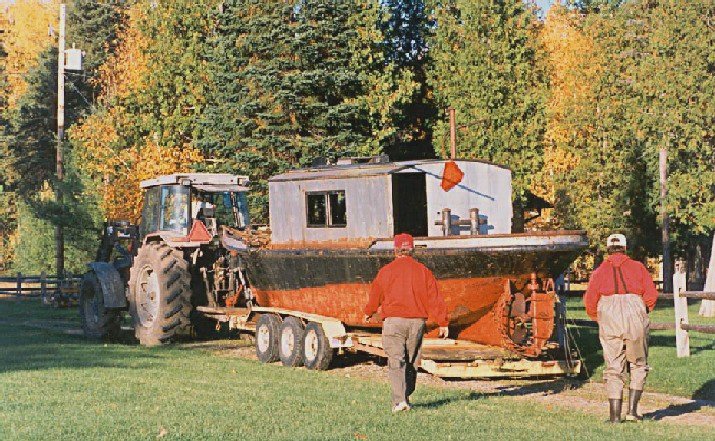 W. B. Marguerite. Photo courtesy Logs End, Inc.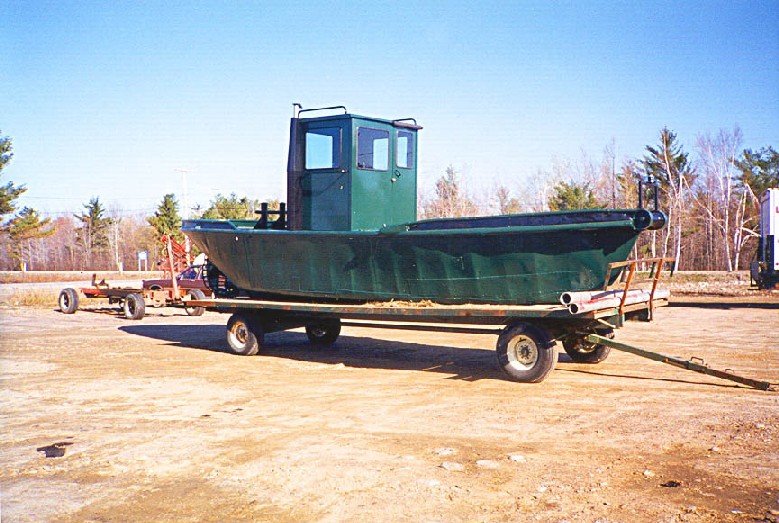 RBF notes: W.B. Marguerite - Rebuilt and used to recover sunken logs
from the old River Drives. (Bristol, QC Aug 20, 2004)
Published on 28 Sep 2007... Logs End promotional material. Broadcast spot on On The Road Again.
Logs End environmentally friendly log recovery. Hardwood floors, paneling, engineered flooring.
Rob Farrow notes (July 23, 2008): This is the Rockcliffe Boathouse directly across from Gatineau.
In the last photo there are two other Russels. Farthest back is Cogna and you can
barely see through Marguerite the F. Louiselle. (Photos courtesy Jim Freeth).
Jim Freeth says (July 23, 2008): The W.B. Marguerite was purchased by John Freeth of O.D.S. Marine in Ottawa, Ontario from Logs End in June 2005. She spent approximately a year being refurbished at O.D.S. Marine's shop. The boat was completely cleaned and repainted, a major tune-up was done on the Perkins diesel, new push knees and current safety equipment was installed in the wheelhouse, the shaft was replaced and the propellor was sent out for repair and balancing. The hydraulic capstan winch on the foredeck got a new pump and all rubber parts and packing throughout the boat were replaced. The boat was surveyed and received her Transport Canada Inspection and Stability test.

The W.B. Marguerite is working mainly on the Ottawa and Gatineau Rivers as a barge assist tug, supporting the operations of O.D.S. Marine's own fleet of barges. Marguerite's former captains and sister vessels which have been retired from service on these same rivers would be justifiably proud of their working relative.
For more Russel exhibits visit Owen Sound Marine & Rail Museum 1165 1st Ave West, Owen Sound, ON N4K 4K8
(519) 371-3333

http://marinerail.com