Russel Brothers Limited OWEN SOUND, ONTARIO Steelcraft Boat Builders
| | | |
| --- | --- | --- |
| | | |
Welland
Canadian List of Shipping 1956: Welland [C.197912] registered at Ottawa; built at Owen Sound in 1954. Hull number 1031. 76' x 20' x 8'9; 94 g.t.; 42 n.t.; 600 hp. Owned by The Minister of Transport, Ottawa. GAO Notes: Steel tug Welland [C.197912] built by Russel Bros. at Owen Sound in 1954. 76'; 94 g.t.; registered at Ottawa, Ontario. Operated by the St. Lawrence Seaway Authority and primarily used on the Welland Canal. In commission. Sold in 1994 to Dan Minor & Sons Inc., 176 West Street, Port Colborne. Re-engined in 1995 at Vic Powell shipyard, Dunnville with GM 12V149. Currently [November 1995] stationed in Port Maitland, Ontario Pembina Oil Co. dock. Canadian List of Ships 1997: Owned by Dan Minor & Sons Inc., Port Colborne, Ontario. Transport Canada List 2002: Built by Russel-Hipwell Engine Co., Owen Sound, Ont. Transport Canada List 2003: Owned by Dan Minor & Sons Inc., Port Colborne, Ontario. GAO Notes. See also Christian Radich clipping file. Shaun Vary notes: Welland (tug) has been lengthened at some point. If you compare photos, she now has a longer, squared off stern. Her registered length is now 80' as apposed to 76' (1954-info in entry).
---
The tug Welland was built in 1954 in Owen Sound, ON by Russel-Hipwell Engines as the Welland for the Canadian Department of Transport. In 1994 she was sold to Dan Minor & Sons of Port Colborne, ON. She was repowered in 1995 by Vic Powell Shipyard in Dunnville, ON. She was also lengthened at some point during her career as well. She is currently active servicing the gas wells and drill barges on Lake Erie. Type: Single Screw Tugboat Year Built: 1954 Builder: Russel-Hipwell Engines, Owen Sound, ON Hull No.: 1031 Engines: 1 Detroit 12V-149 Horsepower: 1,000 bhp Length: 86' 00? Breadth: 20' 00? Depth: 8' 00? Port of Registry: Ottawa, ON.
Featured in a R-H two page advertisement: Boating Magazine Oct. - Nov. 1955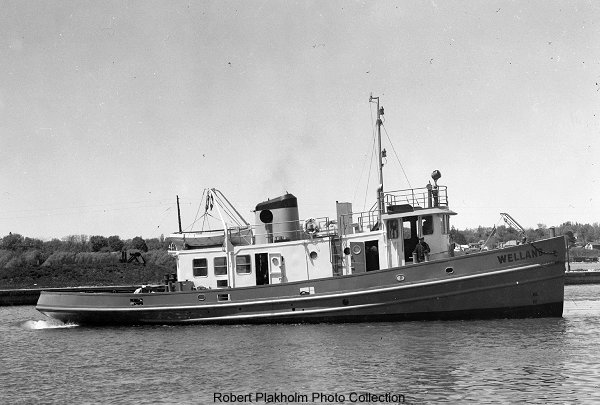 Paul Capel Collection.
Bill Moran writes "WELLAND shown in the Welland Canal on July 4th 1954. She was built by Russell Brothers in Owen Sound in 1954. In 1994, the St. Lawrence Authority sold her to Dan Minor of Port Colborne. She was repowered and remains a valuable part of the Minor fleet (St. Catharines Standard photo, Skip Gillham collection).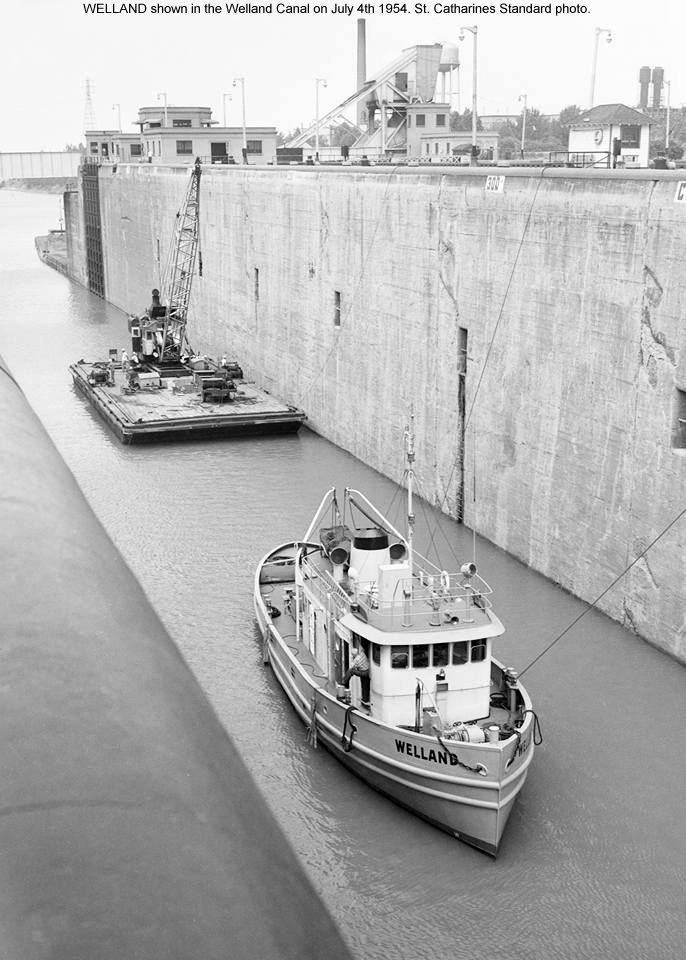 Jim Hoffman notes (Nov. 3, 2017): "This is the tug my Grandfather, Arthur Lampman, worked on. He started with the Seaway in 1937 on an old steam tug. He was with the crew when they took delivery of Welland in 1954. Stayed with it till he retired in winter of 1978-79. Passed away in Feb. 1990 at age 76. Chief Engineer was Andrew Hunter (a real Scot!) and Capt. was Mel Marsh. Both of my hometown of St. Catharines, ON. The photo of it in "Seaway Blue" from 1979 is the way I remember it. This was the vessel I got my "sea legs" on, skipping classes in high school to take a few "rides" up and down the Welland Canal!!! WOW, what a memory. My first ride was in summer of '78, during summer break. It had that original 640HP Crossley "Straight-8" diesel air started, where I learned how to do this. 14 inch bore, 16 inch stroke, 350 RPM max. Now has a Detroit 12V-149. Those Detroit 149 Series were BIG! They are quite rare as they're overshadowed by their smaller 'brothers'. All were same basic design but all the later tugs I served on from McKiel (as cadet) to Nadro Marine, had the smaller Series 53's; Series 71's and Series 92's. That simply refers to the cubic inch displacement of EACH cylinder, for more power you get one with more cylinders. Minor Fisheries owns it and it has a slighly altered stern, squared off, for the fishing gear. This story and photo sure brings back those 70's memories!"
Welland Canal, Oct. 25th, 1979. Scotty McCannell photo.
Gerry Ouderkirk Collection.
Historical Collections of the Great Lakes Great Lakes Vessels Online Index
Photo source http://ul.bgsu.edu/cgi-bin/xvsl2.cgi Item 007524

GAO notes: My parents took us to see the CHRISTIAN RADICH in 1964. My uncle Harry Parry was a lockmaster and the pic was taken from the lockmaster's control room. Please credit Mrs. Arthur Ouderkirk with the photo. (Welland on right).

Welland at Port Weller, date unknown. Scotty McCannell photo.
Gerry Ouderkirk Collection.

Welland in Port Maitland, ON Nov. 21, 1995. Photo by Gerry Ouderkirk.

Welland in Port Stanley, ON April 4, 2004

RM notes: Welland in 2005 in Port Stanley, Ontario.

Welland towing drilling vessel Miss Libby in the Welland Canal, Sept. 2008.
BoatNerd Staff (boatnerd.com).

The Welland at Port Maitland, May 4, 2017. Photo by Shaun Vary.

From Russel company brochure: STEELCRAFT TOWING.
Gerry Ouderkirk archive.

Photos by Shaun Vary.

For more Russel exhibits visit Owen Sound Marine & Rail Museum 1165 1st Ave West, Owen Sound, ON N4K 4K8
(519) 371-3333

http://marinerail.com