Russel Brothers Limited OWEN SOUND, ONTARIO Steelcraft Boat Builders

Hallett

Canadian List of Shipping 1970: Steel tug Hallet [C.173547] registered at Kenora. Built at Owen Sound in 1940. 57'; 58 g.t. Bill Breaker Notes: Built for the Fort Frances Pulp & Paper Co. Ltd. Dimensions: 60' x 15' x 6'; 58 g.t. 19 n.t. 440 bhp. 2 x 220 hp 6 cly. Cummins driving twin screws. Owned in 1966 - 1980 by The Ontario Minnesota Pulp & Paper Co. Ltd. Owned 1983 - 1992 by The Town of Fort Frances, Fort Frances, Ontario. Transport Canada List 2003: No longer registered in Canada. GAO Notes: Still on display in Fort Frances in 2003. See clipping file for pics.

1940 Original Quotation 1975 Russel Valuation Remembering the Hallett

The Hallett was the largest and most powerful boat on Rainy Lake. The 60 foot, 57 ton boat was built by Russell Brothers of Owen Sound. After construction, the boat was transported in pieces by railway flat car and reassembled here for the Pulp and Paper Mill. The Hallett was later modified to make it more suitable for pulling booms across the Lake. A change from a single to a double rudder was necessary to make the boat stable, an early towing attempt laid the boat on its side. Other renovations occured, including once as a result of fire. Descpite the engines being changed and other minor alterations, the Hallett's essential function remained unchanded until its retirement. The Hallett was used extensively in hauling logs until 1974. During an average year, teh Hallett made twenty round trips of one hundred miles each, hauling 70,000 to 90,000 cords of wood a year in average tows of 4-5,000 cords of wood, a mile in size. Modernization of woodland operations and environmental concernsled to the demise of the lake drive. It became more economical to use a pulp truck, carrying 40 cords per load to bring logs for paper production. In 1983, the Hallett was placed in Pither's Point Park. Restoration was completed by the Fort Frances Museum. Source: http://museum.fort-frances.com/tour.

Photo from Company Brochure Circular 46A, Steelcraft Warping Tugs

A three engine installation on the warping tug "Hallett". Two main engines are Cummins diesels used only for the tug propulsion. An auxillary Cummins diesel drives the warping set. It will be noticed that plenty of room is available in the engine room. Photo from Company Brochure Circular 46A,
Steelcraft Warping Tugs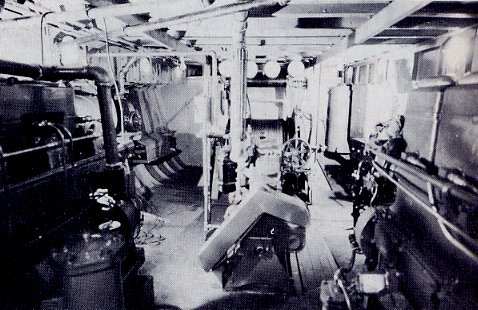 Patric Ryan notes: c. 1980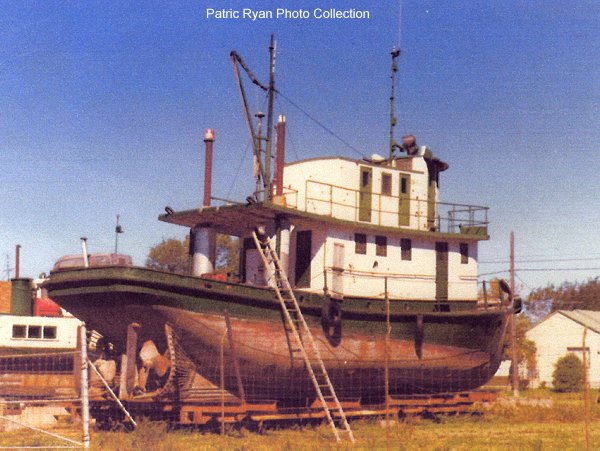 Patric Ryan notes: c. 1980


Feb. 15, 1940. Original Specifications and Quotation for the Hallett ($43,870)


Dec. 23, 1975. Russel Bros. Valuation of the Hallett (by E.M. Cordrey)
Hallett: original shipping photos from Owen Sound Russel yard.
Thanks to Patric Ryan for providing these images and documents. These 32 year old photocopies of the original
Russel photos were included in the Russel valuation of the Hallett (by E.M. Cordrey) Dec. 23, 1975.

Undated clipping courtesy Patric Ryan. (Likely from 1980).

Art by Patric Ryan. Hallett and O.M. 340 (Pepperville). This hangs in my exam room. About 1980 Patric considered buying the Hallett. Both boats were in Fort Frances at the time.

RBF notes: On display (Fort Frances, ON June 10, 2004)

Hallett, Fort Frances, Oct. 2007. Photos courtesy Arden Barnes.
Aug. 19, 2008:
This front page newspaper article based on Fort Frances Captain Arden Barnes' research profiles early logging practice and the Russel built Hallett and the Russel Brothers company origins in Fort Frances, Ontario.

Steve Briggs notes: Arden Barnes' winch boat (now named "The Mother Lode", see BOAT PAGE) started out as the "Owandem" (for O & M, or Ontario & Minnesota Pulp & Paper Co. Ltd., a Fort Frances area based company).
Hallett moved Aug. 25, 2009
The Hallet was used extensively in hauling logs until 1974. In 1983, the Hallett was placed at Point Park. Restoration of the boat was completed by the Fort Frances Museum, and in 2009 it was moved to its current location at the Sorting Gap Marina. Photos from Fort Frances Times Online - click to enlarge.

NEWSPAPER COVERAGE:
Fort Frances Times Online: 'Hallett' expected to be moved today Tuesday, 25 August 2009 - 1:05pm
CFOB Fort Frances B.93FM Hallett moving today Tuesday, August 25, 2009
International Falls Daily Journal: "Hallett" moved to new home August 26, 2009 - 7:27am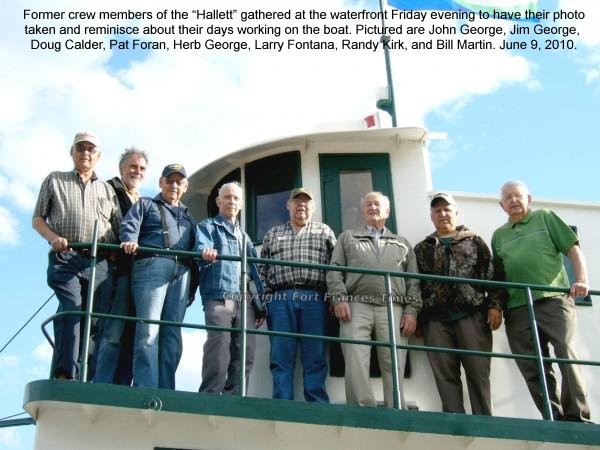 Hallett at Fort Frances Museum. Photos from Tripadvisor.
12 minute video walk through of Hallett, in Fort Frances, from June 2017.
Impressive that all areas of the ship are accessible.
For more Russel exhibits visit Owen Sound Marine & Rail Museum 1165 1st Ave West, Owen Sound, ON N4K 4K8
(519) 371-3333

http://marinerail.com