Russel Brothers Limited OWEN SOUND, ONTARIO Steelcraft Boat Builders
Owandem / Motherlode
Canadian List of Shipping 1956: Owandem [C.174013] registered at Owen Sound; built at Owen Sound in 1942. 25' x 7'5 x 2'9; 4 g.t.; 2 n.t.; 20 hp. Owned by The Ontario, Minnesota Pulp & Paper Co. Ltd., Fort Frances, Ontario. Canadian List of Shipping 1970: Steel tug Owandem [C.174013] registered at Owen Sound. Built at Owen Sound in 1942. 25'; 4 g.t. Canadian List of Ships 1997: Owned by Boise Cascade Canada Ltd., Fort Frances, Ontario. Transport Canada List 2003: Owned by Boise Cascade Ontario. Ltd., Fort Frances, ON. SB notes (Oct. 2007): current owner Arden Erickson Barnes, PO Box 47, Ranier, MN 56668. Arden lives close to the original Russel Fort Frances factory site.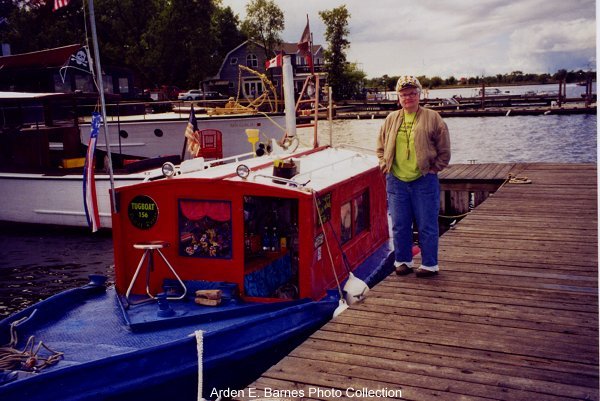 Photos courtesy Arden Barnes, Oct. 2007, Rainy Lake, MN. Arden says "my 26-foot winch tug
(Russel Hull No. 448) was built for the Ontario and Minnesota Paper Company in 1942.
O& M designated the tug number 156. I call her "The Motherlode".
| | |
| --- | --- |
| | |
The Motherlode Story: This little steel vessel is one of the oldest functioning inboard boats on Rainy Lake. Tug #156 was built in 1942. It was Hull #448, built by the Russel - Hipwell Engines of Owen Sound, Ontario, Canada. She was used by the O & M (Ontario & Minnesota) Paper Co. to shepherd the log booms that floated down Rainy Lake to the paper mill. In addition to its boom sluicing duties, it was used at the sorting gap on Rainy River below Rainier Rapids. The Hallett was the primary towing vessel for the log booms and she is on display at Pither's Point near the Old Fort.When logs were no longer transported by water to the mill, Tug #156 and other boats were sold off. Tug #156 was originally powered by a 2-cycle 20 hp Capital engine. She is presently powered by a 271 GMC diesel engine which was installed by the late Hammy Martin, retired mechanic and troubleshooter for the O & M Canadian Logging Operations. Captain Alfred Woods of Fort Frances was in charge of this jaunty little ship during her sorting gap years.

Features of Tug #156: 1) A large cable winch allows it to be "amphibious" and enables her to cross short portages. 2) A uniques cooling system allows the vessel to travel on land as the diesel engine powers the cable spool on the winch. 3) A steel winch cage surrounding the propeller prevents logs from damaging the propeller and shaft. 4) A very heavy steel hull and cabin enables the boat to endure rough use and ice. (It carries a number of battle scars). 5) Weight: 5.5 tons Length: 26' Beam: 7'6" Draws: 6' of water Speed: 8mph without a load Fuel Consumption: One gallon of diesel fuel per hour.

The Present Owner: Arden Erickson Barnes of Ranier, Minnesota purchased Tug #156 approx. 15 years ago and renamed the vessel The Motherlode. The Motherlode now plies the waters of Rainy Lake as a pleasure boat. Arden is a coast guard licensed captain with a towing endorsement. Arden returned home to Rainy Lake after 27 years as chief anesthetist in Thief River Falls, Minnesota. She is the daughter of Rainy Lake pioneers John and Gina Erickson who owned and operated numerous freight and pleasure boats on Rainy Lake during their lifetimes. John was a coast guard licensed operator for inspected gasoline and steam powered freight and passenger boats used on Rainy Lake. As many of the "old timers" and newcomers to the area will attest, "Rainy Lake gets into one's blood!" Enjoy your visit with us!! P.S. If you should ever wish to see a boat like Tug #156, - check a Canadian $1 bill.

Russel shop Fort Frances c. 1912. Photo courtesy Dennis Busch and Arden Barnes.
Aug. 19, 2008:
This front page newspaper article based on Fort Frances Captain Arden Barnes' research profiles early logging practice and the Russel built Hallett and the Russel Brothers company origins in Fort Frances, Ontario.
TEXT VERSION OF ARTICLE HERE

Steve Briggs notes: Arden Barnes' winch boat (now named "The Mother Lode") started out as the "Owandem" (for O & M, or Ontario & Minnesota Pulp & Paper Co. Ltd., a Fort Frances area based company).
---
| | |
| --- | --- |
| | Oct. 8, 2017. Matthew Carlson supplied this newspaper article from Fort Frances saying the Owandem was donated to the museum there in Dec. 2016, and is in storage awaiting refurbishment, once funds are raised. |
For more Russel exhibits visit Owen Sound Marine & Rail Museum 1165 1st Ave West, Owen Sound, ON N4K 4K8
(519) 371-3333

http://marinerail.com