Russel Brothers Limited OWEN SOUND, ONTARIO Steelcraft Boat Builders
Lawrenceville
Particulars of Canadian War Vessels Building & Projected by Naval Service Headquaters (D. N. C. Dept.) 1943 – 1945: Lawrenceville [C.N. 799] Russel Bros., Owen Sound, ON. Commissioned January 8, 1944.
Owen Sound Sun-Times clipping from Gerry Ouderkirk collection.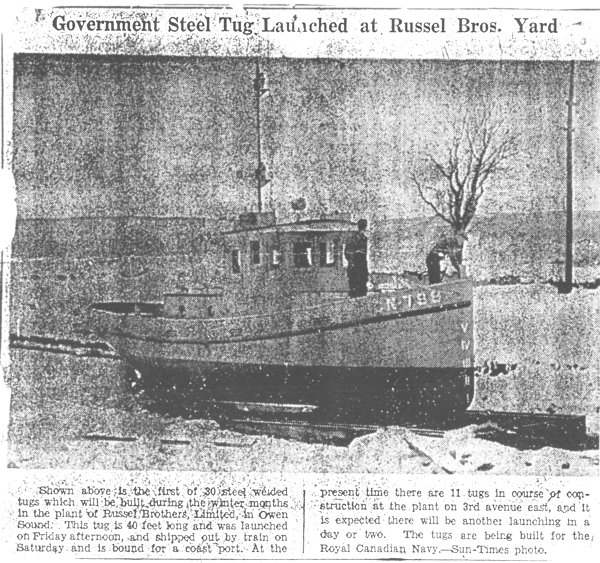 Shown above is the first of 30 steel welded tugs which will be built during the winter months in the plant of Russel Brothers Limited, in Owen Sound. This tug is 40 feet long and was launched on Friday afternoon, and shipped out by train on Saturday and is bound for a coast port. At the present time there are 11 tugs in course of construction at the plant an 3rd avenue east, and it is expected that there will be another launching in a day or two. The tugs are being built for the Royal Canadian Navy.
For more Russel exhibits visit Owen Sound Marine & Rail Museum 1165 1st Ave West, Owen Sound, ON N4K 4K8
(519) 371-3333

http://marinerail.com