Russel Brothers Limited OWEN SOUND, ONTARIO Steelcraft Boat Builders
Tug 45 / Aulneau / Torville
Canadian List of Shipping 1970: Steel tug Aulneau [C.320944] registered at Ottawa. Built at Owen Sound in 1956. 37'; 13 g.t. Service: Arctic support, then Navaids on Lake of the Woods ON. Also carried in Canadian List of Shipping 1994 & 1997. Owned by The Minister of Fisheries and Oceans, Ottawa. GAO Notes: Owned by Roger Read and Michael Guy, of Toronto 1999 - 2005. Renamed Torville. Sold in 2005 to David Meyers of Oakville Ont. For sale again in 2017. Hull 1120. CCGS Aulneau is sister ship to Russel Bros. Hull 1121 (named Tay) used on Rideau Canal by Parks Canada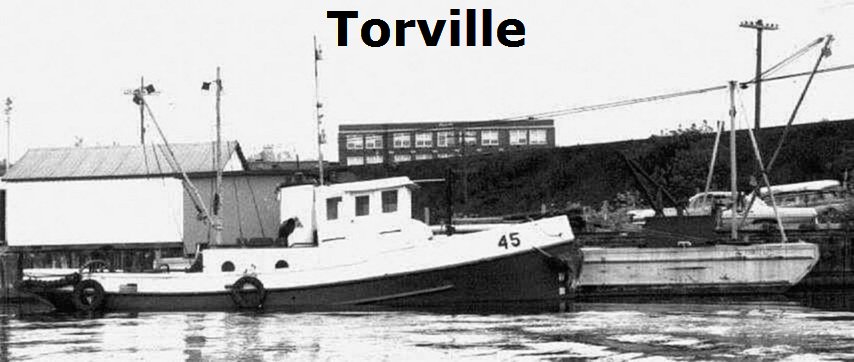 Roger Read and Michael Guy bought Aulneau and converted her into a pleasure craft. Roger Read notes (Jan. 2007):
She was renamed Torville because the Coast Guard would not let us use her original name (Aulneau).
TOR for Toronto and VILLE for the Ville class.
Photos from Vintage Canadian Coast Guard. Click to enlarge.
Aulneau as Tug 45. Built in 1956 by Russel Bros. Owen Sound ON, used as a tender in the Arctic, then sometime before Sept. 1963 was transferred to the Coast Guard on Lake of the Woods ON to service navigational aids.
Article on the acquisition of the Aulneau by CCG in September 1963 D.O.T. News:

Early Canadian History Recalled by Name of Kenora Tug The 45 foot Ville class vessel was known as Tug 45 when it performed ship to shore operations in the Arctic. The Dept. of Transport renamed it Aulneau when it was moved to Lake of the Woods to service navigation aids. Father Jean Pierre de la Touche Aulneau was a scientist and Jesuit missionary 1734-1736, who explored the Lake of the Woods area with Francois de la Verendrye. Aulneau and 22 others were massacred by the Sioux and their remains were discovered a year later on Massacre Island.

In 1998 after many years working on Lake of the Woods for the Dept. of Transport, Aulneau was traded as partial payment for its replacement, the CCGS Traverse, which was built by Metalcraft Marine in Kingston ON. Here she is sitting at Metalcraft Marine in 1998.
The following are shots of the interior work Micheal Guy did on Aulneau.

CLICK TO ENLARGE


Torville in Ottawa area June 2005. Photos courtesy Michael Guy.
CLICK TO ENLARGE source: http://s20.photobucket.com/user/blued05/library/TUG?sort=3&page=1


Michael Guy notes (Jan. 2007): We understand the boat was built for the DOT. The hull number is 1120, built in 1956, the number 45 is stamped into the plating with a centre punch at bow and stern. Latterly she was used by the CCG at Lake of the Woods in buoy tending service. Roger and I bought her from Metal Craft Marine. She has since been sold to David Meyers of Oakville and is at present in the Bronte outer harbour marina. The Rideau canal system tug TAY, hull number 1121, is identical, down to the last nut and bolt, to Torville the day we bought her.

Torville builder's plate. Photo courtesy Michael Guy.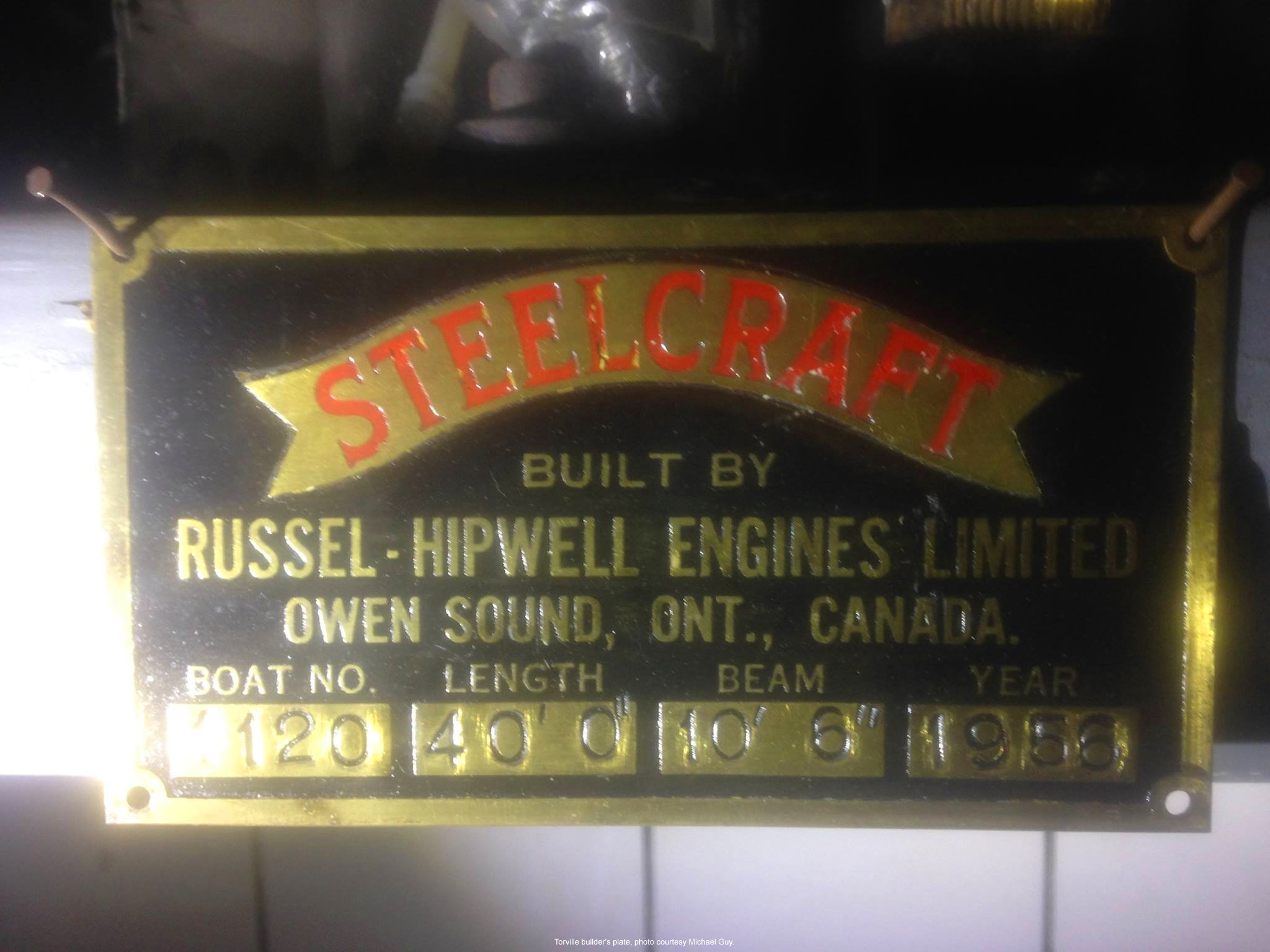 Torville in Ottawa 6/27/05. Photo courtesy Michael Guy.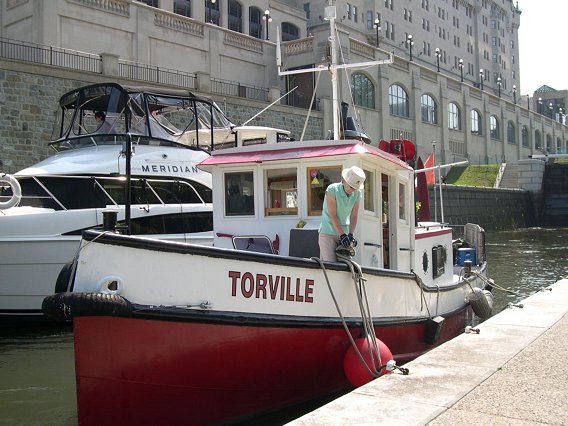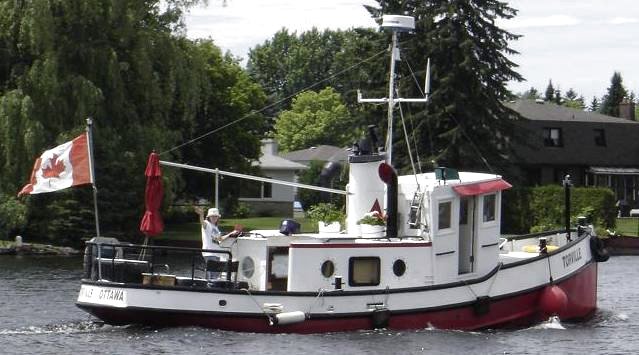 For sale 2005. Robert B. Farrow Collection.
Torville in Toronto, Jun 2005. Photo: Charlie Gibbons.
boatnerd source: http://www.boatnerd.com/news/newsthumbs/newsthumbs_133.htm
Torville in Toronto Drydock, 3 Jun 2005. Photo: Roger Read.
tugfest.net: Uploaded by: Capt Bob [13-06-2005 22:24:48 EDT]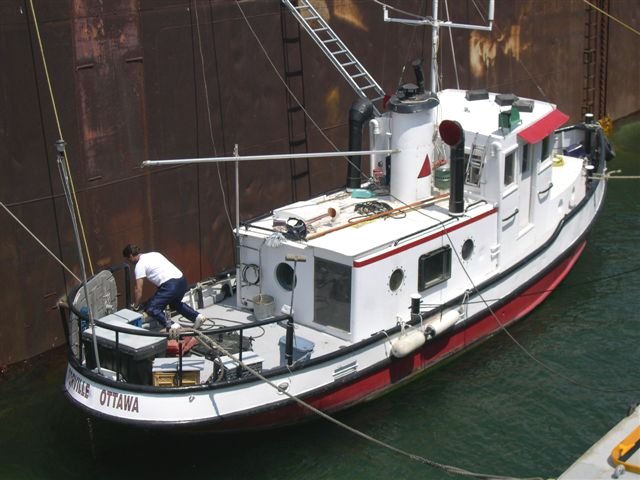 Torville in Toronto Drydock, 3 Jun 2005. Photo: Roger Read.
tugfest.net: Uploaded by: Capt Bob [13-06-2005 22:19:39 EDT]

Photos from the sale listing on http://www.scrutonmarine.com/t2382.htm captured April 20, 2017. 1956 40' x 10' Russel Brothers Tug Price $80,000 CDN Draft: 4.5' Cruising Speed: 7 knots Gross Tons: 12.58, Net Tons: 5.01 Powered by: Detroit Diesel 4-71 Transmission: Twin Disc 3:1 Radio, GPS, Radar, Depth Sounder, Compass Anchor winch Fuel Capacity: 1200 litres Accommodations: double berth, head, full galley Headroom: Wheelhouse and Galley 6'6?, Engine Room 4'6? Located in Southern Ontario


Photos from the kijiji listing of captured Nov. 7, 2017.
https://www.kijiji.ca/v-powerboat-motorboat/oakville-halton-region/tug-boat-for-sale/1311284239

Tug Boat for Sale $65,000.00 40' by 10.5', powered by 471 Detroit Diesel. Includes depth sounder, GPS, radar & vhf radio.
Features double berth and complete galley. SS water & holding tanks, extended range fuel capacity.


For more Russel exhibits visit Owen Sound Marine & Rail Museum 1165 1st Ave West, Owen Sound, ON N4K 4K8
(519) 371-3333

http://marinerail.com