Russel Brothers Limited OWEN SOUND, ONTARIO Steelcraft Boat Builders
| | | |
| --- | --- | --- |
| | | |
Anglo Duchess / Duchess V
Kingfish I
Steel diesel tug [C.198470] built by Russel Bros., Owen Sound, Ontario for Dryden pulp & Paper Co., Ltd., Fort William, and launched as a] Anglo Duchess 1955 – 1984; 48'; 24 g.t., acquired by Waterman Services Ltd., and brought to Toronto; renamed Duchess V 1984 – 19--. Lloyd Scott established Waterman's Services (Scott) Ltd. In 1957. renamed King Fish 1. RBF Notes: as Duchess V, sank dockside in Toronto in 1992 due to frozen seacock. Raised same year. Transport -Canada List 2002: Built by Russel-Hipwell Engine Co., Owen Sound, Ont. GAO Notes: Owned by McKeil under a numbered company; operated by King Fish Productions & Events Ltd., Hamilton. April 2007: GAO notes ownership change:
General Statistics Vessel Type TUG - OTHER Gross Tonnage 24.16 t Net Tonnage 10.54 t Construction Type CLINKER Ship Length 14.60 m Construction Material STEEL Ship Breadth 3.96 m Ship Depth 1.62 m Engine Description DIESEL Number of Engines 1 Propulsion Type SELF-PROPELLED Speed (knots) 10.0 Propulsion Method SINGLE SCREW Propulsion Power 500 Unit of Power BRAKE HORSEPOWER Owner Name HEDDLE MARINE SERVICE INC. Address 208 HILLYARD ST. HAMILTON ONTARIO CANADA L8L 6B6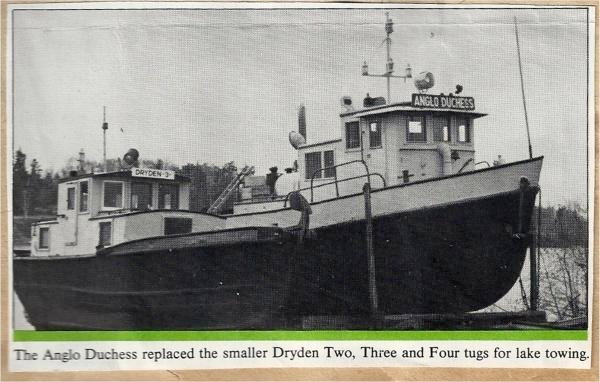 Image source: http://forum.trailersailor.com/post.php?id=1398228
Dave Debney comments (7 Dec 2014): "A bunch of us from work that are all retired have been going for coffee every Wednesday morning for the last six years. A couple of weeks ago, we somehow got started on a discussion of where our tugboats from the Pulp and Paper Mill in Dryden ended up. Hauling log booms on the lake and river had ended in 1981. We knew most had been sold between 1981 and 1984 but had no idea where they went or what became of them. There were five tugs, the Anglo Duchess, Dryden 2, Dryden 3, Dryden 4 and the Pine Bay. Duchess was the largest and actually replaced the three Dryden tugs for hauling booms on the lake. Dryden 2, 3 and 4 were mainly used on the river after Duchess's arrival. Pine Bay, which no one seems to have any information on, now sits on the river bank in front of the mill as a monument."
Toronto, May 18, 1984. Mac Mackay photo.
SV notes: Here is a Bill Moran photo of Duchess V, taken from the Cherry Street bridge in Toronto. This photo was taken in 1992, the same day as the similar Colinette shot.
Duchess V is the ex Anglo Duchess, now King Fish I.
GAO Notes: Toronto Sun. March 6, 1992.
Enlarge to 2064 pixels
GAO Notes: Owned by McKeil under a numbered company;
operated by King Fish Productions & Events Ltd., Hamilton.
GAO Notes: Kingfish 1 and Island Sauvage June 17, 2000.
For more Russel exhibits visit Owen Sound Marine & Rail Museum 1165 1st Ave West, Owen Sound, ON N4K 4K8
(519) 371-3333

http://marinerail.com