Russel Brothers Limited OWEN SOUND, ONTARIO Steelcraft Boat Builders
Mae Mac No. 1 / Pine Bay
Canadian List of Shipping 1956: Mae Mac No. 1 [C.179147] registered at Port Arthur; built at Owen Sound in 1948. 24' 8 x 7' 5 x 2' 9, 4 g.t.; 2 n.t.; 20 hp. Owned by the Great Lakes Pulp and Paper Co. Fort William. GAO Notes: Photophed by Rob Farrow on July 31, 2003 at Dryden, Ontario under the name Pine Bay. RBF Notes: Hull 771, on display in front of Dryden Paper Mill.
Pine Bay photo courtesy John Styffe via Matthew Carlson. Bonfield at right.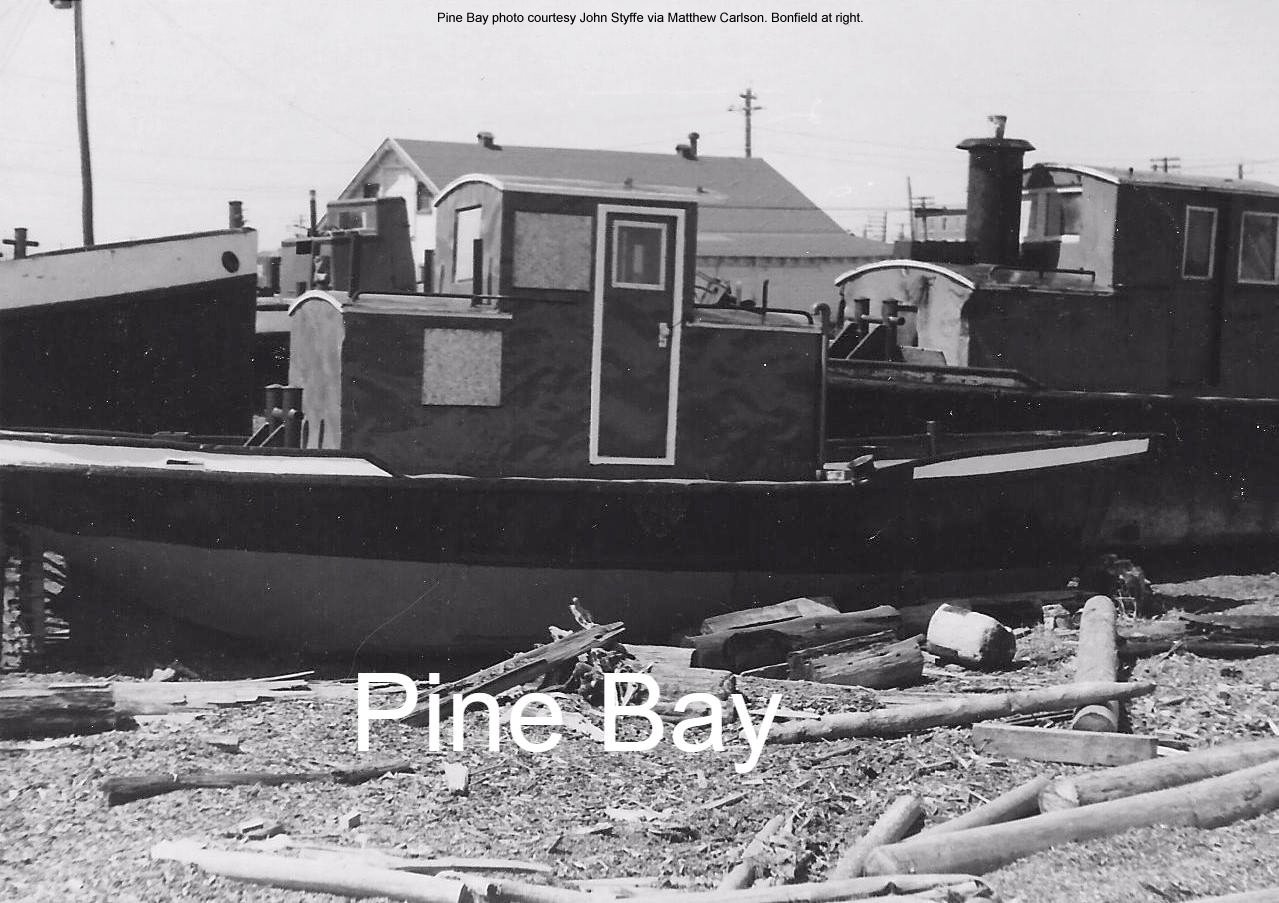 Bonfield photo courtesy John Styffe via Matthew Carlson. Pine Bay at right.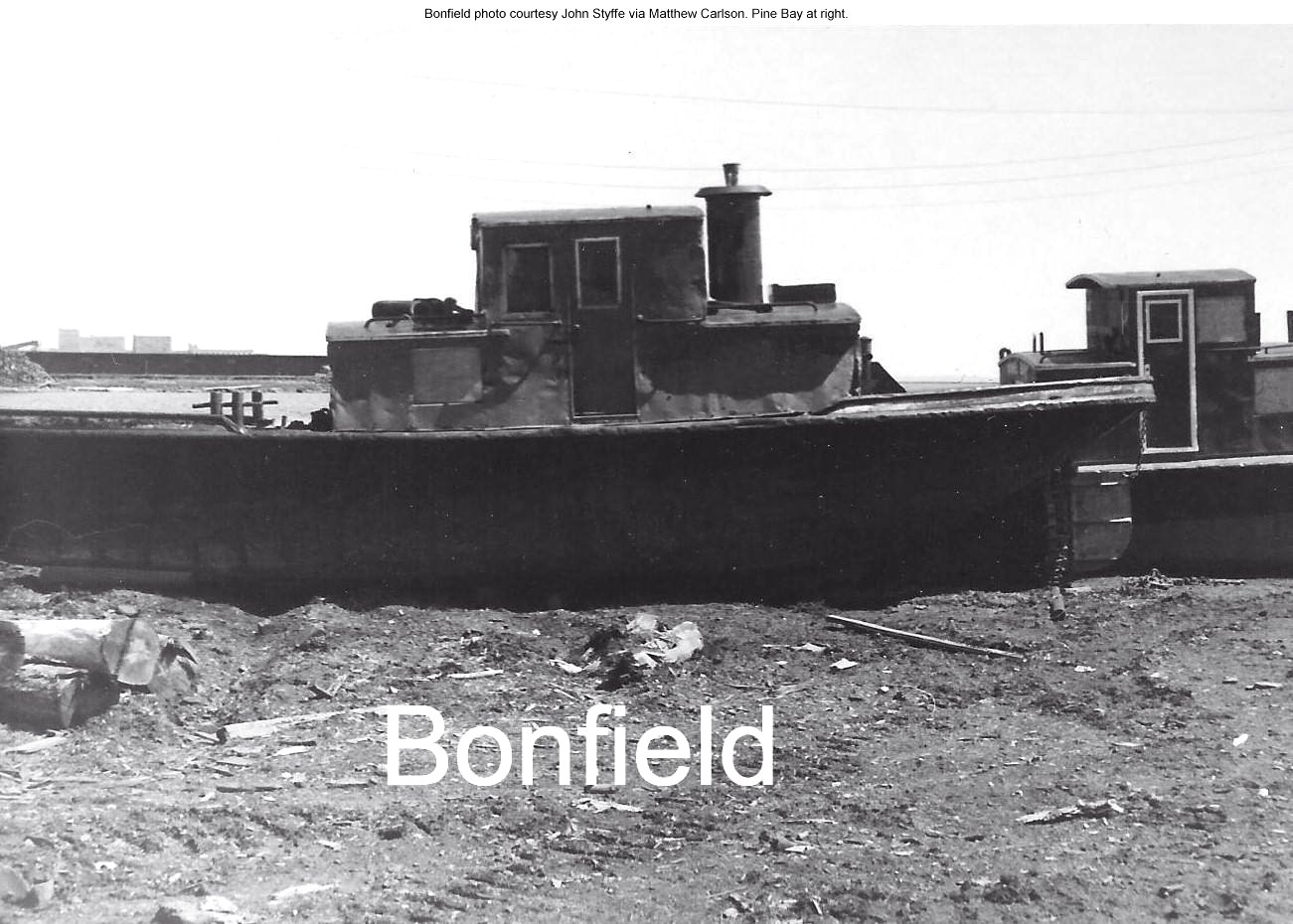 May 1, 2017

Matt Carlson has pointed out the site of the former Styffe yard in Port Arthur (Thunder Bay). He comments: "Where the market is was where the old Northern Wood Preservers yard was. The long structure at the bottom of that yard is the old CN iron ore dock that you can see in the background of the old photos. Back in the day they would tie up log booms to the break wall and tow them in as needed. That whole property is owned by Pierre Gagne now, he was hired to clean up all the Creosote and he ended up buying the entire chunk of land, and filled it the old slip that was there. Approx half way down the ore dock in the yard is where he has the Grand Marais. I haven't seen any work done to it yet."
RBF notes: Pine Bay - Ex Mae Mac No 1, on display (Dryden, ON July 31, 2003)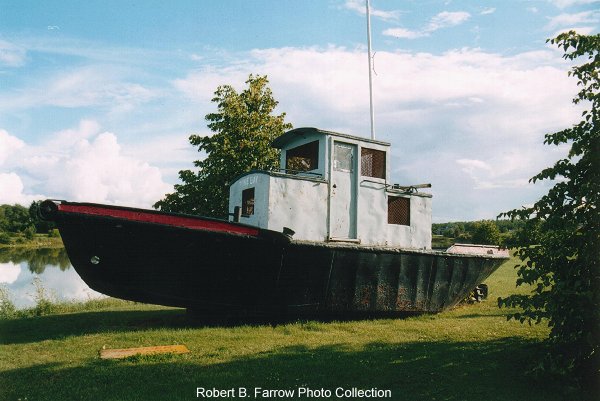 Dave Debney comments (7 Dec 2014): "A bunch of us from work that are all retired have been going for coffee every Wednesday morning for the last six years. A couple of weeks ago, we somehow got started on a discussion of where our tugboats from the Pulp and Paper Mill in Dryden ended up. Hauling log booms on the lake and river had ended in 1981. We knew most had been sold between 1981 and 1984 but had no idea where they went or what became of them. There were five tugs, the Anglo Duchess, Dryden 2, Dryden 3, Dryden 4 and the Pine Bay. Duchess was the largest and actually replaced the three Dryden tugs for hauling booms on the lake. Dryden 2, 3 and 4 were mainly used on the river after Duchessís arrival. Pine Bay, which no one seems to have any information on, now sits on the river bank in front of the mill as a monument."
Image source: http://forum.trailersailor.com/post.php?id=1398228

Rob Franklin (23 Jun 2016) comments: "My Grandfather, George Franklin, was the superintendent over the water for many years in Dryden. I spent a whole lot of time with him on most of the boats in the company fleet. The Pine Bay was a utility boat used at the Wainright dam until the company brought it to town.for various small tasks in the lagoon and river. I don't recall it being used often. One of the boats that seems to have been overlooked here, was the "S.S. Godin", a pusher boat used in the bag that fed the sawmill which was located where the Pine Bay sits today. Grandfather held fresh water captain's papers. He piloted the Duchess from the Russel factory up through the St. Lawrence seaway across all the lakes and through all the locks all the way to ThunderBay where it was loaded on a rail car and brought to Dryden. I believe the entire fleet were Russel Steelcrafts." http://forum.trailersailor.com/post.php?id=1436698

For more Russel exhibits visit Owen Sound Marine & Rail Museum 1165 1st Ave West, Owen Sound, ON N4K 4K8
(519) 371-3333

http://marinerail.com