Russel Brothers Limited OWEN SOUND, ONTARIO Steelcraft Boat Builders

Joe Fossey notes, this is our current best guess as to how a Russel design became the "Ville" class... Canada was at War and desperately needed all the strategic Wartime goods as soon as possible. Aircraft factories, Truck factories, Shipyards, Munitions factories and essential companion products were mandated by the government to be produced as quickly as possible. As far as the "Villes" go, it is my submission that Harry H. Warkentin's trim little 40 foot workboat (see Bluefin) built c. 1937-38 was a ready to go product with no research and development required...It was just what the Navy was looking for in a small harbour tug and Russel Brothers had the plant facility to go into immediate production. It was the Navy Brass and procurement department who assigned the name "Ville" to this class. I do recall hearing about an ex Navy inspector who volunteered that they were always happy to see Russel built boats coming down for their pre-acceptance tests because they were all well built and well tested.

The Russel Brothers official plan of the Ville is design number 250 and listed as a 40 foot Diesel Tug with a L.O.A. of 40 feet. This abbreviation (L.O.L.) relates to Length Over All. signed by Harry H. Warkentin who designed this hull circa 1938. It 's recorded that the first one sold was named Blue Fin and sold to the Ontario Government as a survey vessel. Of interest it had a straight vertical bow and I am quite sure it is still around today much modified over the years and last seen lying in a Goderich Marina.

The "Ville Class" name came of a necessity from WW II when Russel's built 38 of them for the Canadian Navy. At that time Navy Standard of hull length measurement along with Lloyds of London and Department of Transport was measured from the waterline perpendicular at the bow to the center of the rudder post. Thus the 37 feet 5 inch number vs. the shown 40 feet L.O.A. Another measurement is designated L.W.L. which means Loaded Waterline Length. I have this factory 40 ft. Diesel Tug or Ville Drawing if you need it.

As for the Upper Stem Cant Back from the Sheerline. The Ville was a Multiple Purpose Small Tug and would have on occasion been used as a "Shiphandling Vessel", now know as "Ship Assist" Vessel. When pushing against large vessels the angle back allowed it to have a better contact between the two surfaces v/s a sharp point that could possibly dig in and damage both vessels. Ship Assist design to this day provide this feature.

I have an official R.C.N. Lines Drawing of the H.M.C.S. Parksville, one of four Ville's shipped to the West Coast and active there for many years in CFB Esqimalt. Drawings like this are now scarce to non existent and much needed if any Transport Canada Inspection is required.

As to minor differences in Wheelhouse measurements. During standard production runs they could and did of necessity issue E.C.O's or Engineering Change Orders to change or modify slightly for Civilian customer needs.
---
Donal M. Baird, in his book "Under Tow: A History of Tugs and Towing" writes (page 95): " The first new tugs to come to the aid of the Navy, whose ship handling problems were becoming exacerbated by the presence of dozens of new warships, were the fifteen little, 40-foot, 150bhp, steel yard tugs of the Ville class (e.g. Otterville, Marysville, Merrickville and Beamsville). These were built in the tug specialist Russel Brothers shipyard, now in Owen Sound, Ontario, to work mainly at Halifax and Esquimalt. They arrived on the scene in 1943 and 1944 and were fine for handling corvettes, but too small to handle berthing of larger ships."
From the Company Brochure "Steelcraft Powerful Diesel Tugs"
WWII
NAVY TUGS

VILLE
CLASS
Info used with permission of LCdr (Ret'd) David J Freeman, Victoria, BC, and
taken from his book published in 2000, Canadian Warship Names.

NAME

CN NUMBER

LAID DOWN

COMMISSIONED

Other Info

Adamsville

800

23-11-43

12-1-44

YTS 582. Re-named "BURRARD" (HMCS Discovery tender).

Auburnville

803

8-12-43

24-1-44

(W50). Re-named "W.A.C. No. 5" (War Assets Corp.),
Sank in Lake Ontario 31/05/62. ON 177428

Barkerville

894?

13-10-44

14-12-44

(Z19). Re-named "SYLVIA KING", Vancouver. ON 179092

Beamsville

801

29-11-43

16-1-44

YTS 583 (Z61)

Blissville

838

5-1-44

18-3-44

(W56) Hull #479 to Dept. of Public Works 1947, ON 170298

Bonnyville

878

11-8-44

3-11-44

Hull #494. Sold to Upper Ottawa Imp. Co. 1946. ON 179027

Colville

843

25-1-44

27-5-44

YTS 576. Hull #484. Sold to Gulf Services 31/03/64 Re-named "GULF WAVE", LA PRAXIS, BOBBY BOWES. ON 320827

Eckville

839

8-1-44

22-3-44

YTS 580 (W58)

Granville

???

???

7-9-42

(W18)

Hartville

882

8-9-44

23-11-44

12-1-44 NAVVY JACK (O.N. 176875) Registry suspension: 2007-04-04.

Haysville

???

???

8-7-42

YTS 575 (W119)

Hodgeville

807

28-12-43

8-3-44

(W53)

Innisville

883

13-9-44

24-11-44

???

Jamesville

884

16-9-44

24-11-44

???

Johnsville*

880

22-8-44

8-11-44

???

Kayville

886

26-9-44

24-11-44

???

Kingsville

???

???

20-8-42

(W20)

Lakeville

???

???

7-9-42

(W21)

Lawrenceville

799

16-11-43

8-1-44

YTS 584 YTS 590

Listerville

875

10-7-44

12-10-44

YTS 578 YTS 592

Loganville

893

10-10-44

13-12-44

YTS 589 (W66)

Luceville

844

28-1-44

27-5-44

???

Mannville

840

14-1-44

6-4-44

YTS 577 (W57)

Martinville

876

15-7-44

11-10-44

(W61)

Marysville

802

15-12-43

20-1-44

YTS 585 YTS 594 (Z62)

Merrickville

879

14-8-44

8-11-44

YTS 581 YTS 593

Neville

877

1-8-44

3-11-44

???

Otterville

805

18-12-43

29-1-44

YTS 590 (W51) (W32)

Parksville

804

15-12-43

27-1-44

YTS 579 YTS 591 (W49)

Pierreville

???

5-10-44

13-12-44

???

Plainsville

844

28-1-44

27-5-44

YTS 587 (W01)

Queensville

885

21-9-44

5-12-44

YTS 586

Radville

806

22-12-43

3-2-44

(W52)

Roseville

842

20-1-44

6-5-44

???

Shawville

841

18-1-44

27-5-44

(WPT 43) To NHB 1946 as N.H.B.V. PETROL NO. 1, later Brockton II (O.N. 179060) Vancouver

Streetsville

837

31-12-43

10-3-44

W55

Walkerville*

???

???

???

W36

Youville

887

2-10-44

5-12-44

YTS 558

* NOT A CONFIRMED RUSSEL BUILD.
Auxiliary Pennant Numbers WWII by David J. Freeman. Paul Capel Collection.
| | |
| --- | --- |
| W numbers | Post WWII numbers |
From http://shipbuildinghistory.com/canadaships/yardtugs.htm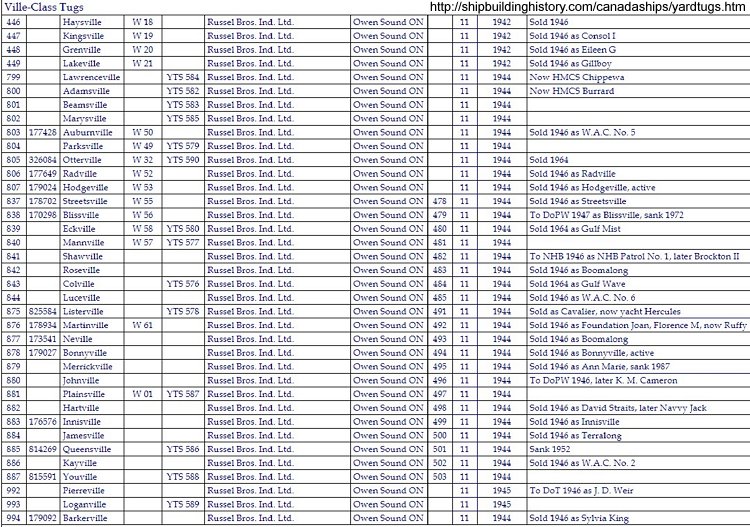 From Russel company brochure: SALVAGE EQUIPMENT.
Gerry Ouderkirk archive.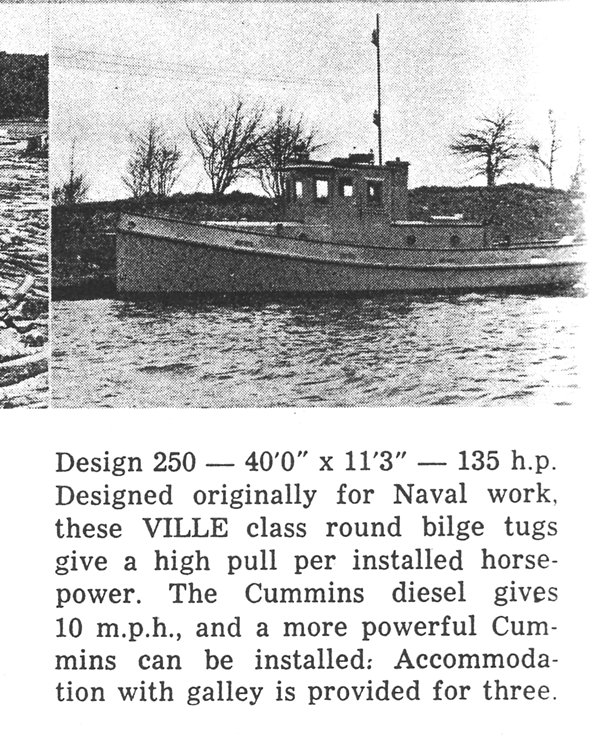 Circa 1943 wartime production of 40 foot Naval "Ville" class tugs. Note
uniformed Navy Inspectors in foreground. Photo courtesy Ted Eldred.
Villes racing, Queensville in middle. Joe Fossey Collection.



800
 ADAMSVILLE
 5/10/1943
 VILLE CLASS STEEL TUG
 Russell Bros. Ind. Ltd. Owen Sound
 1944
 unknown
  
 RCN YTS 582
 HMCS DISCOVERY TENDER " BURRARD "
  
 
803
 AUBURNVILLE
 5/10/1943
 VILLE CLASS STEEL TUG
 Russell Bros. Ind. Ltd. Owen Sound
 1944
 unknown
 W 50
 SOLD GERMAN AND MILNE 
 COMMERCIAL "W.A.C.5 ", ON 177428
  
 
994
 BARKERVILLE
 1944
 VILLE CLASS STEEL TUG
 Russell Bros. Ind. Ltd. Owen Sound
 1945
 unknown
  
 SOLD COMMERCIAL
 COMMERCIAL " SYLVA KING " ON 179092
  
 
801
 BEAMSVILLE
 5/10/1943
 VILLE CLASS STEEL TUG
 Russell Bros. Ind. Ltd. Owen Sound
 1944
 unknown
  
 RCN YTS 583
 FATE UNKNOWN
  
 
838
 BLISSVILLE
 8/10/1943
 VILLE CLASS STEEL TUG
 Russell Bros. Ind. Ltd. Owen Sound
 1944
 479
 W 56
 TO DEPT OF PUBLIC WORKS 1947
 COMMERCIAL " BLISSVILLE" ON 170298
  
 
878
 BONNYVILLE
 1944
 VILLE CLASS STEEL TUG
 Russell Bros. Ind. Ltd. Owen Sound
 1944
 494
  
 SOLD TO UPPER OTTAWA IMP CO 1946
 COMMERCIAL " BONNYVILLE " ON 179027
  
 
843
 COLVILLE
 8/10/1943
 VILLE CLASS STEEL TUG
 Russell Bros. Ind. Ltd. Owen Sound
 1944
 484
  
 RCN YTS 576, SOLD TO GULF SERVICES 31/03/64
 COMMERCIAL " GULF WAVE " ON 320827
  
 
839
 ECKVILLE
 8/10/1943
 VILLE CLASS STEEL TUG
 Russell Bros. Ind. Ltd. Owen Sound
 1944
 480
 W 58
 RCN YTS 580, SOLD 31/03/64
 COMMERCIAL " GULF MIST " ON 320826
  
 
448
 GRENVILLE
 6/30/1942
 VILLE CLASS STEEL TUG
 Russell Bros. Ind. Ltd. Owen Sound
 1942
 unknown
 W 20
 SOLD TO CIP CO 1946
 ? COMMERCIAL " EILEEN G. " ON 190222
  
 
882
 HARTVILLE
 1944
 VILLE CLASS STEEL TUG
 Russell Bros. Ind. Ltd. Owen Sound
 1944
 498
  
 SOLD TO STRAITS TOWING AND SALVAGE 1946
 COMMERCIAL " DAVID STRAITS' LATER " NAVVY JACK" ON  176875
  
 
446
 HAYSVILLE
 6/30/1942
 VILLE CLASS STEEL TUG
 Russell Bros. Ind. Ltd. Owen Sound
 1942
 unknown
 W 18
 SOLD POSTWAR
 FATE UNKNOWN
  
 
807
 HODGEVILLE
 5/10/1943
 VILLE CLASS STEEL TUG
 Russell Bros. Ind. Ltd. Owen Sound
 1944
 unknown
 W 53
 SOLD TO UPPER OTTAWA IMP. CO 1946
 COMMERCIAL " HODGEVILLE " ON 179024
  
 
883
 INNISVILLE
 1944
 VILLE CLASS STEEL TUG
 Russell Bros. Ind. Ltd. Owen Sound
 1944
 499
  
 SOLD TO CIP 1946
 COMMERCIAL " INNISVILLE" ON 176576
  
 
884
 JAMESVILLE
 1944
 VILLE CLASS STEEL TUG
 Russell Bros. Ind. Ltd. Owen Sound
 1944
 500
  
 SOLD TO PULPWOOD SUPPLY LTD. 1946
 ? COMMERCIAL " TERRALONG " ON 177630
  
 
880
 JOHNVILLE
 1944
 VILLE CLASS STEEL TUG
 Russell Bros. Ind. Ltd. Owen Sound
 1944
 496
  
 TO DEPT OF PUBLIC WORKS 1946
 COMMERCIAL " K.M. CAMERON " ON 177458
  
 
886
 KAYVILLE
 1944
 VILLE CLASS STEEL TUG
 Russell Bros. Ind. Ltd. Owen Sound
 1944
 502
  
 SOLD TO MIL 1948
 ? COMMERCIAL " W.A.C 2 " ON 177433
  
 
447
 KINGSVILLE
 6/30/1942
 VILLE CLASS STEEL TUG
 Russell Bros. Ind. Ltd. Owen Sound
 1942
 unknown
 W.19
 SOLD TO CIP CO 1946
 COMMERCIAL " CONSOL I " ON 176584
  
 
449
 LAKEVILLE
 6/30/1942
 VILLE CLASS STEEL TUG
 Russell Bros. Ind. Ltd. Owen Sound
 1942
 unknown
 W 21
 SOLD TO STRAITS TOWING & SALVAGE LTD.
 COMMERCIAL " GILLBOY " ON 176758
  
 
799
 LAWRENCEVILLE
 5/10/1943
 VILLE CLASS STEEL TUG
 Russell Bros. Ind. Ltd. Owen Sound
 1944
 unknown
  
 RCN YTS 584
 HMCS CHIPPEWA TENDER " CREE"
  
 
875
 LISTERVILLE
 1944
 VILLE CLASS STEEL TUG
 Russell Bros. Ind. Ltd. Owen Sound
 1944
 491
  
 RCN YTS 578
 FATE UNKNOWN
  
 
993
 LOGANVILLE
 1944
 VILLE CLASS STEEL TUG
 Russell Bros. Ind. Ltd. Owen Sound
 1945
 unknown
  
 RCN YTS 589
 FATE UNKNOWN
  
 
844
 LUCEVILLE
 8/10/1943
 VILLE CLASS STEEL TUG
 Russell Bros. Ind. Ltd. Owen Sound
 1944
 485
  
 SOLD TO GERMAN AND MILNE 
 COMMERCIAL " W.A.C. 6" ON 177429
  
 
840
 MANNVILLE
 8/10/1943
 VILLE CLASS STEEL TUG
 Russell Bros. Ind. Ltd. Owen Sound
 1944
 481
 W 57
 RCN YTS 577
 FATE UNKNOWN
  
 
876
 MARTINVILLE
 1944
 VILLE CLASS STEEL TUG
 Russell Bros. Ind. Ltd. Owen Sound
 1944
 492
 W 61
 SOLD TO FOUNDATION MARITIME LTD 1948
 COMMERCIAL " FOUNDATION JOAN" ON 178934
  
 
802
 MARYSVILLE
 5/10/1943
 VILLE CLASS STEEL TUG
 Russell Bros. Ind. Ltd. Owen Sound
 1944
 unknown
  
 RCN YTS 585
 FATE UNKNOWN
  
 
879
 MERRICKVILLE
 1944
 VILLE CLASS STEEL TUG
 Russell Bros. Ind. Ltd. Owen Sound
 1944
 495
  
 RCN YTS 581
 FATE UNKNOWN
  
 
877
 NEVILLE
 1944
 VILLE CLASS STEEL TUG
 Russell Bros. Ind. Ltd. Owen Sound
 1944
 493
  
 SOLD TO THE PULPWOOD SUPPLY LTD. 1946
 ? COMMERCIAL " BOOMALONG " ON 177629
  
 
805
 OTTERVILLE
 5/10/1943
 VILLE CLASS STEEL TUG
 Russell Bros. Ind. Ltd. Owen Sound
 1944
 unknown
 W 32
 RCN YTS 590
 J. PORTER CO 1964
  
 
804
 PARKSVILLE
 5/10/1943
 VILLE CLASS STEEL TUG
 Russell Bros. Ind. Ltd. Owen Sound
 1944
 unknown
 W 49
 RCN YTS 579
 FATE UNKNOWN
  
 
992
 PIERREVILLE
 1944
 VILLE CLASS STEEL TUG
 Russell Bros. Ind. Ltd. Owen Sound
 1945
 unknown
  
 TO DEPARTMENT OF TRANSPORT 1946
 COMMERCIAL " J.D. WEIR " ON 179023
  
 
881
 PLAINSVILLE
 1944
 VILLE CLASS STEEL TUG
 Russell Bros. Ind. Ltd. Owen Sound
 1944
 497
 W 01
 RCN YTS 587
 FATE UNKNOWN
  
 
885
 QUEENSVILLE
 1944
 VILLE CLASS STEEL TUG
 Russell Bros. Ind. Ltd. Owen Sound
 1944
 501
  
 RCN YTS 586
 FATE UNKNOWN
  
 
806
 RADVILLE
 5/10/1943
 VILLE CLASS STEEL TUG
 Russell Bros. Ind. Ltd. Owen Sound
 1944
 unknown
 W 52
 SOLD TO ABITIBI POWER AND PAPER CO 1946
 COMMERCIAL " RADVILLE" ON 177649
  
 
842
 ROSEVILLE
 8/10/1943
 VILLE CLASS STEEL TUG
 Russell Bros. Ind. Ltd. Owen Sound
 1944
 483
  
 SOLD TO ABITIBI PULP & PAPER
 COMMERCIAL " BOOMALONG" ON  177629
  
 
841
 SHAWVILLE
 8/10/1943
 VILLE CLASS STEEL TUG
 Russell Bros. Ind. Ltd. Owen Sound
 1944
 482
  
 TO NATIONAL HARBOURS BOARD 1948
 COMMERCIAL " NHBV PATROL # 1 " LATER " BROCKTON II " ON 179060
  
 
837
 STREETSVILLE
 8/10/1943
 VILLE CLASS STEEL TUG
 Russell Bros. Ind. Ltd. Owen Sound
 1944
 478
 W 55
 SOLD TO MARINE INDUSTRIES LTD 1946/47
 COMMERCIAL " STREETSVILLE " ON 178702
  
 

For more Russel exhibits visit Owen Sound Marine & Rail Museum 1165 1st Ave West, Owen Sound, ON N4K 4K8
(519) 371-3333

http://marinerail.com