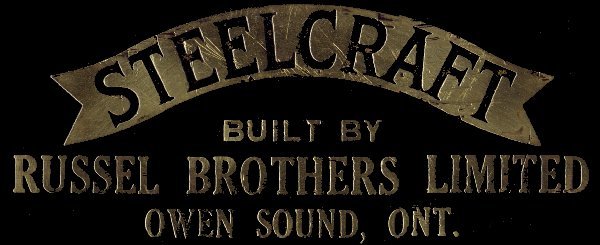 To search within this site, enter this in the browser bar:
site:www.russelbrothers.ca search phrase
Russel boats were important. They were the first company in North America to electrically arc-weld all steel hulls.
A Russel design was adopted by the British (and Canadian) Navy as its main class of small harbour tug (the "Ville" class). Their logging boats were designed robustly for prolonged heavy use in remote areas, and pretty much defined this genre (the winch boats and warping tugs). This well deserved reputation for quality and value carried over into their larger tugboats and later Coast Guard ships. Russel innovative expertise was recognized when Niagara Falls needed two Maids of the Mist in 1955, and Toronto needed a fireboat in 1964, both of which are still in use today! The company exported boats into Canada's north, and internationally to Vietnam and Africa. They became masters of shipping boats in sections on rail cars and re-assembling them at the final destination. Though by no means the only activity of this eclectic and vibrant company, the boats are the focus of this unofficial archive.
Interesting Features in the Archive




1920's ERA RUSSEL ALLIGATOR The oldest known surviving Russel boat. Taken from the bush near Timmins, transported to Marten River Provincial Park, then government relocated for permant display in Connaught, Ont.

THE FIRST AND LAST OWEN SOUND RUSSEL BOATS 1938's Bluefin served as the template for the Ville class of Navy pup tugs & 1974's Beaver's Helper was a dozer boat for log booms destined for Saint John, N.B.

THE CAR FERRY QUINTE Built in 1939, and put into service on the Bay of Quinte between Adolphustown and Glenora, Ont. Featured as the Toronto Marine Historical Society Ship of the Month #300, by Gerry Ouderkirk.

NAVY TUGS: VILLE, TANAC AND GLEN CLASSES Russel Brothers built ALL of the 38 Ville class tugs produced during World War II. Also 14 of the 265 60' Tanac class fire tugs, and 11 of 20 80' Glen class large tugs.

REMEMBERING THE HALLETT 2003 article by ex Hallett deckhand Larry Fontana of Fort Frances.

TUGS FOR VIETNAM AND AFRICA Ten Tropical River Tugs for Saigon in 1947, more for Cameroon.

LAKE ERIE OIL AND THE TRANSLAKE III TRAGEDY Capsize & fatality, 1958, by Gerry Ouderkirk.

LIST OF RUSSEL BOAT TYPES PRODUCED 1950 -1964 A yearly non-specific list by M. E. Croft.

RECONSTRUCTION OF RUSSEL BOATS Scow HBC 300 and tug Rupert River c. 1962 by Ted Eldred.

RUSSEL SAILBOATS Russel Brothers experimented with building aluminum racing yawls in the 1960's.

WM LYON MACKENZIE Modeller Gerry George's exhaustive 2004 photo documention of Toronto's fireboat.

LOG BOOM JUMPING In 1973, three or four 14 inch wide squared off timbers made a stout perimeter to enclose log booms. Tugs would have to enter or leave the boom interior, which was done by just running over the timbers. The boats were constantly bumping around in a sea of logs, and had to be built tough...by Yves Cloutier.

HALLETT 1975 RUSSEL VALUATION Originally $43,870 in 1940, valued by E.M. Cordrey at $70,000 in 1975.

QUEBEC LOGGING USING RUSSEL TUGS Working with Russels in La Mauricie about 1980, by Yves Cloutier.

64 YEARS OF THE RAPIDE DES COEURS ON THE ST. MAURICE RIVER and yes, still working in 2007!

REBUILDING AN 80' RUSSEL TUG Tug Glenmont (sort of) becomes a cruise ship, by Gerry Ouderkirk.

RESTORING A RUSSEL WARPING TUG Emma Morgan by Nick Finazzo of Pier 500 Marina, Wyandotte, MI.

RESTORING A RUSSEL WINCH BOAT P. P. M. 4 is still in active service with S. C. Richardson and Sons.

SINKINGS AND RAISINGS OF RUSSEL BOATS Interesting photographs, clippings & read a TSB report.

RAISING AND SINKING A RUSSEL WINCH BOAT L. O. 2 used as a diving attraction in Wakefield, QC.

THE LAST RIVER DRIVE IN CANADA included Russel boats, and occurred in Kapuskasing, Ont., 1994.

NIPIGON RIVER LOG DRIVES The Nipigon River is in Thunder Bay District in Northwestern Ontario, Canada.

RUSSEL BROTHERS FORT FRANCES LEGACY A comprehensive overview by Arden Erickson Barnes.

NEWSPAPER CLIPPINGS Ads and articles from the 1930's and 1940s, collected by Robert B. Farrow.

2007 TUGBOAT FESTIVAL 2007 marked the 100th Anniversary of the company's start in Fort Frances, Ont. in 1907, and the 70th Anniversary of their move to Owen Sound, Ont. in 1937. On July 28 & 29 of 2007, as part of Owen Sound's 150th Homecoming celebration, we held the Owen Sound - Russel Brothers Tugboat Festival.

MODELS OF RUSSEL BOATS Joe Fossey and Roger Hauka's R/C Villes, and others from several artisans.

LOCATIONS OF RUSSEL HULLS Russels in Manitoba, Ontario and Quebec, maps from Robert B. Farrow.

RUSSEL DESKTOP WALLPAPERS Russels for the digital age! 1024 x 768 pixel Russel boats for desktops.

Thank you's and acknowledgements Partial list of the many (some tireless) contributors to this archive.



The Owen Sound Dollar Bill Photo Mosaic is located off main street (2nd Ave. East) between 8th and 9th streets, on the wall of Shopper's Discount Clothing Co., across from its main sponsor, Scotiabank.
The two logging boats featured on the reverse of the dollar bill were made in Owen Sound by Russel Brothers. The larger Missinaibi is now in the Museum of Civilization in Hull, QC, while the smaller Ancaster is displayed outside the
Owen Sound Marine & Rail Museum at 1165 1st Ave West. Click here for more on the Dollar Bill.