Russel Brothers Limited OWEN SOUND, ONTARIO Steelcraft Boat Builders
Tauno
Canadian List of Shipping 1956: Tauno [C.190386] registered at Toronto; built at Owen Sound in 1949. 27'2 x 7'5 x 2'9; 4 g.t.; 3 n.t.; 40 hp. Owned by Long Lac Pulp & Paper Co. Ltd., Toronto. Canadian List of Shipping 1970: Steel tug Tauno [C.190386] registered at Toronto. Built at Owen Sound in 1949. 27'; 4 g.t. Canadian List of Ships 1997: Owned by Kimberly-Clark of Canada Ltd., Terrace Bay, Ontario. John Sperrino Notes: Tauno was named for Tauno Laponen. It was Russel hull 799. Kimberley-Clark company number 240. RBF Notes: On display in Longlac, ON 2003. GAO Notes. See clipping file for pics.
RBF notes: Tauno, on display in Longlac, July 13th, 2003.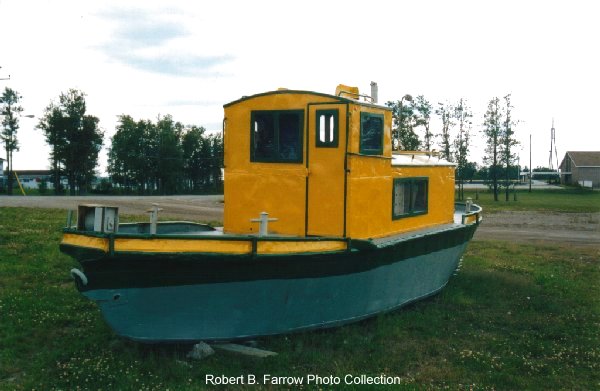 RBF notes: Tauno, Longlac, April 25th, 2006.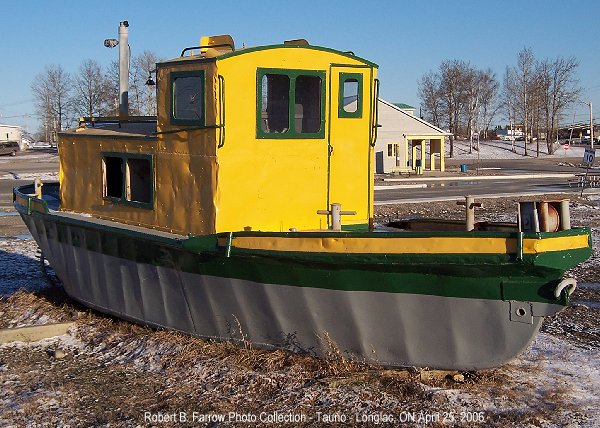 Tauno on display, Visitor Centre, Longlac ON, April 23rd, 2007. (Beside Tugalong).
RBF notes: Tugalong and Tauno are getting pretty beat up here in Longlac, seems the local youths
don't appreciate their history and are just interested in breaking windows and doors.
Google Earth shot saved by Don Loponen Feb. 2017
Don notes: This gator is on display in Longlac as well. It is now named the Tauno after my father. Having grown up in Longlac from the 1920's on he would know the lake like the back of his hand. When the tugs first arrived he would operate them first for Pulpwood Supply and then Kimberly Clark. Later he became the river and lake drive foreman. When he was the foreman he would travel using the Kimcee speed boat to visit the tugs pulling the rafts down the lake. I remember riding with him on the Kimcee a few times and stopping at the Robert W for lunch.
Tauno Loponen on right.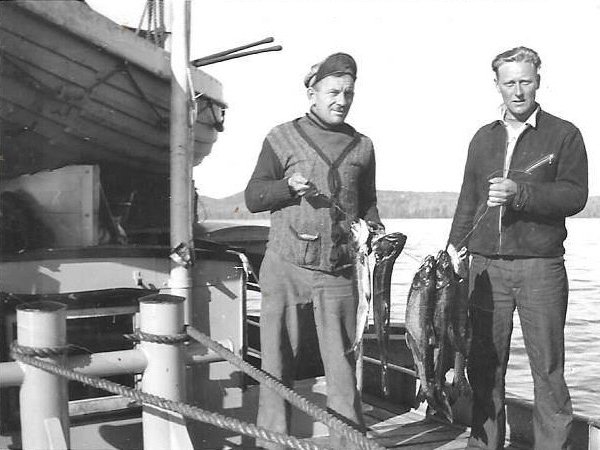 For more Russel exhibits visit Owen Sound Marine & Rail Museum 1165 1st Ave West, Owen Sound, ON N4K 4K8
(519) 371-3333

http://marinerail.com