Russel Brothers Limited OWEN SOUND, ONTARIO Steelcraft Boat Builders
Tugalong
Canadian List of Shipping 1956: Tugalong [C.172207] registered at Port Arthur; built at Owen Sound in 1940. 47'5 x 12'7 x 5'7; 22 g.t.; 12 n.t.; 150 hp. Owned by Long Lac Pulp & Paper Co. Ltd., Toronto. Canadian List of Shipping 1970: Steel tug Tugalong [C.172207] registered at Port Arthur. Built at Owen Sound in 1940. 48'; 22 g.t.. Owned by Kimberly-Clark Pulp & Paper Co., Ltd. GAO Notes: See clipping file for photo at Long Lac, Ontario by Capt. Maurice Spooner. RBF Notes: Hull 357. On display (Longlac, ON Aug 19, 2004)
Tugalong in Longlac ON, 1951. Photos courtesy Don Loponen.
Don notes (June 15, 2017): I found this photo at the Longlac Historical Society. They are starting to digitalize their photos. The "saturation of colours" is probably a mistake because of the florescent lighting in the room when I took the picture of the photo with my phone. This lady's son now owns one of the winchboats And is involved with the historical society.

RBF notes: Tugalong on display in Longlac ON, Aug. 19th, 2004.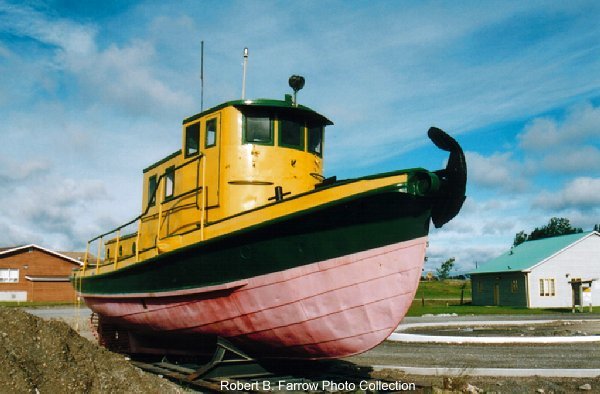 RBF notes: Tugalong, Longlac ON, April 25th, 2006.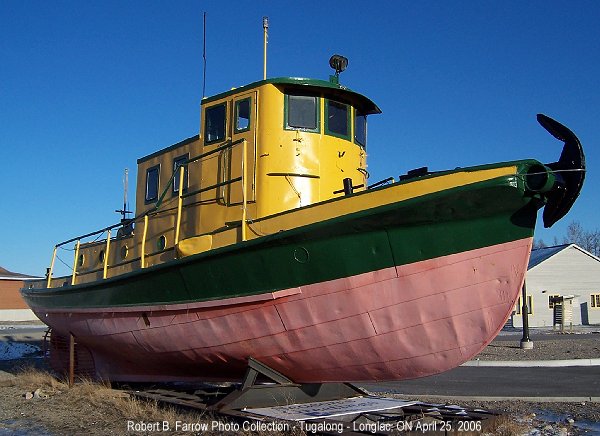 Tugalong on display, Visitor Centre, Longlac ON, April 23rd, 2007. (Beside Tauno).
RBF notes: Tugalong and Tauno are getting pretty beat up here in Longlac, seems the local youths
don't appreciate their history and are just interested in breaking windows and doors.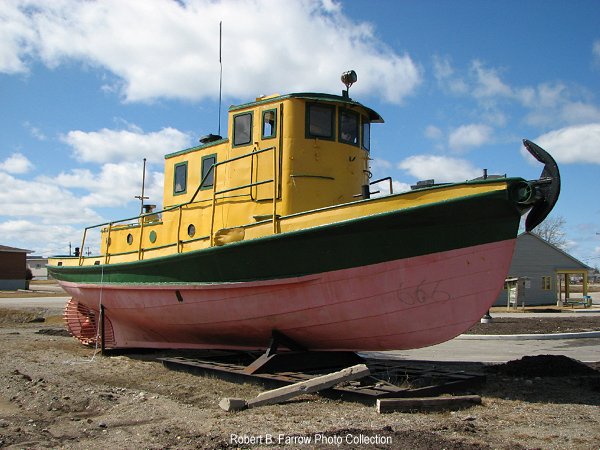 Tugalong Engine Room
Matthew Carlson notes (Feb. 2017): inside the engine room on the Tugalong, you can see the 2 receiver units hanging, same thing as the Robert w would have just there would have been a third one for the second engine. When the one in the wheelhouse is operated it would move the pointer on the one in the engine room to another position, then the engineer would adjust the throttle or gearbox accordingly. Same for the warping set. The ones one the Robert w also had a "reply" system as it shows a handle. After the engineer does the order he would confirm it to the wheelhouse by moving the handle to the same position. That would move the separate little pointer on the unit it the wheelhouse, but some just have a simple bell so the wheelhouse knows they got the order. It's a simple yet complex system.

A 50 footer hull just off the rails in Longlac Ontario...
Lacalong (1939) or Tugalong (1940)? Photo from Don Loponen

Lacalong and Tugalong, Longlac, Ont., photo courtesy Don Loponen. Longlac, 1970's maybe. You'll notice the houseboat pulled up on the shore. That was a scow with a bunkhouse on it for the "sweep" crew who worked their way along the shoreline down the lake every summer gathering up stray logs. The logs piled in the background was the stockpile for the slasher. Saw logs went to the sawmill and the rest went into the lake.

Tugalong in Longlac. Google Earth image saved by Don Loponen, Feb. 2017.

For more Russel exhibits visit Owen Sound Marine & Rail Museum 1165 1st Ave West, Owen Sound, ON N4K 4K8
(519) 371-3333

http://marinerail.com